Cards' Patrick Peterson on Deflategate report: Tom Brady 'disrespected the game'
Count Arizona Cardinals four-time Pro Bowl cornerback Patrick Peterson among the NFL players and fans who think the New England Patriots and Tom Brady will escape punshiment despite the official "Deflategate" report.
On Wednesday, NFL-hired attorneys led by Ted Wells released a 243-report (replete with pretty charts and funny texts) on their investigation stating that Brady was "at least generally aware" that team personnel had doctored footballs to his liking.
It's got that "I'm not mad, I'm disappointed" vibe which feels more cutting than calling him a cheater like regular Brady critics.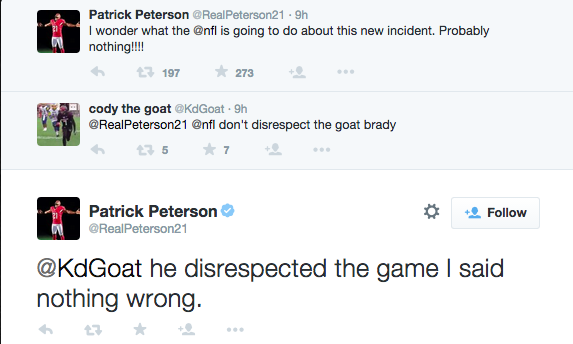 In a comical twist, before signing off Twitter, Peterson addressed the shortcomings (athletic, not moral) of one of his own team's quarterbacks. Not Carson Palmer, Drew Stanton or rookie Logan Thomas, but Ryan Lindley, the third/fourth-string QB on the depleted Cardinals depth chart last season. Forced into action, Lindley completed 16 of 28 passes for only 82 yards, one touchdown and two interceptions in a wildcard-round loss to the Carolina Panthers.
Lindley is no longer traveling on the team bus because he's under it.