Most disgusting thing about this year's baseball Hall of Fame vote
Greg Maddux, Tom Glavine, and Frank Thomas were voted into the National Baseball Hall of Fame on Wednesday.
That's great and all, but what the biggest take-away from the announcement is that the whole voting process continues to be a joke.
Forget about the steroid guys for a second. That's an argument that will likely go on and on and on.
The most disgusting thing about this years's vote?
Maddux was left off 16 ballots.
That's just silly and sad all wrapped into one example of why a lot of people are turned off by the whole Hall of Fame thing.
You remember Maddux, right? All he did was win 355 games and take home four Cy Young Awards (in a row). He also had a record 18 Gold Gloves.
Not sure how you leave a guy with 355 WINS off your ballot. But 16 people did just that.
People on Twitter didn't miss that fact:
To the 16 voters who left off Maddux, voted JT Snow, Benitez, Jacque Jones, Rogers, Nomo: our READERS are better at your job than you are.

— Timothy Burke (@bubbaprog) January 8, 2014
Greg Maddux not getting a unanimous vote into HOF just proves to me there are people who don't deserve the vote they have. Just so stupid

— andyroddick (@andyroddick) January 7, 2014
Greg Maddux deserved 100% of the vote. The cranky writers should have thanked him for regularly sending them home in less than 2 hours.

— Andrew Siciliano (@AndrewSiciliano) January 8, 2014
The 2.8% of Hall of Fame voters who didn't vote for Greg Maddux should go run a lap.

— Paul Pabst (@PaulPabst) January 8, 2014
How could someone with a Hall of Fame vote leave Greg Maddux off their ballot? Crazy.

— Craig Sesker (@csesker) January 8, 2014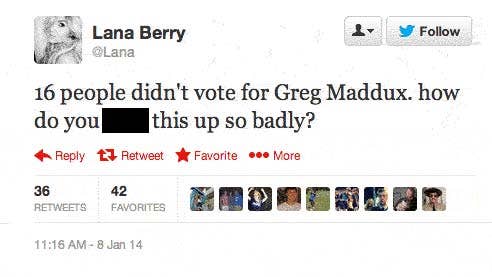 It's known that some baseball writers don't like to vote for guys in their first year of eligibility. That makes a lot of sense. Wait, no it doesn't. If a player had a great career, as Maddux certainly did, you do the right thing and vote him in. You don't sit around for his second year and then cast your vote.
Note to voters: It's not about you. At all.
One of the guys who left Maddux off his ballot explained his decision earlier this week. We're talking about MLB.com's Ken Gurnick.
"To me, I didn't exclude Maddux. I excluded everybody from that era, everybody from the Steroid Era," Gurnick told The Associated Press. "It wasn't about Greg Maddux, it was about the entire era. I just don't know who did and who didn't."
Well, that makes a lot of sense, right? No? When you think about the Steroid Era do you even think about Greg Maddux?
Exactly.
We have no idea why other voters left Maddux off their ballot. But it's a shame. Sure, Maddux got in with 97.2 percent (eighth highest in the history of voting) and we'll probably eventually all forget that some people didn't vote him in, but for now all we can do is throw our hands up in the air and laugh at yet another flawed system in sports.