Media Day Madness: Peyton's top 'housewife?' What's behind Wilson's hairdo?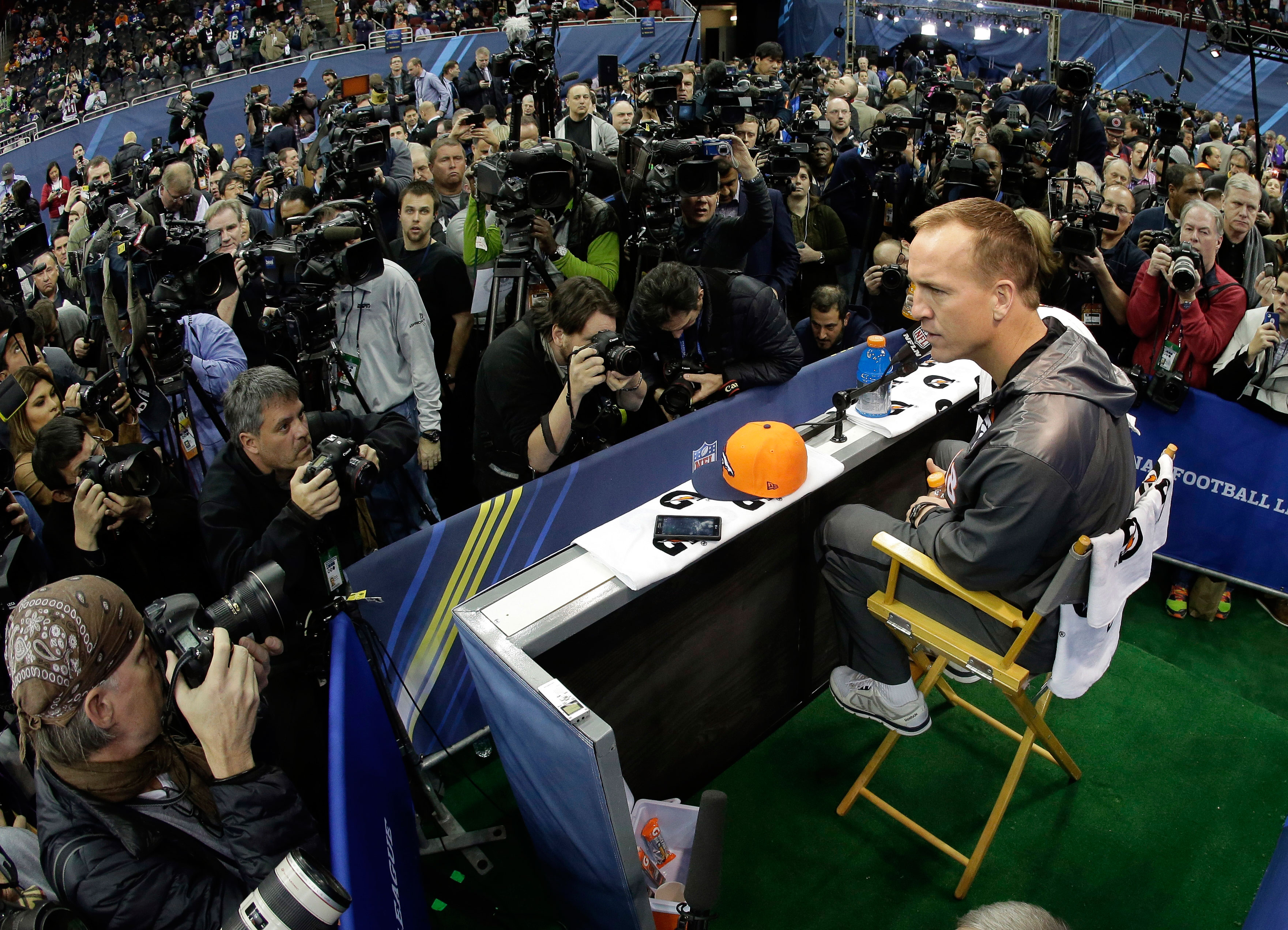 * POOR PEYTON MANNING
The guy is going to go down as one of the best quarterbacks to ever play in the NFL, but this is what was subjected to on Tuesday:
An entertainment reporter asking him if he was going to be on "Saturday Night Live" this week (UM, HE HAS A BIG GAME THE VERY NEXT DAY) and if he had a favorite character from the "Real Housewives."
Of course, Manning handled the questions like a pro.
* REMEMBER HER?
* EVERYONE HAS A GIMMICK
Some guy at media day just asked Shaun Phillips if he considers this a must-win game. Check, please.

— Sam Farmer (@LATimesfarmer) January 28, 2014
* TERIO HAS ARRIVED
.@inessainzg is saying things in Spanish that I don't understand. #ndsb48 pic.twitter.com/JIc5bQcyll

— Neil Best (@sportswatch) January 28, 2014
* NEW-AGE MEDIA DAY
Guy on left says he works for Austrian TV and will be asking players to sing a Mozart song. pic.twitter.com/mrispOBLT9

— Jim Baumbach (@jimbaumbach) January 28, 2014
* "I HAVE A BRUNO MARS-MICHAEL JACKSON S-CURL RIGHT NOW"
Actual question asked to Decker: "Eric, why don't you wear a cup? …Don't u wanna protect the little Eric Deckers?" #SBMediaDay

— Kimberley A. Martin (@KMart_LI) January 28, 2014
That is Seahawks quarterback Russell Wilson describing his fantastic hairdo.
Desean Jackson is at media day with Terio. #America pic.twitter.com/e2fZ9wLkAi

— Andrew Sharp (@andrewsharp) January 28, 2014
* EXTREMELY IMPORTANT SUPER BOWL TOPIC
Golden Tate just rolled in wearing Google Glass and a Go Pro. pic.twitter.com/m4DbK4wjPL

— Will Brinson (@WillBrinson) January 28, 2014