Saddest photo from NCAA tournament sparks hilarious meme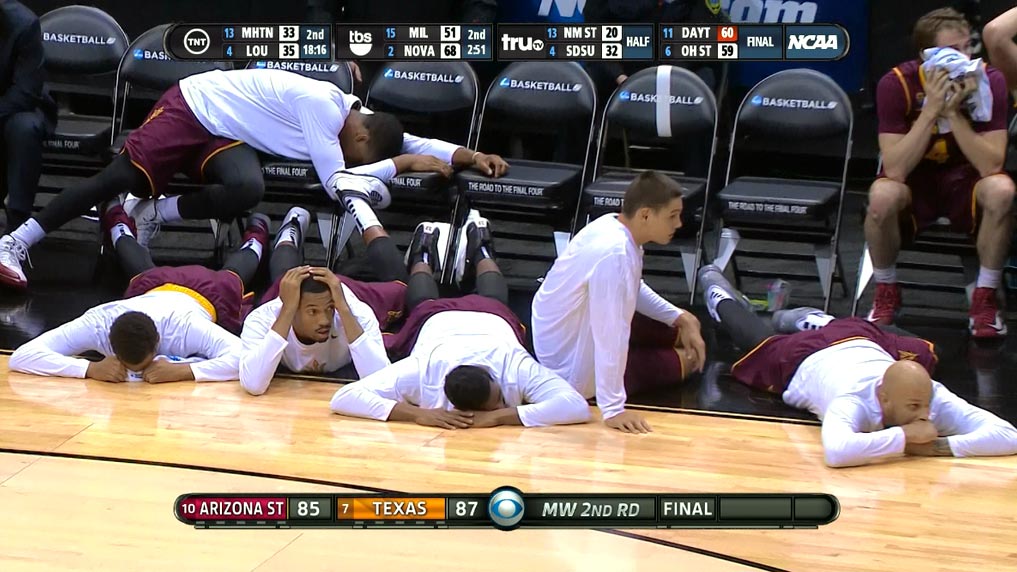 The NCAA tournament has some incredible highs … and some really painful lows.
We saw both during the first day of action.
But nothing was more sad than Arizona State's bench after Texas hit a layup right before the buzzer to win the game.
See:
The Agony of Defeat (Arizona State) pic.twitter.com/hE0whqJYZy

— 3030 (@jose3030) March 21, 2014
The Internet quickly had some fun with that image.
Here's pro golfer Jason Dufner "Dufnering" on the bench:
@cjzero @JasonDufner is not impressed, either. pic.twitter.com/ycYQPqX8iN

— Consolidated News (@ConsolidatedNws) March 21, 2014
Here's Lakers center Chris Kaman laying down on the bench:
What's Chris Kaman doing there? @cjzero pic.twitter.com/whGyXqnyj7

— Jordan⏙ (@jordub) March 21, 2014
Can you see Keanu Reeves in this picture?
@cjzero @jordub why is keanu even there? pic.twitter.com/9SYJD6yVj6

— nick pants (@nick_pants) March 21, 2014
Here's Manny Pacquiao getting in on the action:
Even Manny's devastated. pic.twitter.com/LJMChnrxxs

— World of Isaac (@WorldofIsaac) March 21, 2014
And finally, here's Ohio State's Aaron Craft:
— March Mattsuss (@suss2hyphens) March 21, 2014
Well done, Internet.
Crafty… pic.twitter.com/lfDalkyvy7

— Steve Noah (@Steve_OS) March 21, 2014