Russell Wilson sold more merchandise than any other NFL player this year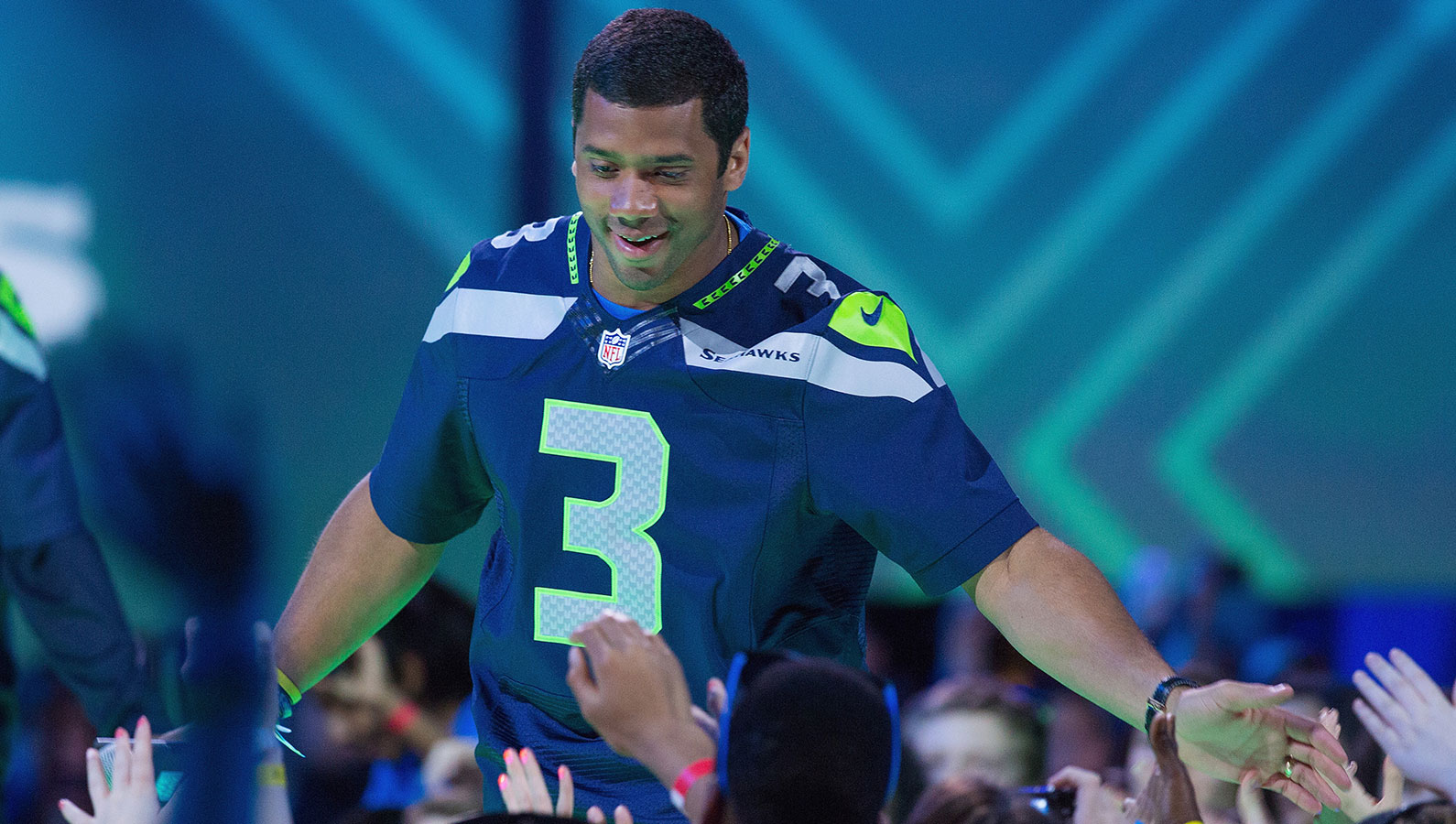 Russell Wilson not only won a Super Bowl last season, but he sold a lot of merchandise.
The Seahawks quarterback topped all players in NFL total sales from March 1, 2013, through Feb. 28, 2014.
Wilson has finished in 19th place the previous year, with Peyton Manning topping the list.
Nine of the top 10 spots this year are occupied by quarterbacks.
Here is the top 50:
1. Russell Wilson, Seattle Seahawks
2. Peyton Manning, Denver Broncos
3. Colin Kaepernick, San Francisco 49ers
4. Robert Griffin III, Washington Redskins
5. Aaron Rodgers, Green Bay Packers
6. Tom Brady, New England Patriots
7. Marshawn Lynch, Seattle Seahawks
8. Eli Manning, New York Giants
9. Andrew Luck, Indianapolis Colts
10. Drew Brees, New Orleans Saints
11. J.J. Watt, Houston Texans
12. Richard Sherman, Seattle Seahawks
13. Adrian Peterson, Minnesota Vikings
14. Clay Matthews, Green Bay Packers
15. Jason Witten, Dallas Cowboys
16. Patrick Willis, San Francisco 49ers
17. Troy Polamalu, Pittsburgh Steelers
18. Rob Gronkowski, New England Patriots
19. Arian Foster, Houston Texans
20. Calvin Johnson, Detroit Lions
21. Victor Cruz, New York Giants
22. Tony Romo, Dallas Cowboys
23. Wes Welker, Denver Broncos
24. Ryan Tannehill, Miami Dolphins
25. LeSean McCoy, Philadelphia Eagles
26. Ben Roethlisberger, Pittsburgh Steelers
27. Cam Newton, Carolina Panthers
28. Ray Rice, Baltimore Ravens
29. DeMarcus Ware, Dallas Cowboys
30. Dez Bryant, Dallas Cowboys
31. Brandon Marshall, Chicago Bears
32. Frank Gore, San Francisco 49ers
33. Darren McFadden, Oakland Raiders
34. Miles Austin, Dallas Cowboys
35. Joe Flacco, Baltimore Ravens
36. Jay Cutler, Chicago Bears
37. Trent Richardson, Indianapolis Colts
38. Andre Johnson, Houston Texans
39. A.J. Green, Cincinnati Bengals
40. Jamaal Charles, Kansas City Chiefs
41. Jimmy Graham, New Orleans Saints
2. Vernon Davis, San Francisco 49ers
43. Jordy Nelson, Green Bay Packers
44. Matt Ryan, Atlanta Falcons
45. Von Miller, Denver Broncos
46. Eric Decker, Denver Broncos
47. Philip Rivers, San Diego Chargers
48. Julio Jones, Atlanta Falcons
49. Matt Forte, Chicago Bears
50. Luke Kuechly, Carolina Panthers