UPDATE: CBS forced to scrap 'TNF' intro after Rihanna gets mad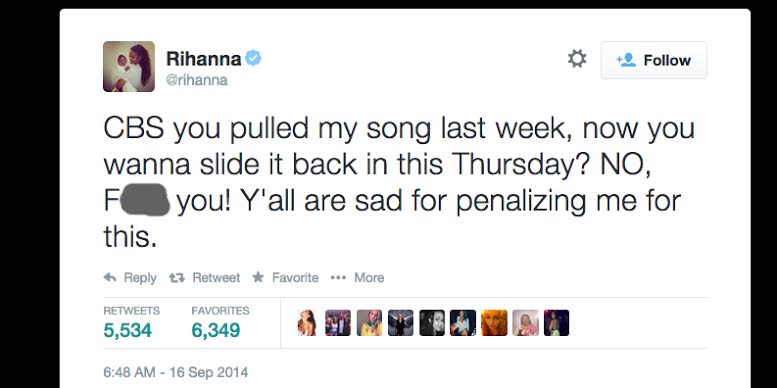 UPDATE: CBS won't feature Rihanna in its "Thursday Night Football" intro this week, or ever.
"Beginning this Thursday, we will be moving in a different direction with some elements of our 'Thursday Night Football' open," CBS senior vice president of communications Jen Sabatelle said in a statement. "We will be using our newly created Thursday Night Football theme music to open our game broadcast."
According to TMZ, Rihanna was upset not only with CBS yanking the intro last week — and having her name dragged into it — but also that she was used to promote "Thursday Night Football" in the first place. She never recorded anything for CBS; the network simply licensed Jay-Z's "Run This Town" which features her.
Now it sounds like RiRi got Jay to back her up in her beef with the network.
"Due to the misuse and misrepresentation of Rihanna's name and participation in connection to CBS TNF, CBS was not allowed to license and utilize the song 'Run This Town.' Roc Nation made the decision to not grant the song's usage," a rep for Rihanna told TMZ.
The star of CBS' "Thursday Night Football" introduction song, Rihanna, is actually quite furious about her scheduled debut.
NFL Network and CBS had planned to debut the package with Jay-Z's "Run This Town" featuring Rihanna before the Ravens-Steelers contest on Sept. 11, but in the immediate wake of TMZ's release of video showing Ray Rice punch his then-fiancee Janay, CBS decided to pull it in favor of a "subdued" tone and journalistic approach, according to CBS Sports Chairman Sean McManus.
Rihanna followed her initial message of outrage:
The audacity…

— Rihanna (@rihanna) September 16, 2014
McManus acknowledged that the decision to nix Rihanna's intro last week was motivated at least in part by the fact that the Grammy-award-winning singer was herself a victim of domestic violence in 2009 at the hands of her ex-boyfriend Chris Brown.
Per an NFL press release, CBS had planned to customize its opening each week highighting the teams and storylines.
This Thursday night, the Tampa Bay Buccaneers will visit the Atlanta Falcons. We'll update if CBS addresses its plans for the introduction.