Current, ex-NFL players react to newly released Ray Rice video
Early Monday morning, TMZ released video showing the brutal punch that knocked Baltimore Ravens running Ray Rice's then-fiancée unconscious.
Previously, the gossip website had disseminated shocking video from the now-defunct Revel casino in Atlantic City that showed Rice dragging Janay Palmer's body from the elevator to the lobby floor, but the scene inside the elevator remained a mystery. Now, nothing is left to the imagination. It is horrifying.
The NFL said in a statement Monday that it had not seen the full video that captured the entire altercation inside the elevator. Earlier reports about the NFL's access to that video cast doubt on that position. In late July, the league banned Rice for two games, prompting public outcry and ridicule for its weak punishment of Rice.
The release of this full video has triggered a second round of derision for the league and NFL commissioner Roger Goodell, who after public backlash, decided to institute much tougher sanctions in relation to domestic violence. Current and former NFL players have taken to Twitter to express outrage and disappointment. Here's what they are saying:
As players we must speak up. Stand up for what's right. I don't give a damn who u are or how much money you make. No place for this.

— Terrance Knighton (@MrKnighton2u) September 8, 2014
That man should be thrown out the the nfl and thrown into jail. Shame on those deciding his punishment. Smh

— Terrance Knighton (@MrKnighton2u) September 8, 2014
NFL players want to stand up for some shat, don't play against Ravens until Rice is suspended indefinitely. What if that was YOUR daughter?

— LeCharles Bentley (@LeCharlesBent65) September 8, 2014
Union talking about damb HGH when Ray Rice is playing football… Please. Get y'all priorities together…

— LeCharles Bentley (@LeCharlesBent65) September 8, 2014
The Ray Rice video is the most disturbing thing I've seen in a long time.. He could have killed her w/ punch or when her head hits rail. SAD

— Anthony Becht (@Anthony_Becht) September 8, 2014
@nflcommish to say you got that wrong is an understatement. Very disappointed in you. Wow…unbelievable.

— London Fletcher (@LFletcher59) September 8, 2014
2 games. Disturbing.

— TJ Lang (@TJLang70) September 8, 2014
2 games? I'm disgusted. This is not the example we want to leave for our youth.

— Garrett Gilkey (@gagilk73) September 8, 2014
Dudes that hit women are more than likely soft, insecure individuals on a power trip…

— keith bulluck (@kbull53) September 8, 2014
TMZ released that full video of Ray Rice in the elevator… He's lucky he didn't kill his wife wow

— Jason Pinkston (@JasonPinkstonOL) September 8, 2014
A man's character is defined by what he does behind closed doors, when no one is watching- NOT when everyone is watching. -PT

— Phillip Tanner (@PTanner34) September 8, 2014
This is more than a NFL issue! Domestic Violence should not be accepted anywhere! From White House to Wal-Mart #UNACCEPTABLE

— Phillip Tanner (@PTanner34) September 8, 2014
..@UpperWSGuy and you condone STUPID SH#T right? violence against women is WRONG! DV is WRONG!

— Carl Banks (@CarlBanksGIII) September 8, 2014
NFL never saw that video before today. I also have a bridge i'd like to sell you.

— Tom Crabtree (@itsCrab) September 8, 2014
No I don't care how you slice it, it's wrong. They gotta open the case back up and come down hard on this one

— Duke Ihenacho (@NachoLyfe) September 8, 2014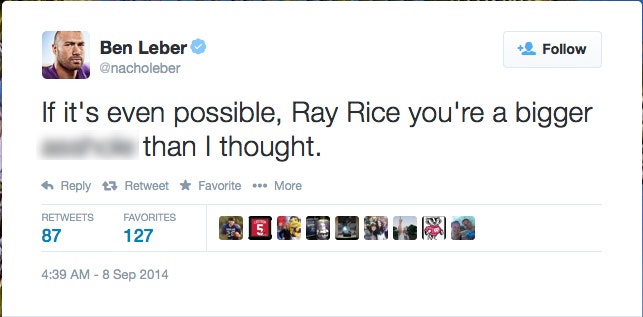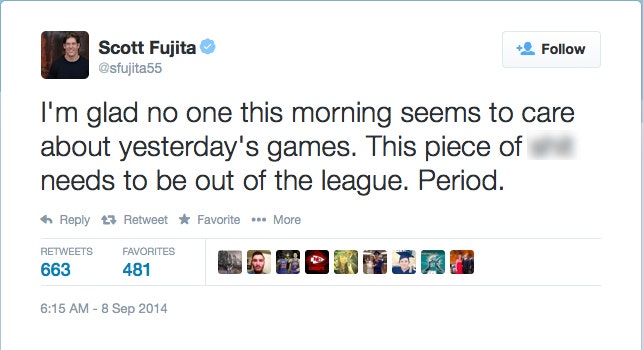 In the coming few days we will see whether the league takes some of these players' advice.