Get To Know An Offensive Lineman: Evan Mathis pretended to be NFL coach for prank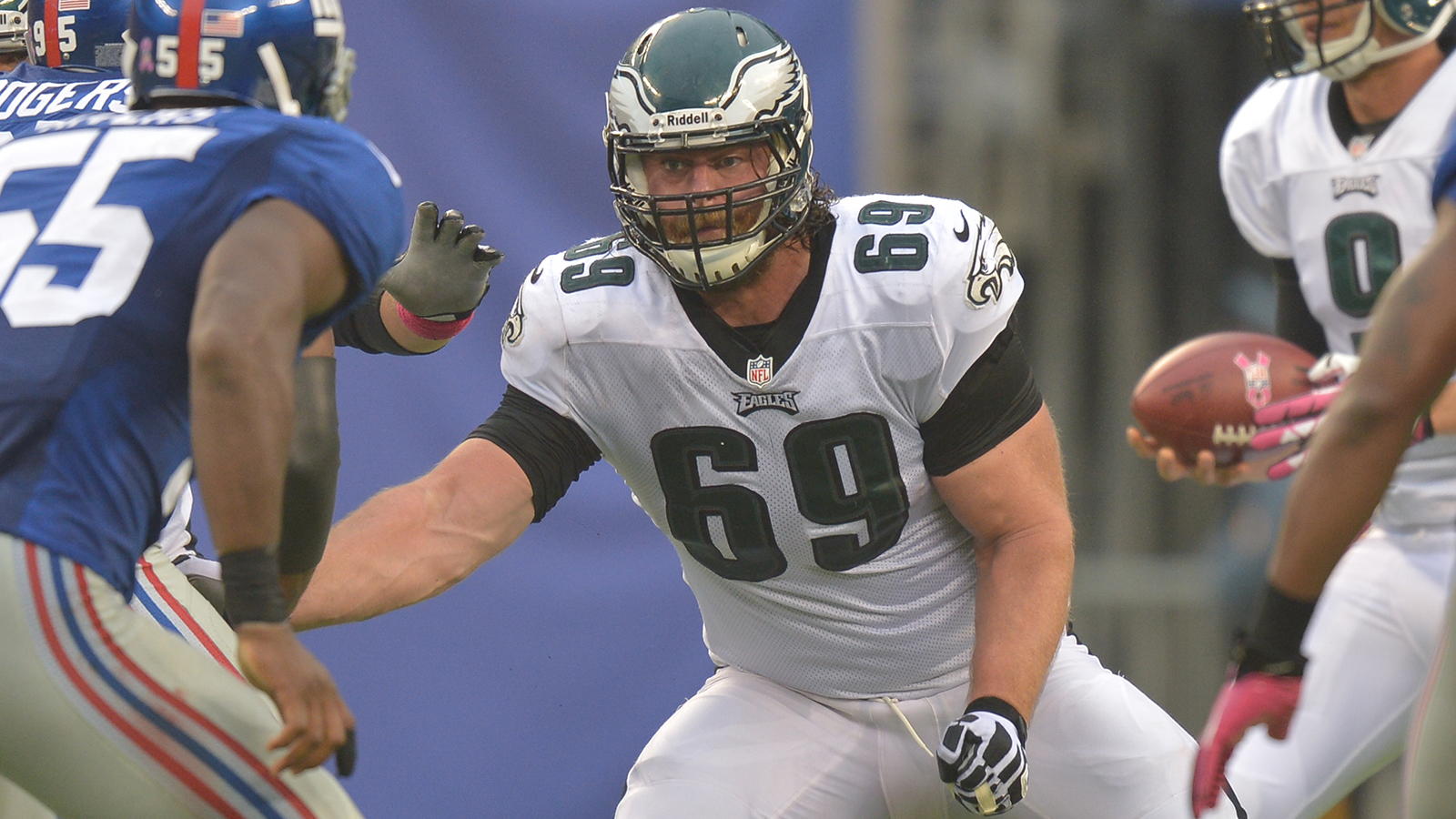 Busy with dirty work in the trenches, offensive linemen don't get the glory enjoyed by "skilled" players. In fact, if their number gets called at all, that usually means they've screwed up. They don't get drafted to fantasy teams, and the casual NFL fan can probably name no more than a few big men up front.
We here at The Buzzer want to give NFL offensive linemen a voice and some semblance of glory. So, we've asked several of the league's top offensive linemen to let us get to know them better. We asked the questions, they gave us the answers. Each week at the Buzzer, we'll help you, "Get To Know An Offensive Lineman."
FOX Sports: Who's the smelliest guy in your locker room? And please describe the odor.
Evan Mathis: Todd Herremans smells like a very fashionable runway model.
FS: What's the best or most unique locker room prank you've witnessed (or pulled yourself)?
EM: I used a spoofing program to text people from Bengals head coach Marvin Lewis' cell phone to inform them they'd been cut.
FS: Which defensive player (not on your own team) is the best trash talker that you've encountered at the line of scrimmage? Any memorable lines?
EM: Most people who trash talk just make a fool of themselves so it's hard to say one of them is the best. However, in a 2011 game against the Patriots, Gerard Warren said, "Sixty-nine, I'm gonna eat yo p—-!" He did the tongue between the fingers gesture with it.
FS: Most memorable block of your NFL career?
EM: Hard to say, but I enjoyed my most recent block. The players on the winning Pro Bowl team get a $53,000 check, the losers get $26,000. We scored a touchdown on the last drive of the fourth quarter and we were down by 1. We elected to go for two and it was a handoff to Mike Tolbert right behind myself, Nick Mangold and Tyron Smith. I told myself it was a $27,000 block, Ndamukong Suh ended up on his back and we scored to win by 1.
FS: When's the last time you touched the football in an actual game? What did you do with it?
EM: Nothing more than jumping on a fumble. I'm still waiting for the day that I score a touchdown. I've been playing since eighth grade and I have 0 TDs. I'm a total failure.
FS: Who's got the biggest appetite among the members of your team's O-line? What does (or doesn't) he eat?
EM: Nobody really stands out. We all eat large amounts of food.
FS: Do you have a nickname? (If yes, what is it, and if there's a story behind it please provide).
EM: When I was a rookie in Carolina, guard Mike Wahle nicknamed me "Ogre." That was all anyone in Carolina called me the three years I was there. Any time I see someone that was there with me they still call me that. This was before I even had the long hair to slightly favor Ogre from "Revenge of the Nerds."
FS: What would you like to do after your playing career?
EM: I've considered many things. I've thought about writing or acting but I haven't committed to anything just yet.
FS: What was the highlight of your offseason?
EM: I did a lot of work on growing as a person. I had grown rapidly as a football player the last few years and neglected to focus on me. After some profound soul-searching, I've become a much more balanced, healthy individual.
FS: Tell us something about life as an O-Lineman that the average fan probably doesn't know.
EM: It can be done with six pack abs.