Watch an NFL player run down the field without a helmet and make a tackle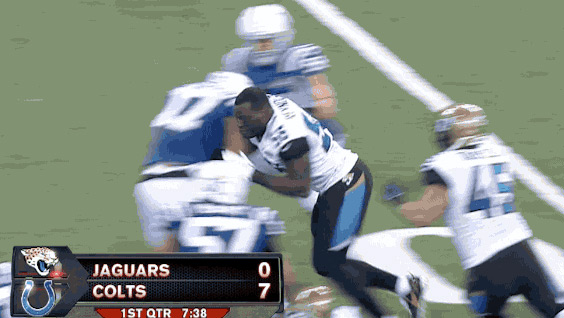 This time tomorrow the Jaguars will be cleaning out their lockers and starting their offseason.
So one would think their players might take it a bit easy in Sunday's season finale against the Colts, right?
Wrong.
Check out LaRoy Reynolds go all out after losing his helmet on this punt return:
That's just crazy and awesome. Meaningless football? No such thing.
Holy play of the year by Laroy Reynolds on Jacksonville without a helmet

— Nick Wood (@LLcoolwood_) December 29, 2013
LaRoy Reynolds just made a tackle on special teams without a helmet, now thats football!

— Connor (@ConnorElwork) December 29, 2013
Jags LB LaRoy Reynolds has clinched the tough guy of the day award. Had helmet knocked off. Eh, whatever. Ran down and made tackle anyway.

— Mike Garafolo (@MikeGarafolo) December 29, 2013
(GIF via @gifdsports)