Clay Matthews on football, wrestling, trash-talking, his creepy nickname and more
The Buzzer's Jimmy Traina recently chatted with Packers linebacker Clay Matthews, who spent part of his bye week interning at the headquarters of "Call of Duty," about Green Bay's season, body hair, dancing, wrestling and more.
FOXSports.com: As you come off your bye week, how do you feel about the second half of the Packers' season?
Clay Matthews: We're excited. Coming off that loss in New Orleans left a bad taste in our mouth. We'd love to rebound with a big victory against Chicago on Sunday Night Football. I think we have five of eight games at home and most of those will be in cold weather, which we seem to play our best ball in. We're looking forward to hitting our stride going into the playoffs. Our offense is clicking on all cylinders and our defense showed last year they could be dominant. Unfortunately, we haven't put together a full game yet. That's what we're striving for over these last eight games. We have a real good possibility of winning this division and everything is in front of us right now.
FS: Does the cold weather in Green Bay ever bother you?
CM: We live in that weather, so it's not as cold to us. With that being said, you definitely realize how cold it is, but mentally you have a leg up. It doesn't affect us as much as the opposition.
FS: Tell us about your internship with "Call of Duty: Advance Warfare."
Matthews: I'm a huge fan of the game. I'm really looking forward to seeing what goes into the making of the game. It'll be fun to go behind the scenes. I'm sure they will also make me do intern work, like get coffee, get the mail, etc.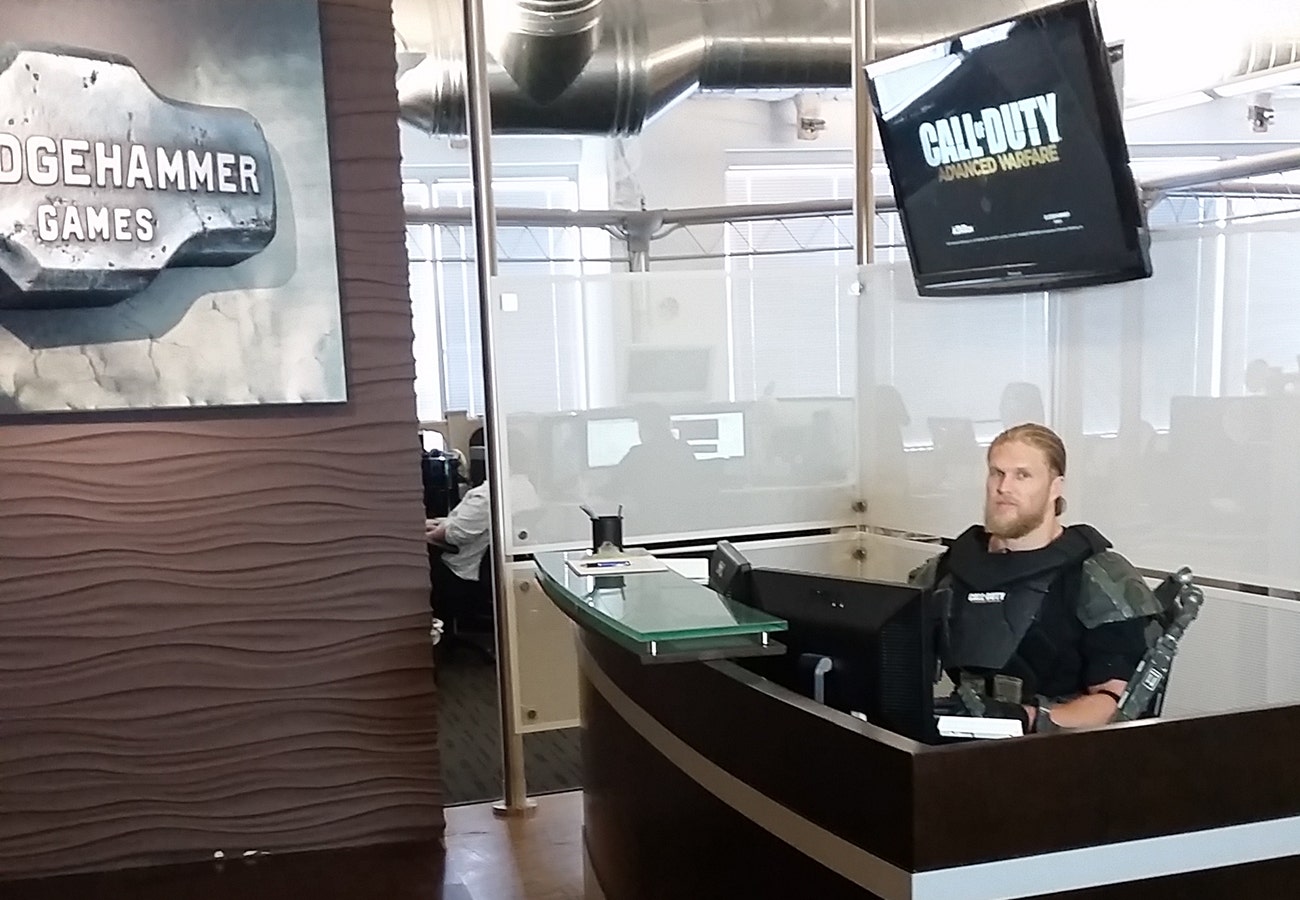 FS: What internships did you do before football?
CM: I interned at the NFL Network while I was in college, but I have not had an internship or another job other than football in a very long time.
FS: What was the worst job you had before football?
CM: I had to assemble and dissemble cubicles.
FS: Do you stay away from football during the bye week?
CM: I definitely take a break during the bye week. I went back to California to decompress, refocus and get ready for the second half. It's a nice break.
FS: What are you feelings about the Thursday night games?
CM: I personally don't like them. It's a quick turnaround. Some teams have gone from a Sunday night game to a Thursday night game. I know personally I'm just getting my legs back from a Sunday game on Thursday. With that Thursday night game, you're just thankful if you can not only get a victory, but also stay healthy. The only benefit is having that weekend off to heal your wounds.
FS: You played ball at USC. How do you feel about the new college football playoff? Do you still watch college football?
CM: I definitely watch college football on Saturdays. Obviously people had grown weary of the BCS. So now to have four teams have a chance to win the national championship, I think it's what we all want to see. And I'd love to see more teams be part of this playoff system. Maybe grow it to eight or more. Obviously, with quote-unquote "amateur sports," I don't know if that flies, but I'm excited to see it.
FS: Have you ever seen a commercial played more than the J.J. Watt Verizon commercial?
CM: That is ALWAYS on. His bad dance move. It's on quite a bit, but rightfully so. He's doing a number on opposing quarterbacks, so I he's earned that right.
FS: Are you saying if you starred in that commercial, your dance moves would be better than J.J.'s?
CM: I would like to think that I'd really pull out all the stops.
FS: Have you ever come close to cutting your long locks?
CM: If you say close, I'm gonna say no, I don't think so. There definitely have been days when I was ready to get rid of it, but common sense kicks back in. It's for the best to keep it long.
FS: What's the common sense that kicks in? It's part of you?
CM: I think so. That's what fans have grown accustomed to, as well as myself. As my mother mentioned to me, it makes me easy to see during games.
FS: Have you ever had your hair pulled during a game?
CM: Oh yeah. It happens quite often, especially for me dealing with that front seven. I don't think I've had anyone do it on purpose. Anytime it's been blatant, they've apologized. But that's the price you pay if you're gonna have flow out there.
FS: Why did you add a beard to your look this year?
CM: I'm just trying to go for a "most bodily hair" record. I'm just telling people that I wanted to get ready for the cold weather at Lambeau.
FS: Do fans trash talk you a lot?
CM: Yeah, but usually it's not very creative. It's either about the hair or that I suck or that they hate me. I do appreciate the creative calls, but they are few and far between.
FS: What's the most creative trash talking you've heard?
CM: I heard something from a fan in Philadelphia, which doesn't surprise me, but I can't repeat it.
FS: You have to tell us what they said.
CM: I won't repeat it, but it actually surprised me and I had to ask someone what it meant. So that's pretty good trash talking when you have to ask someone what it means. I had to pray for that man afterwards. It was just expletives and what he'd like to do to me.
FS: Do you ever Google yourself?
CM: No. Absolutely not.
FS: I did. There are a couple of Tumblr pages, about you.
CM: That doesn't sound too bad.
FS: There's also a Pinterest page called Fifty-Two Shades of Clay.
CM: Now, I've seen shirts made where they have a picture of me and they took the mask and put it over me and I was a little worried about that.
FS: At least it's creative.
CM: Creativity, I'll give them an A. But it could also be a little creepy.
FS: Have you read the book?
CM: No. And I don't plan on seeing the movie, either.
FS: You were a guest referee for a WWE match in 2011. How was that experience?
CM: Growing up I was a huge wrestling fan, and to have that opportunity was amazing. That was right after the Super Bowl and I was more nervous for that than I was for the Super Bowl, which most people don't believe. But being a guest referee was pretty nerve-racking.
FS: Who were your favorite wrestlers growing up?
CM: Stone Cold Steve Austin, Goldberg, Undertaker, Degeneration X. It was entertainment at its finest.
FS: Would you ever work in the WWE again?
CM: If they need me, I'll throw on some wristbands, armbands, body spray, whatever they need.