Fantasy owner begs commissioner to let him sign Derek Jeter for final games
The Derek Jeter Gatorade commercial made baseball fans all tingly on Thursday as the legendary Yankees shortstop plays out his final days in pinstripes.
Meanwhile, for fantasy baseball purposes this season, Jeter's production has been severely lacking — if any fantasy owner even has the shortstop in an active lineup at all given his recent 0-for-28 slump.
Still, a guy in my fantasy league named Andy is attempting to protect Jeter's honor. Two weeks ago the league commissioner locked everyone's rosters for the playoffs (a subject of great controversy), leaving Jeter mired in the pool of free agents (mixed league) with the likes of injured stars and disappointments such as Jedd Gyorko, Manny Machado and Curtis Granderson.
Here is Andy's plea for the Captain: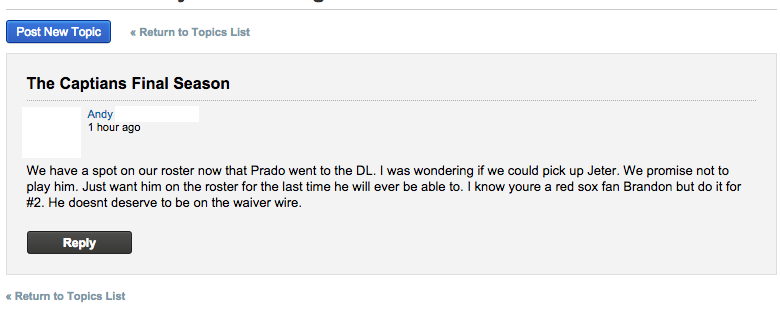 So far league reactions have ranged from "I support this motion" to "Awwww, that's cute."
Update: The commissioner has allowed it. Jeter's fantasy baseball dignity is restored.