Clemson storms court after NIT victory, Twitter reacts with laughter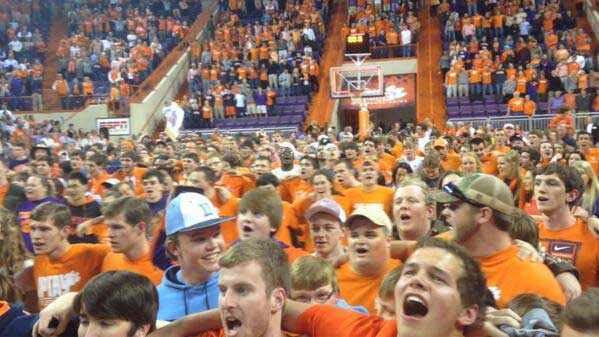 On Tuesday night, the Clemson Tigers defeated the Belmont Bruins in a tightly contested NIT game. The victory sends Clemson to the NIT semifinals in Madison Square Garden. Following the game, fans at Littlejohn were ebullient and rushed the court in celebration – a Clemson tradition, win or lose.
#CLEMSON TRADITION – Gather at the Paw, win or lose, for the alma mater. "It's about pride." http://t.co/SLJAbO8cgq pic.twitter.com/8fFs465ydy

— Clemson Athletics (@ClemsonTigers) March 26, 2014
But you know Twitter: it's the cool kids table. Anything or anyone that can be made fun of is fair game. Tradition be damned, the Twitterverse laughed at Clemson's celebration. Here is some of the better snark following the latest court storming.
Clemson stormed the court when they won their NIT quartefinal game… #poorClemson

— Nate Sparks™ (@37NatetheGreat) March 26, 2014
It was pathetic. RT @jrlind: A reminder that 12 hours ago, Clemson students rushed the court for a third-round NIT win over Belmont. #goacc

— Steve Cavendish (@scavendish) March 26, 2014
I don't know who the bigger slap is, Clemson's students for rushing the court vs. Belmont, Masiello for not graduating, or UL for hiring him

— Brad Van Horn (@thereal_BVH_08) March 26, 2014
Clemson Fans Rush The Court After Knocking Off #1….Woops! Quarterfinal NIT Win Over Belmont… http://t.co/x8TpwZlUaT

— Teddy Ballgame (@therealballgame) March 26, 2014
Clemson storms court after beating Belmont in nit qtrfinal…thus storming the court has… pic.twitter.com/3EeE9Anb2B

— Rece Davis (@ESPN_ReceDavis) March 26, 2014
The Clemson BB fans have set the new "unacceptable bar" for storming the court. Beating Belmont? #raiseyourstandards

— John Kincade (@JohnKincade) March 26, 2014
Clemson stormed the court after an NIT win over Belmont, which is almost as sad as being knocked out by Mercer. But, nothing is THAT sad.

— NOTSportsCenter (@NOTSportsCenter) March 26, 2014
i vehemently defend ppl's right to rush the court whenever they want. but clemson…dag, you're making it tough on me.

— Bomani Jones (@bomani_jones) March 26, 2014
Please no, Clemson. Do not rush the cour…too late 🙁

— Dan Wolken (@DanWolken) March 26, 2014
@trey_HalfnHalf it's pathetic if you think you need to rush the floor against Belmont, no disrespect to them. But Clemson is a D1 program

— Brennan McMurray (@BrendoBeTweetin) March 26, 2014
Twitter doesn't like the court storm, but Twitter doesn't realize that Clemson fans go on the court/field after most every game.

— Greg Wallace (@gc_wallace) March 26, 2014
Clemson fans storming the court a joke? Nah watching usc basketball this season was the real joke.

— Dustin Corder (@DustinCorder) March 26, 2014