Cam Newton recruited tackle Michael Oher during offseason, texted 'I bleeping need you'
A solid left tackle is a quarterback's best friend. Cam Newton knew he desperately needed one to improve the Carolina Panthers' offense and so Newton himself helped recruit Michael Oher this past offseason — and wasn't shy to lay it on thick.
"With the free agent pool, I've sent texts out before, called guys and said, 'We'd love for you to be part of the team.' But Mike was different," Newton said at a press conference on Wednesday, per ProFootballTalk. "I didn't say, 'I want you to be here.' It was, 'I need you.' That's different. Want and need are two different words, and that's what I used in that text, along with other explicit words before the 'need.' And I think he got the feeling from that."
Article continues below ...
Previously, the Panthers left tackle was Byron Bell, who struggled throughout his four-year tenure in Carolina. But Oher had some struggles too, in Baltimore, which drafted him 23rd overall in 2009. The Ravens moved him between right and left tackle and let him walk after his rookie contract expired. Then Oher had a rough year in 2014 in Tennessee, which released him in Feb. 2015.
Oher is still poor in run blocking, but he's proved capable in pass protection on Newton's blind side. And speaking of blind side, yes, Oher remains sick and tired of talking about the film/book.
Michael Oher said Cam Newton joked that Oher had been given up for dead this time last yr. Now he's Cam's blindside protector in the SB.

— Joe Person (@josephperson) January 27, 2016
"I'm not trying to prove anything," Oher said last June. "People look at me, and they take things away from me because of a movie. They don't really see the skills and the kind of player I am. That's why I get downgraded so much, because of something off the field."
It turns out Newton did some scouting on Oher in addition to recruiting him. Newton's brother Cecil Newton Jr. played with Oher as a practice squad center with the Ravens, where Oher made an impression.
"My brother, playing on the offensive line, was around him every day, saw how he brought the professionalism each and every day," Cam said. "That's something that stuck out to him, and he told me, 'Mike is someone who will be a key asset to the team.'"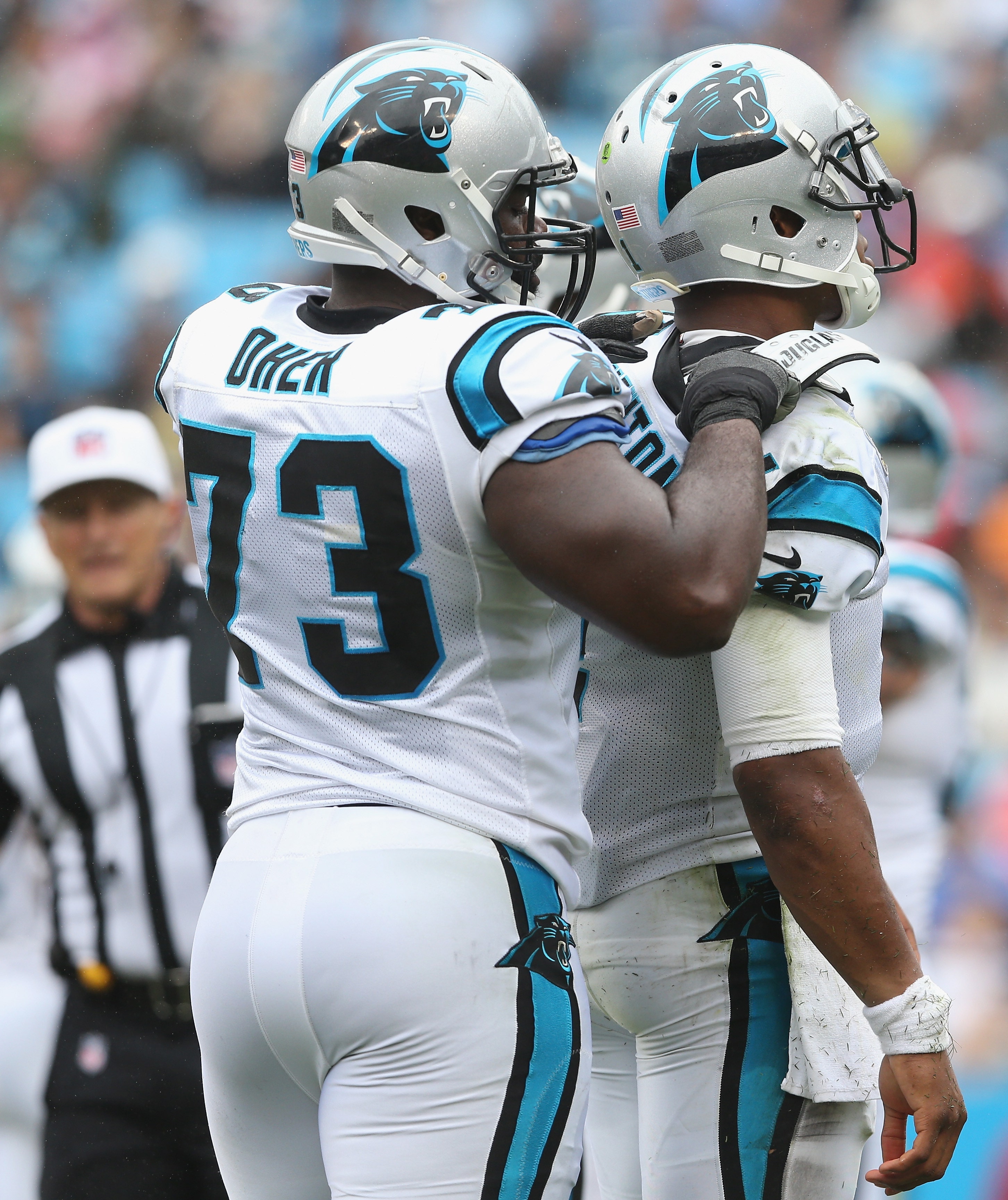 Oher will have his hands full with DeMarcus Ware, Von Miller and the rest of the Broncos' pass rush in the Super Bowl. And Cam will need Oher to have one of his best games yet.