Help wanted: Craigslist posting seeks Bills QB with 'Madden,' pee-wee, any experience
Help is on the way for the Buffalo Bills at the quarterback position but as the Bills and Cowboys have learned, a team is often only as good as the backup quarterback.
Filling in for starter Tyrod Taylor, out with a sprained knee ligament, Bills backup E.J. Manuel turned the ball over on three straight possessions in what looked like a game of catch between Manuel and Jaguars linebackers on Sunday as Jacksonville mounted a 27-3 lead in the second quarter.
That series of unfortunate events led to this "job opportunity" for someone in Buffalo: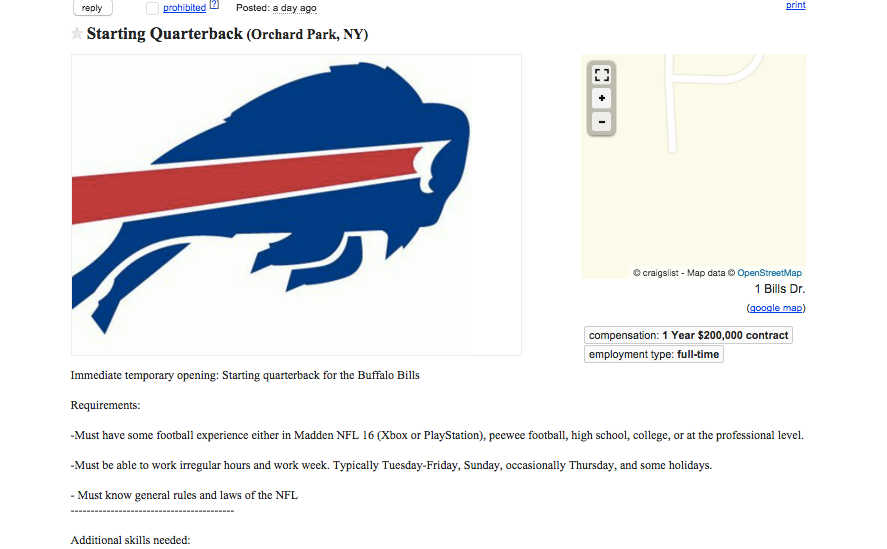 Here are the "additional skills needed":
– Must be able to withstand constant criticism and belittling
-Must be able to throw football deep, accurately, and consistently (preferably no turnovers)
-Must be able to withstand a constant pass rush from the opposing defense
Incidentially, the Bills' old backup QB — Matt Cassel (released before the regular season on Sept. 5) — started for the Cowboys on Sunday. He was replacing Brandon Weeden, who faltered first as backup to Tony Romo — out with a broken clavicle.
Taylor will probably be back under center for the Bills when they return to action on Nov. 8 against the Miami Dolphins. Unless of course an influx of Craigslist applications turns up a ringer or piques the interest of Kyle Orton.