Minor league game erupts in not one, but two epic bench-clearing brawls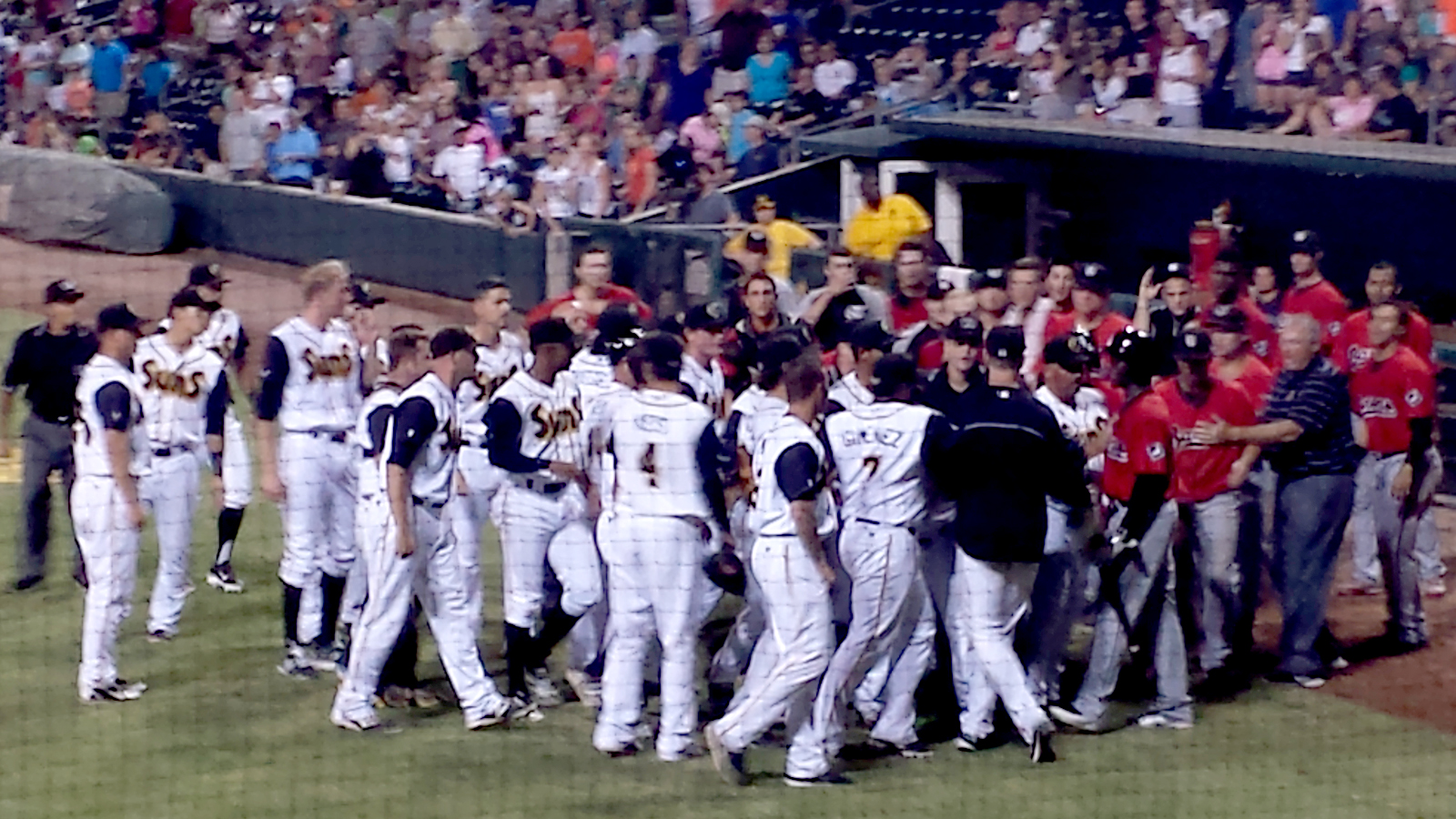 JACKSONVILLE, Fla. — The final week of July typically means one thing and one thing only in the South. Football is almost here.
Certainly, the Jacksonville Suns and Birmingham Barons are well aware of the calendar, because on Friday night they either did their best impression of the dog days of training camp, or took "fighting for the sport fan's attention" to a new (and literal) level.
In the top of the ninth inning of a rather uneventful game at Jacksonville's Bragan Field, the Southern League (Double-A) rivals got into not one but two bench- and bullpen-clearing brawls that, along with a mini-manager-meltdown, lasted a total of 19 minutes and resulted in six ejections, according to the Suns' website.
The action began when the Barons' Jeremy Farrell bumped into Suns pitcher Matt Ramsey after safely crossing home plate. Ramsey took exception, words were exchanged, and the on-field fireworks began.
And with Friday being the day the Jaguars officially opened training camp, Suns manager Andy Barkett then got into the spirit with a little halftime entertainment, arguing with umpires for several minutes afterward, getting ejected, throwing his hat, then tossing a bucket of baseballs onto the field from the dugout.
Things appeared to settle down before giving way to Suns first baseman Wilfredo Gimenez, who charged back at the Barons dugout and set off the second (and more intense) brawl. Fittingly, Gimenez left the field to his biggest ovation of the night (he had gone 0 for 4 with a strikeout and grounded into a double play for the Marlins-affiliated Suns to that point).
Not to be outdone, Barons manager Julio Vinas then took his turn with the umps, before taking names (literally) and clearing his dugout of the players ejected from his side.
See the dugout-clearing action from the second melee here:
For the record, the Barons, a White Sox affiliate, won the game 5-1.