You want controversy? Just put Barbie on SI swimsuit cover
After 50 years of debate over her unattainably perfect figure, Barbie now is unapologetic about her tiny waist and endless legs.
And the critics already appear unrelenting.
The doll, which is made by Mattel, is flaunting her frame in Sports Illustrated Swimsuit's 50th anniversary issue that's hitting stands on Tuesday. She'll be featured alongside supermodels like Christie Brinkley and Brooklyn Decker as part of a campaign called "unapologetic."
According to multiple reports, the doll will actually appear as a cover wrap on at least 1,000 copies of the issue, with the magazine proclaiming the iconic figure, "The doll that started it all."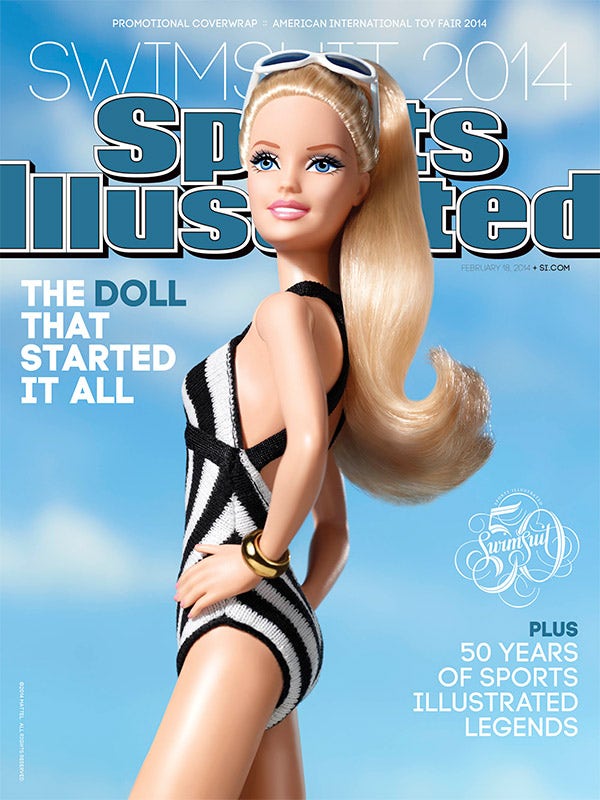 "As a legend herself, and under constant criticism about her body and how she looks, posing . . . gives Barbie . . . and her fellow legends an opportunity to own who they are," said Lisa McKnight, Mattel's senior vice president of marketing.
The campaign is a departure for the 55-year old doll, which has been both beloved as a plaything and criticized as an unrealistic standard of beauty for decades.
In fact, Barbie has faced scrutiny for everything from her chiseled facial features and disproportionately small waist to her "life choices." And last year, an artist renewed controversy over Barbie's effect on body image after an artist posted pictures of the more meaty physique the doll would have if she had the figure of an average 19-year-old.
And with this latest move, Mattel shouldn't expect the critics to silence anytime soon. In fact, outrage over the move hit social media almost immediately, the most-voiced concern being the impact Barbie's appearance on the cover will have on body image in the eyes of girls, young women . . . and men.
The #SportsIllustrated Swimsuit Issue Will Feature Barbie, So Your Daughter Can Feel Bad Too http://t.co/ymTJ61TAMt

— Mommyish.com (@mommyishdotcom) February 11, 2014
Let's start with the obvious. Why does Mattel want to put a doll for little girls in a magazine for grown men? http://t.co/U2U0SBMpJV

— Marketplace (@MarketplaceAPM) February 12, 2014
Find Barbie on the cover of a swimsuit issue hideous, but while on the issue, an essay on Barbie culture http://t.co/eZbVbVdCHg

— Abhijit Majumder (@abhijitmajumder) February 12, 2014
Mattel has tried to change Barbie with the times. The doll has gone through several reinventions, including 150 careers, from architect to lifeguard, and a brief publicity-stunt breakup with her boyfriend Ken.
But this latest move, which again sparked online debate on Wednesday about body image issues, comes as Mattel tries to revive interest in the doll icon. Barbie is worth an estimated $1.3 billion annually in sales for the toymaker and she's the No. 1 toy brand.
And her impact reaches far beyond the toy aisles. How about the classroom?
Collaboration between Barbie & the SI Swimsuit Issue causes a stir http://t.co/vFunGzkbN4 – We just talked Barbie today in senior English.

— Patrick R. Johnson (@PR_Johnson) February 13, 2014
And of course SI is no doubt expecting a bump.
Such an awesome integration by the @SI_Swimsuit folks with Barbie in this year's issue. http://t.co/WQBGBlhQk7 #SISwim50 #unapologetic

— Ben Kaplan (@Ben_Kaplan) February 11, 2014
In fact, according to The New York Times, a limited-edition Sports Illustrated Barbie will be sold exclusively at Target.com as part of the campaign.
And then there's the Time Square billboard.
Editorial: Barbie's Sports Illustrated Swimsuit campaign is #unapologetic trolling http://t.co/nXPultd9zI pic.twitter.com/bUErO2IlzR

— The Verge (@verge) February 12, 2014
But Barbie has lost some popularity in recent years to edgier toys like Mattel's Monster High dolls with their tattoos and neon hair. In fact, Barbie has had declining sales in five of the last six quarters, with sales falling 13 percent in the most recent quarter.
Mattel hopes the "unapologetic" campaign will boost Barbie's image.
As part of the campaign, there will be a collector Sports Illustrated Barbie doll, an event at the Sports Illustrated Swimsuit Beach House on Monday, a billboard in New York's Times Square and @Barbie tweets with the hashtag "unapologetic" on Twitter. Barbie also will appear on the cover of 1,000 issues in an advertising "cover wrap" for the New York Toy Fair, which starts Sunday.
Spending for the campaign was undisclosed.
"Unapologetic" is a word that Mattel executives use internally, said McKnight, the senior vice president at Mattel. But she said this is the first time the company is "engaging in a conversation publicly."
Sports Illustrated Swimsuit editor MJ Day said Barbie fits in with the swimsuit issue's "message of empowerment" for women.
But Allen Adamson, a branding expert, said he's not sure a feature in Sport's Illustrated's swimsuit issue is the right strategy for the brand.
"The Sports Illustrated swimsuit issue is one step away from Playboy magazine," he said. "It is potentially sending the wrong message to girls."
The official swimsuit cover will be revealed Thursday on "Jimmy Kimmel Live."