25 classic Ruth photos on 100th anniversary of his MLB debut
Ruth left an indelible mark on the game of baseball and, through 714 blasts, helped usher in a new era of the game in which the home run would become an offensive weapon. During Ruth's career, his mind-boggling achievements as a batter and pitcher were one thing, and the incredible force of his presence quite another. Wrote Ruth biographer Lawrence Ritter in "The Babe: The Game That Ruth Built":
In this collection of photos commemorating the 100th anniversary of Ruth's July 11, 1914, debut in the big leagues, we take a tour through his career and also look at many photos of the legend out of uniform, as you're probably not accustomed to seeing him.
*At least to everyone who isn't Scotty Smalls.
2. Ruth grew up in Baltimore, Maryland, where at age 7 his parents sent him to St. Mary's Industrial School for Boys, a school run by Catholic monks. While attending St. Mary's, Brother Matthias helped Ruth hone his immense baseball skills as a pitcher and hitter.
3. One version of the story of Ruth's signing by Baltimore Orioles manager-owner Jack Dunn goes that when St. Mary's brothers invited Dunn to take a look at Ruth, Brother Matthias offered, "Ruth can hit." Dunn, who had been in pursuit of a lefty pitcher, asked, "Can he pitch?" Brother Matthias responded, "Sure. He can do anything." And between 30 minutes and one hour later on Feb. 14, 1914, Ruth accepted an offer to join the Orioles (the O's were a minor-league team in the International League at the time).
4. This 1914 baseball card indicates that Ruth was a pitcher at the time (indeed he was). Also around that time, Ruth's "Babe" nickname emerged. Although a few iterations of that story exist, the common thread is that Dunn had handpicked Ruth and therefore was "one of Jack Dunn's babes." Although a fairly common nickname at the time, "Babe" worked well for the youthful, boisterous star-to-be.
5. The Orioles were cash-strapped in 1914. Needing to raise funds, Dunn resorted to selling 19-year-old Ruth to the Boston Red Sox on July 4 that year. One week later, Ruth made his debut for the club, a 4-3 Red Sox win over the Cleveland Naps at Fenway Park in which Ruth threw seven innings, allowing eight hits and two earned runs. Ruth played in four more games that year for the Red Sox, pitching in three of them, but the team was well-stocked so they optioned Ruth down to the Providence Grays. In this photo you can really see Babe's distinctive facial features — a large, flat nose, big lips and squinty eyes. He was also much bigger than the average major-leaguer who stood about 5-foot-9 and 170 pounds; Ruth grew to an imposing 6-foot-2 and 215 pounds.
6. Ruth broke camp with the Red Sox in 1915 and became a regular in the team's starting rotation. He also happened to dominate: in 32 games (28) starts the southpaw collected 18 wins against eight losses and posted a 2.44 ERA in 217 innings.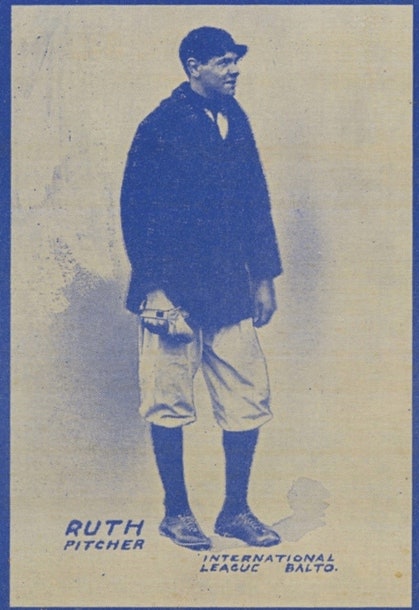 7. Babe with his first wife, Helen. Ruth was fond of the pipe and cigars among other indulgences, and for a time even returned to an old trade as a cigar maker in the winters, selling his own brand.
8. He flourished as a pitcher with the Red Sox (in 1916 he led the league in ERA at 1.75 and recorded 23 wins; he followed that with 24 wins and a 2.01 ERA in 1917), though by 1918 it became obvious that he was too damn good with the stick to keep a bat out of his hands. Ruth lobbied for more time in the field (when he wasn't pitching) and in 95 games mostly as an outfielder, he swatted 11 home runs, which led the league in 1918, the last year the Red Sox won the World Series until 2004.
9. In his last season with the Red Sox in 1919, Ruth swatted 29 home runs, a robust number in the so-called "dead ball era." Nevertheless, Red Sox brass grew tired of Ruth's salary demands, dust-ups, reckless behavior and his penchant for chowing down on hot dogs and soda pop. Here's the famous contract that sent Ruth to the New York Yankees in 1919, effecting the "Curse of the Bambino."
10. In his first season with the Yanks, 1920, in an era when players mostly hit for contact and batting average, Ruth, with his full-hearted upward stroke, clubbed a record 54 home runs and batted .378. George Sisler finished second in the home run standings that year with 19. Ruth also started on the mound 15 games that season, tallying a 9-5 record. For the sabermetrics crowd, Ruth was also good for 11.9 WAR in 1920.
12. According to the archive notes on this scene, Ruth succeeded at straddling "King Jess," a "notoriously ill-tempered" Holstein bull owned by lawyer John M. Kelley. Kelley had invited Ruth and other public figures to his New Jersey estate in November 1922 to witness a wager between him and circus rider May Wirth as to whether Wirth could ride King Jess. This is long before bars installed mechanical bulls.
14. Ruth had expensive tastes, and that included an appetite for cars. Here he is circa 1923 giving Yankees manager Miller Huggins a ride on Riverside Drive in Manhattan. On occasion, Ruth even took some young fans aboard. Also check out the short movie below, "Just Pals," in which Ruth teaches a kid how to swing and then gets a surprise inside his vehicle at the end.
15. In Game 4 of the 1926 World Series, Ruth smacked a record three home runs in the same game. He's pictured here crossing the plate after his third dinger. The Yankees actually lost this series to the Cardinals in seven games.
16. For the famed 1927 Yankees, Babe broke his own single-season home run record of 59 (1921) by adding one more. To commemorate the new record, manager Miller Huggins (below, center) presented the home run king with a crown after the season.
17. Along with many other prominent athletes, Broadway stars and Wall Street bigwigs, Ruth trained for the season at McGovern's Gym beginning in 1925 until the end of his career in 1935. Former boxer, personal trainer and gym owner Arthur McGovern's reconditioning of Ruth after a down year in 1925 actually helped his own rise to prominence. McGovern said of the challenge: "Ruth weighed 254. … He was as near to being a total loss as any patient I have ever had under my care. His stomach had gone back on him completely. The slightest exertion left him short of breath." (More on Ruth's training here.) Also check out some bonus footage of Lou Gehrig boxing former heavyweight champion Jack Dempsey at McGovern's Gym in 1935.
18. Prior to the 1930 season, Ruth signed another contract with the Yanks that would pay him $80,000 per season, a massive amount at the time, especially for a baseball player. That season, a reporter asked Ruth what he thought about the fact that he was out-earning then-president Herbert Hoover, who collected $75,000. Ruth responded, "I know, but I had a better year than Hoover."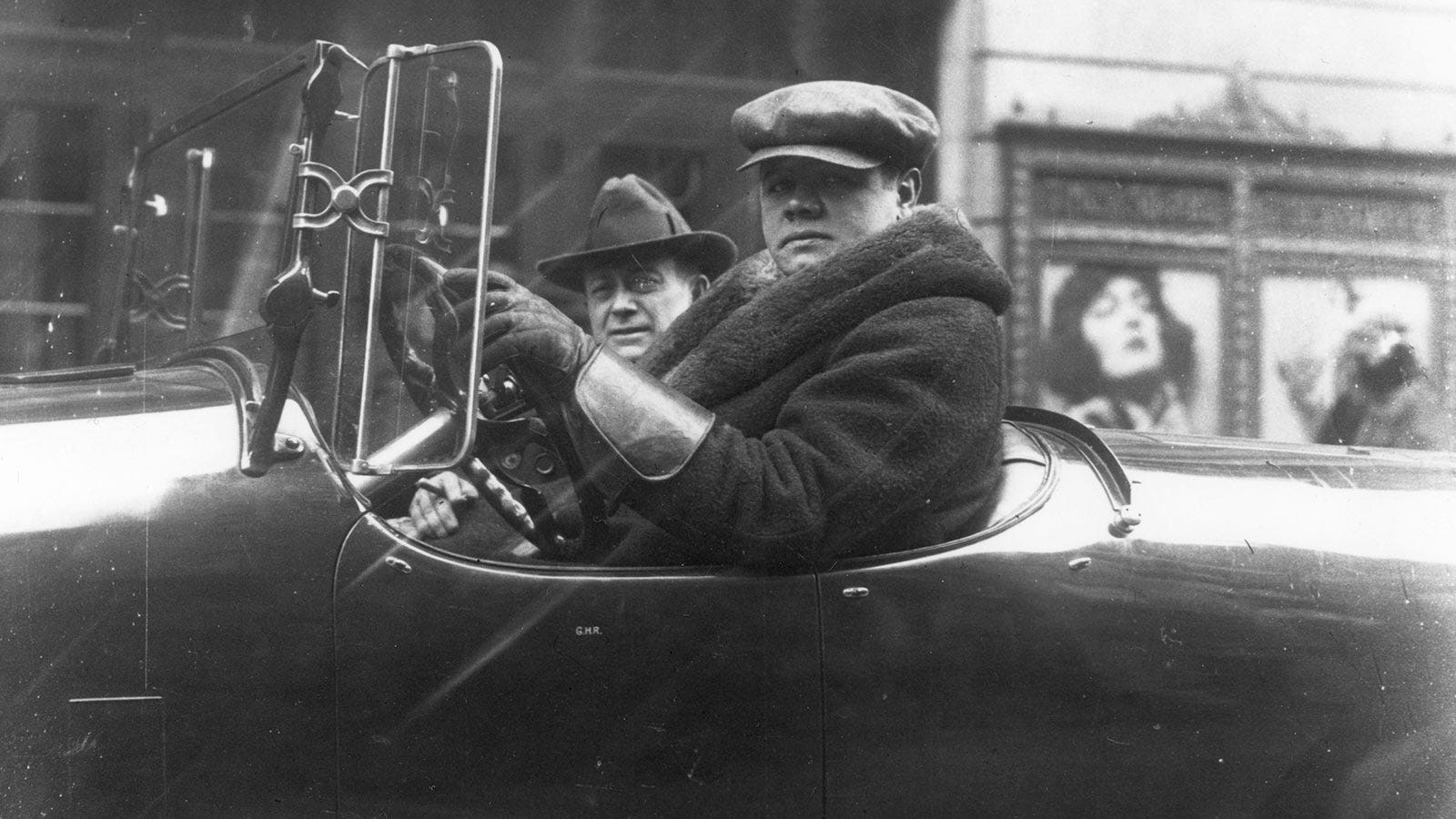 19. Ruth is pictured below with teammate Lou Gehrig at the batting cage in Yankee Stadium before a game in 1930.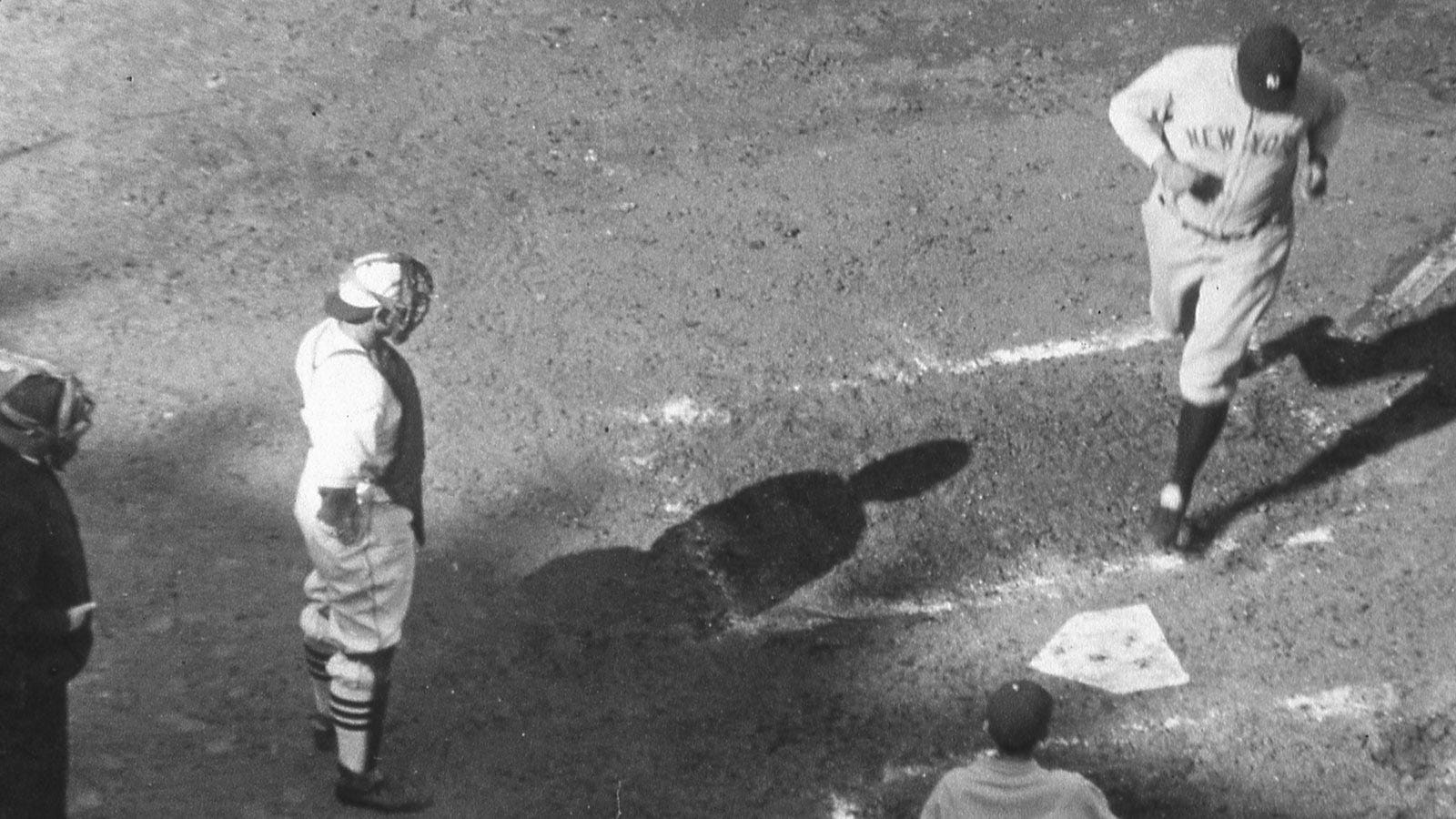 20. Whether Babe actually called a home run shot in the 1932 World Series is still a matter of mystery and debate and will probably forever remain as such. Said Ruth biographer Leigh Montville: "It's one of those stories: It's whatever you want it to be. All the different participants said different things. All opinions are pretty good because the Babe himself said everything and anything. He talked big and was forever a blowhard. … I don't think he called his shot as if he was going to hit a homer to a specific spot. But he was pointing that he was going to hit the ball a long way. It was fortuitous the way it worked out."
21. Here's Babe during the November 1933 offseason walking with his second wife, Claire, as they hunted quail in Maine. Ruth played one more season with the Yankees before the organization agreed to let him go to the Boston Braves as second vice president and assistant to manager Bill McKechnie. Ruth ended up playing for the Braves a bit, hitting the last three of his 714 career home runs at Forbes Field in the same game on May 25, 1935, against the Pirates.
22. Ruth enjoyed a lot of fishing and golfing in his retirement. In this photo, Ruth and Hall of Fame Red Sox and Indians outfielder Tris Speaker prepare for a round at Acacia Country Club in Cleveland in 1935.
23. Legendary outfielders Tris Speaker, Ruth and Ty Cobb pose before a game at Yankee Stadium in 1941.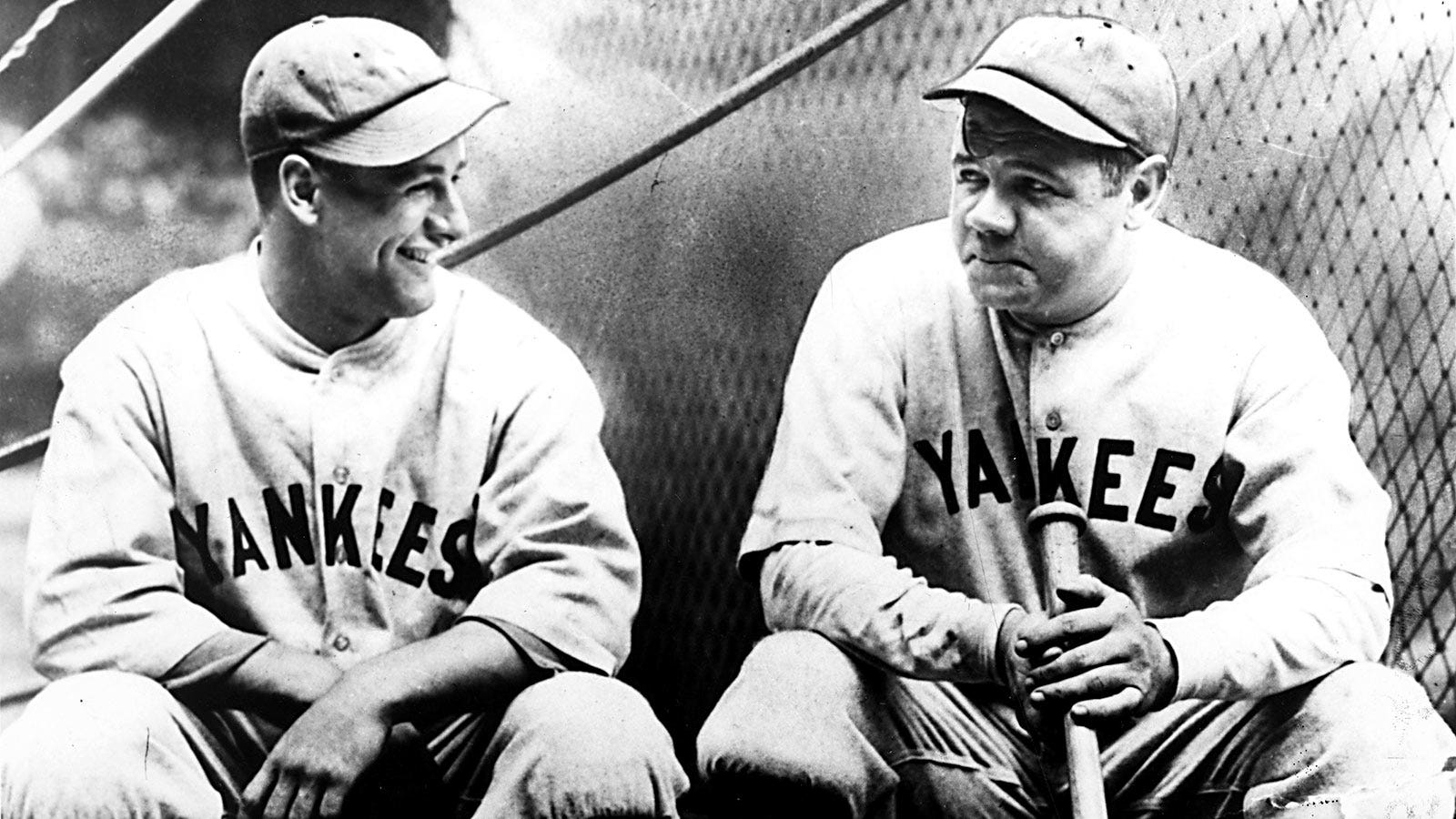 24. Ruth visits his locker one last time on June 13, 1948, during the Yankee Stadium Silver Anniversary celebration. That same day, the Yankees retired his jersey, No. 3. Only two months later, Ruth passed away on Aug. 16, 1948, at 53, after battling throat cancer.
25. Another Yankees legend, Mickey Mantle, poses for a portrait next to the statue of Babe Ruth in center field prior to a workout on April 15, 1960, at Yankee Stadium.
For much more on Ruth, check out this fantastic, comprehensive story by Paul Adomites and Saul Wisnia, which was helpful in preparing this piece.