Tim Tebow's Super Bowl commercial; Kelly Karloff is Fox-y
Tim Tebow is no longer a Bronco, but he will be part of the Super Bowl on Sunday. The former quarterback stars in this amusing commercial.
Niner quarterback Colin Kaepernick ("If you have to go out and tell everyone you're the best corner in the league, I feel like your confidence isn't where it should be."), Eagles running back LeSean McCoy ("I would take Revis.") and Steelers cornerback Ike Taylor ("He's a good corner … but to say he's the best corner, you've got to humble yourself just a little bit by saying that.") all came out and took shots at Seahawks cornerback Richard Sherman on Thursday.
Lindsay Lohan thinks Seahawks wide receiver Sidney Rice stole her fur coat at a club on Wednesday night.
Limited Edition "Seattle Mix" Skittles, in honor of Marshawn Lynch, are selling on eBay for more than $200.
You might want to wear this outfit.
If you like to place wagers, you'll enjoy this video about how oddsmakers do their job.
The late-night host interviewed Tim Connors, the man who got a Seahawks "XLVIII Champs" tattoo before the Super Bowl was even played, on Thursday. Let's just say Connors is quite a character.
The latest episode of Jerry Seinfeld's online series stars Tina Fey.
* Comedian JB Smoove, from "Curb Your Enthusiasm" talks Larry David, Super Bowl and more in the newest installment of the Buzzer's "Questions with Comedians."
* Ticket scalpers are very unhappy about this year's Super Bowl.
* Kermit the Frog and Miss Piggy have recreated the Richard Sherman/Erin Andrews interview.
Model Kelly Karloff gets you ready for the big game with this Super Bowl-inspired photoshoot, which gets her today's Fox-y Lady honors.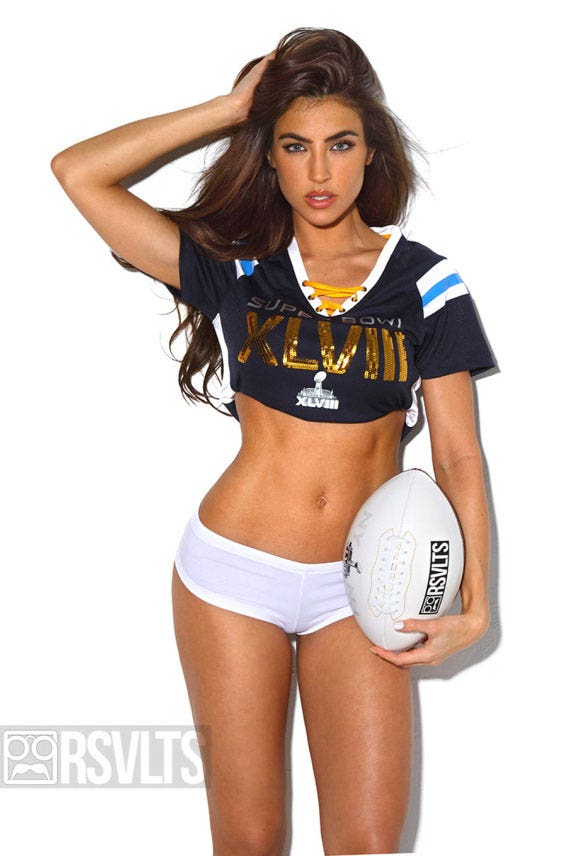 Got a link, comment or question? Email Jimmy.Traina@fox.com.