Lance Stephenson blows in LeBron's ear, Internet reacts; Belen Rodriguez is Fox-y
The most noteworthy thing to come out of last night's Heat-Pacers game (besides Indiana winning to extend the series) was Lance Stephenson blowing sweet nothings into LeBron James' ear.
Naturally, the Internet quickly went to work.
Hey @50cent, blame Lance Stephenson. @marcelluswiley @Max_Kellerman pic.twitter.com/u24kwJbGKd

— SteveNBA (@FunnyNbaGuy) May 29, 2014
where was Lance Stephenson when you needed him? pic.twitter.com/ElIiFJAcvV

— Justin Ace (@Justinace) May 29, 2014
It may not be our birthday but Lance Stephenson gave a gift to us all. #YaBlewIt #literally pic.twitter.com/GMUXXshiOa

— FOX Sports Live (@FOXSportsLive) May 29, 2014
LeBron James scored a career-playoff low seven points in 24 minutes thanks to foul trouble. A look at the five fouls James picked up will definitely leave you scratching your head.
Hunter Pence's stolen scooter has been returned. The thief, though, remains unknown. More importantly, the Giants outfielder said he was so touched by the support he received that he may put the scooter up for auction to raise money for charity.
The Red Sox honored their 2004 championship team last night. Manny Ramirez returned to Fenway with a wild Mohawk and Johnny Damon helped recreate one of Manny's most memorable moments.
Patriots wide receiver Julian Edelman is hosting his own YouTube talk show in the spirit of Zach Galifianakis' "Between Two Ferns." Based on this episode, we have to say that Edelman has some major comedy chops.
In honor of the Scripps National Spelling Bee today, the "Wall Street Journal" has a scientific look at the most commonly misspelled sports names.
Deadspin has mashed up the kids' entrances with the Ultimate Warrior's music for this glorious video.
Mets pitcher Bartolo Colon had two more memorable at-bats yesterday.
The Donald Sterling saga has been turned into a porn parody.
Model Belen Rodriguez gets today's Fox-y Lady honors.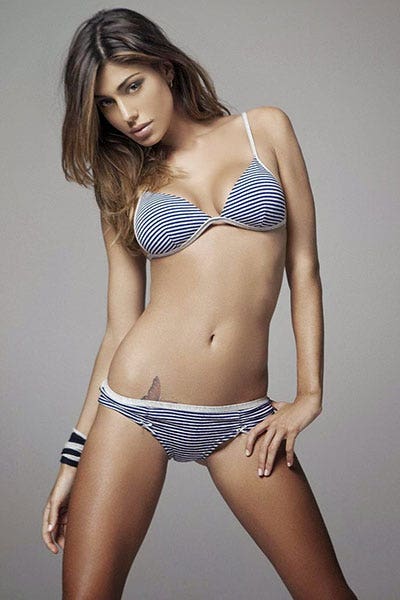 Got a link, comment or question? Email Jimmy.Traina@fox.com.