Kobe defends LeBron; must-see MLB catch
Kobe Bryant, who is a must-follow on Twitter, used the social media service on Tuesday to defend several peers from labels were put on them through the years. Kobe specifically had LeBron James' back.
Media critique- Mj was a gunner Magic was a coach killer Shaq wasn't serious Lbj couldn't handle pressure Spurs r too old #BeforeRings

— Kobe Bryant (@kobebryant) April 14, 2015
The point is we ALL go through it The criticism The Praise The wins The losses The hero The villain Its a beautiful cycle #LoveIt #Process

— Kobe Bryant (@kobebryant) April 14, 2015
Lbj doesn't need to prove that @PaulBrahan I had Shaq + Pau Mj had Pip Magic had Worthy + Kareem etc AND we all had great teammates

— Kobe Bryant (@kobebryant) April 14, 2015
Russell Wilson, Richard Sherman and several other Seahawks players enjoyed a night of singing and dancing in Hawaii last night.
San Francisco Giants infielder Matt Duffy owns one hell of a cat.
Matt Duffy of the #SFGiants plays Call of Duty w/family cat Skeeter, his tactical field advisor. Photo by Tom Duffy. pic.twitter.com/mlX3nsJbrz

— Brad Mangin (@bradmangin) April 13, 2015
Johnny Manziel took in the Texas Rangers' 8-2 win over the LA Angels Tuesday night and enjoyed some popcorn.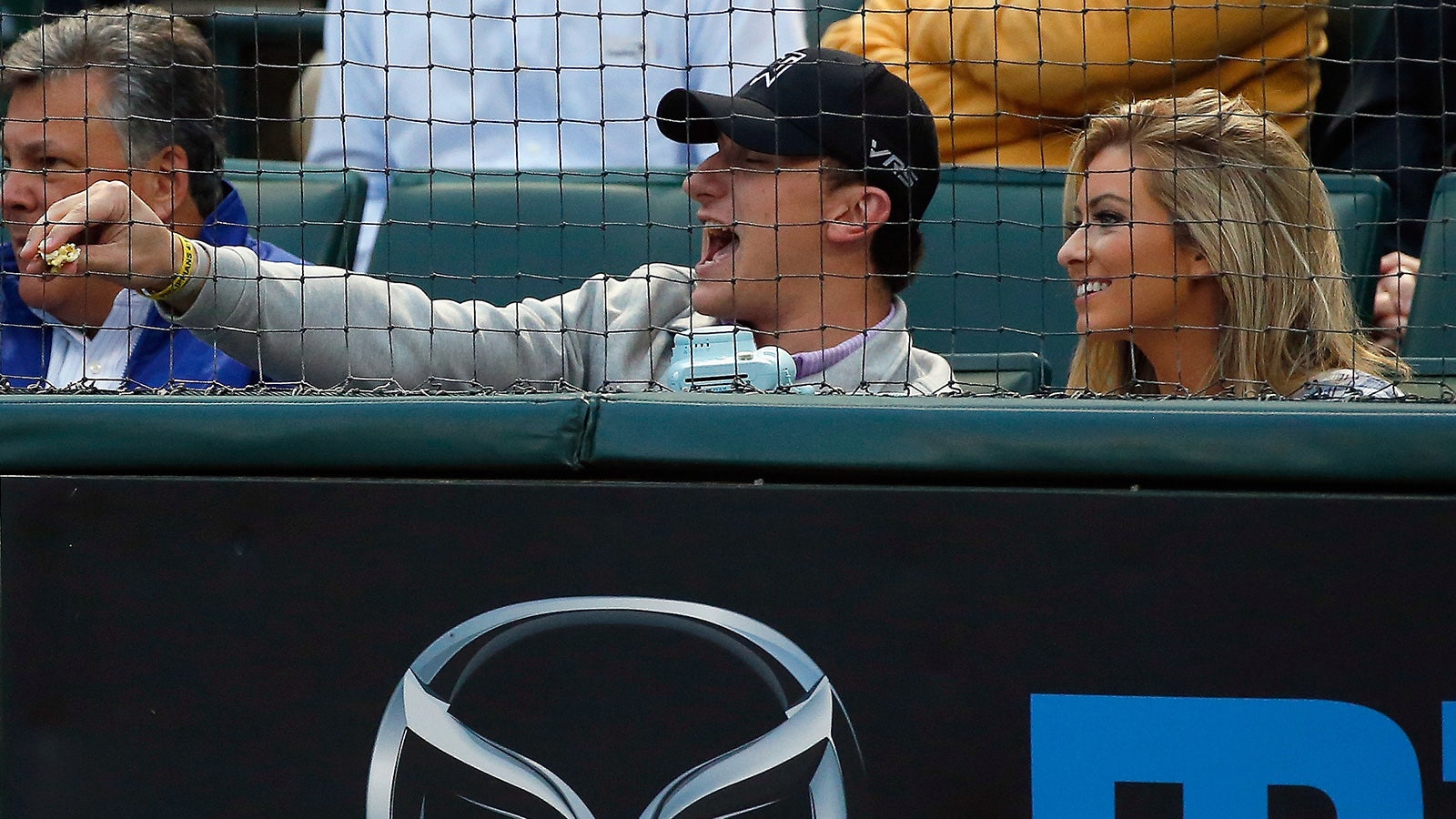 Colorado Rockies third baseman Nolan Arenado did this Tuesday night.
This Red Sox fan really wanted to say hello to Sue Tuesday night.
@NESN @DonOrsillo @jasonrmcintyre @WEEI @JimmyTraina Fan of the game Sox vs Nats…ketchup on a napkin sign! pic.twitter.com/BDMhUktaWM

— Shane Beckim (@ShaneBeckim) April 15, 2015
The NFL still has no idea how to handle the rule that negated Dez Bryant's catch that was called a non-catch in last year's playoff game against the Packers
Even the iconic Stanley Cup trophy.
You'll want to eat this Lord Stanley's Cup made out of BACON.This is FOX Sports Live @TheBuzzer

Posted by @TheBuzzer on Tuesday, April 14, 2015
Got a link, comment or question? Email Jimmy.Traina@fox.com.