New Derek Jeter Gatorade commercial; Erika Medina is Fox-y
The Derek Jeter Farewell Tour has labored along all year with the Yankees trying to bleed fans for every penny possible with memorabilia grabs and teams giving the shortstop absurd gifts. However, Gatorade has hit the mark with this excellent tribute video in which Jeter thanks New York fans for the support while Frank Sinatra's "My Way" plays in the background.
My Fox Sports colleague, Katie Nolan, who received tons of attention last week for this video in which she explained why boycotting the NFL is not the answer, joined me for a new edition of "The Buzz with Jimmy Traina." We talked about Katie's video, the state of the NFL, creepy people on Twitter and much more. You can listen to it below or download it here.
.
Former NFL running back Derrick Ward sent these tweets on Wednesday afternoon.
Also to all professional athletes. How about this for a week straight. Social Media Black Out. Not one written word. Lets see what the media

— Derrick Ward (@derrickward32) September 17, 2014
Could do with that information. Stop giving the media power to dictate things about u. Silence is the medias devil. No comments no media.

— Derrick Ward (@derrickward32) September 17, 2014
Clearly, Ravens wide receiver Steve Smith did not see Ward's plea, because a few hours later, he tweeted about the domestic violence issue that has overtaken the NFL.
You know its not that hard get!!!! Keep your damn hands off women!!!! God made women for you to Lean on them Not beat on them #RealTalk

— Steve Smith Sr (@89SteveSmith) September 18, 2014
The last time me and my wife were in elevator heading to our hotel room!!! We got this guy 9 months later.. #Realtalk pic.twitter.com/LV6P6uOrT5

— Steve Smith Sr (@89SteveSmith) September 18, 2014
This guy seems pretty psyched. He should be — that's Peter Jennings celebrating winning $1,000,000 at DraftKings last month. Peter left the life of an investment analyst to play daily fantasy sports full-time, and it's worked out pretty well so far (that $1 mil was just a piece of what he has been pulling in consistently for the past 2 years). DraftKings has given me a link that will get you your first $2 paid contest for free, and they will give you a deposit match — dollar for dollar up to $600. Claim your FREE $2 entry and double your deposit here >> !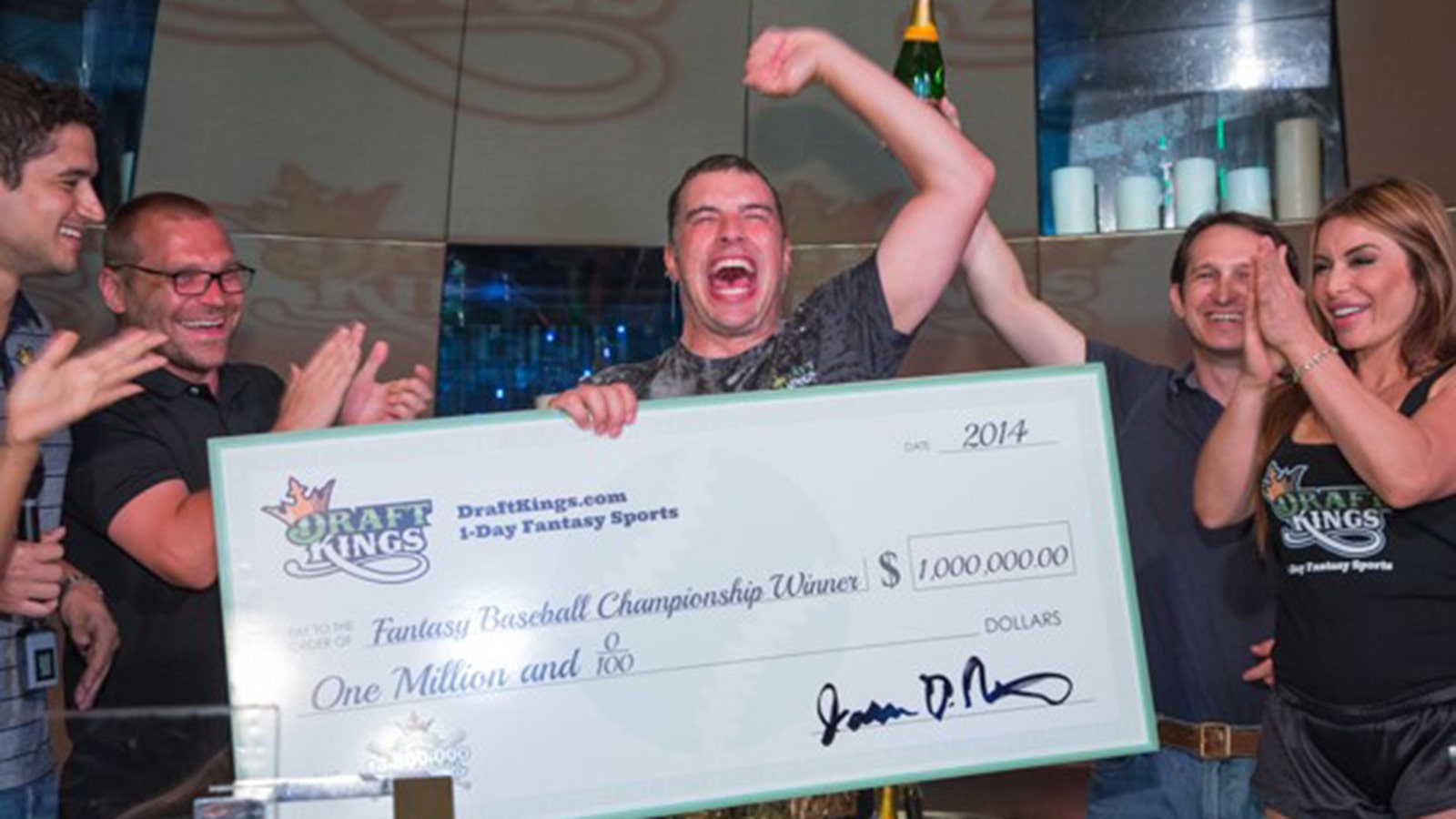 Here was the cool scene in Anaheim last night as the Angels clinched the AL West with their victory over the Mariners and the A's loss to the Rangers.
Jon Stewart spent 10 minutes eviscerating the NFL on the "Daily Show" last night.
Patriots quarterback Tom Brady has shared a photo of his old, pre-NFL career résumé.
A Braves fan took a foul ball right off the face last night.
In case you missed it, LeBron James is sporting more hair these days.
Model Erika Medina gets today's Fox-y Lady honors.
.
Got a link, comment or question? Email Jimmy.Traina@fox.com.