Braves have fireworks flub; Jessica Sutton is Fox-y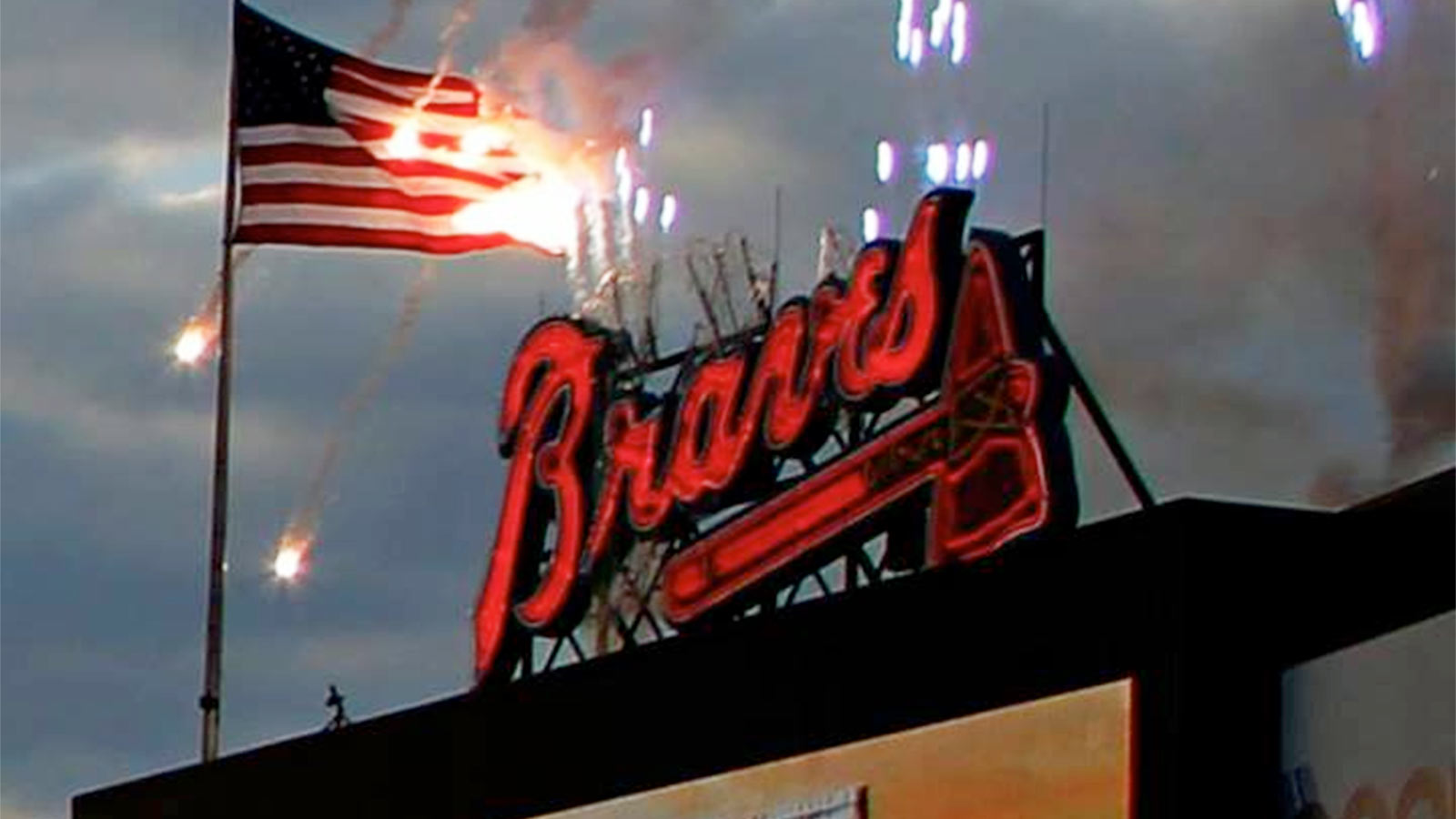 Fireworks at a baseball game are awesome, even if they result in an occasional mishap, but what the Braves did on Tuesday — accidentally torching an American flag during pregame introductions — may have stadium officials around the league rethinking where and when they set them off.
Your feel-good story of the day comes from the AHL's Worcester Sharks, which had Sharks coach Roy Sommer's son, Marley, who has Down syndrome and is autistic, perform an emotional national anthem before the team's game:
Sticking with hockey, Penguins goaltender Marc-Andre Fleury made one of the most ridiculous saves you'll ever see in a shootout against Daniel Alfredsson of the Red Wings, while Canadiens goalie Peter Budaj knocked a puck into his own net to lose to the Blackhawks in overtime.
The baseball season is still quite green, and Ryan Zimmerman can barely throw from third to first on two feet, but Andrelton Simmons' throw-out of Travis d'Arnaud on Wednesday night has got to be an early candidate for play of the year:
First a report came out saying Katherine Webb and A.J. McCarron are filming a reality show, then McCarron said not to believe everything you read. All I know is that I won't be watching either way.
Sorry to harsh your mellow, Super Nintendo die-hards, but Pete Holmes shows us what Mario would be like if it were played in real life:
(Also, Holmes' interview with Dikembe Mutombo was pretty great too.)
Caroline Wozniacki, fluorescent hair and all, caddied for boyfriend Rory McIlroy at the Masters par-3 competition on Wednesday, where she sunk a long, twisting, downhill putt on Augusta's fabled greens. (The results were certainly more favorable than last year's.)
Which ridiculous sac fly is more impressive, Reds outfielder Billy Hamilton tagging up and scoring on a pop-up behind second base?
Or A's prospect Billy Burns scoring from second on a fly ball to deep center?
Trick question. The correct answer is Dioner Navarro, the Blue Jays catcher who received a standing ovation after stealing his first base since 2009.
Boy band One Direction is famous across the globe — and apparently popular enough to boot the Dallas Cowboys from their own stadium, complicating the team's preseason plans.
Think you're the next Gus Malzahn? Want to coach Arkansas State in the football team's spring game? Well, the honor could be yours, and bidding is open, starting at the low price of $2,500. (If that's too much pressure, you could always just call a play for Georgia in their spring game, instead.)
MMA ring girl Jessica Sutton gets today's Fox-y Lady honors: