With Sergey Kovalev, Andre Ward finally gets super fight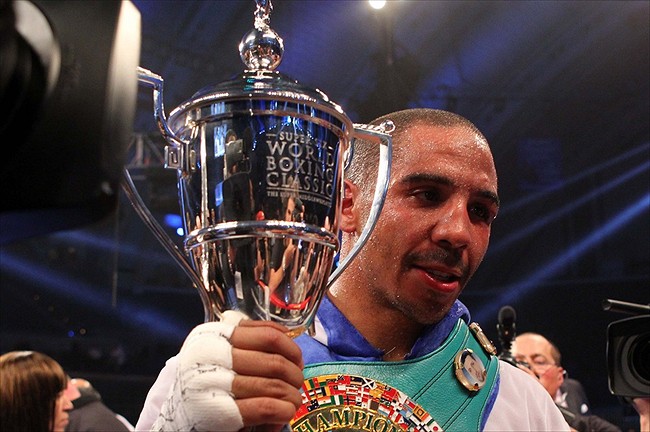 Facing off against Sergey Kovalev, Andre Ward finally gets the super fight that he's wanted
The day was September 8, 2012. Former lineal super middleweight champion of the world, Andre Ward, retained his super middleweight title with a dominant 10-round technical knockout over Chad Dawson, who at the time was the lineal heavyweight champion of the world.
Dawson was fresh off a majority decision win over all-time boxing great Bernard Hopkins, and was considered the favorite in the fight as the fighter coming down in weight to face Ward. In retrospect, the Ward vs. Dawson fight may have been a mismatch as Ward outclassed Dawson in a fight that today still stands as the best win on his resume; a resume that is glaringly absent of marquee match ups.
Mismatch or not, the win against Dawson put Ward firmly in the driver's seat as the heir to Floyd Mayweather's pound-for-pound throne.
Sadly for boxing fans, September 8, 2012 was the last time Andre Ward faced a fighter of note as the undefeated former world champion would go on to fight only four times in the next five years, with none of the fights presenting a fighter of any relevance.
So why did Ward, who seemed to be one Money Mayweather slip-up away from taking over as the face of boxing, just let it all slip away?
The answer is simple: for as great of a boxer that Andre Ward was and still may be, he couldn't win the biggest fight of his life, a legal battle with late boxing promoter Dan Goossen.  In 2013, Ward attempted to void his contract with Goosen Promotions but was repeatedly unsuccessful in a fight that would be drawn out for nearly two years.
Ward and Goossen went back and forth, exchanging blows with arbitration after arbitration and counter suit after counter suit until Goossen ultimately lost a bigger fight — with liver cancer.  In 2016, rapper and business mogul Jay-Z somehow was able to finally put an end to the legal battle when he signed Ward to Roc Nation Sports in January.
Eleven months after signing with Roc Nation Sports and 12 years into his professional boxing career, Ward will finally fight the biggest boxing match of his life when he faces undefeated unified light heavyweight world champion Sergey Kovalev on November 19 at the T-Mobile Arena in Paradise, Nevada.
Win or lose, this will be the defining moment of Andre Ward's career, and will either catapult him into superstardom or officially sound the bell to the start of the end of his career.  Either way, for a fighter to truly be great he must fight someone that is great.  History has shown a boxing record alone doesn't make a boxer's legacy.  Fighters fighting other great fighters are ultimately what legacies are judged on.
That is why a Floyd Mayweather vs. Manny Pacquiao matchup was essential for both men, and while the fight left much to be desired, neither man would have been in peace without the fight.  Evander Holyfield was already great before Mike Tyson but he became a legend by beating him.  Muhammad Ali was already a surefire Hall of Famer before George Foreman, but he became a folk hero when he rope-a-doped Foreman to sleep.
The Andre Ward vs Sergey Kovalev fight could be that type of event and should be viewed as a super-fight.  It is absolutely the defining fight of 2016 and the winner should be instantly considered and all-time great.  Both Fighters come into the fight ranked in Ring Magazine's pound-for-pound boxing rankings; Ward is No. 4 and Kovalev is No. 2.
Both fighters are undefeated, as Ward is 30 – 0 with 15 KOs and Kovalev is 30-0-1 with 26 KOs.  At minimum, the winner will be the new pound-for-pound boxer in the world, and in Ward's case, fight fans will finally get to see the man in a mega fight that actually takes place in a boxing ring.
This article originally appeared on