Will Manny Pacquiao retire again?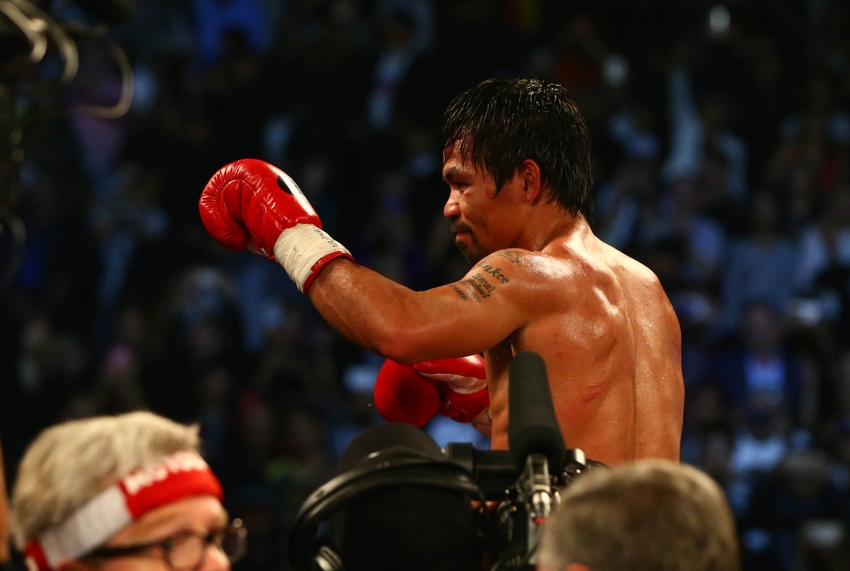 Will Manny Pacquiao retire for good after beating Jessie Vargas? Or will he try to chase another fight with Floyd Mayweather?
Boxers hardly ever stay retired, as they always find some reason to get back into the ring. Just as Roy Jones Jr., or Muhammad Ali did. And despite having real priorities as a Senator of the Philippines, Manny Pacquiao still found a reason to fight Jessie Vargas to capture another belt.
He turned in a clinical performance, but it was to be expected. Despite being the champion, Vargas was very overmatched, and didn't offer anything that Pacquiao hasn't seen before. While the fight didn't excite many outside of Pacquiao's most die-hard supporters, it still drew the attention of two noteworthy fighters.
Both Terence Crawford and Floyd Mayweather were in attendance, but perhaps that was done as a way of baiting Pacquiao. After the fight was over, none other than Floyd Mayweather stan Stephen A. Smith conducted the post-fight interview. Despite his repeated attempts at trying to garner a headline, Manny remained non-committal.
He didn't call out Floyd for a rematch, and didn't seem interested in wanting to fight Crawford. At one point, Stephen A. asked him directly "will you move down to fight Terence Crawford?" He responded yes, but that it was in the hands of his promoter. But given that both of them are Top Rank fighters, they probably wouldn't hesitate to book that fight.
No matter how much he wants to, Manny simply cannot dedicate all of his time to fighting. He appeared in the ring twice this year, which is a lot for someone who's supposed to be retired, but he took on two easy opponents in Vargas and Timothy Bradley. He chose Vargas specifically for his comeback fight because he competes in his natural weight class, and because he could afford to train part-time for someone like him.
A fight with Crawford would be too taxing on his body, and he would most likely lose that bout to begin with. While a rematch with Mayweather would be too much energy for everyone involved, including the fans. He has options outside of that, but hearing him sound so apathetic towards the prospect of future opponents means that Pacquiao seems more likely to step away from the ring.
It's too bad, because despite how stacked the welterweight division is, he probably remains the best fighter. But rather than risk coming back and losing, he'd rather leave on a high note, and with another belt. If he does return to the ring, it'll be to make his fans happy rather than himself.
This article originally appeared on