Taras Shelestyuk is emerging from Ukraine's boxing golden era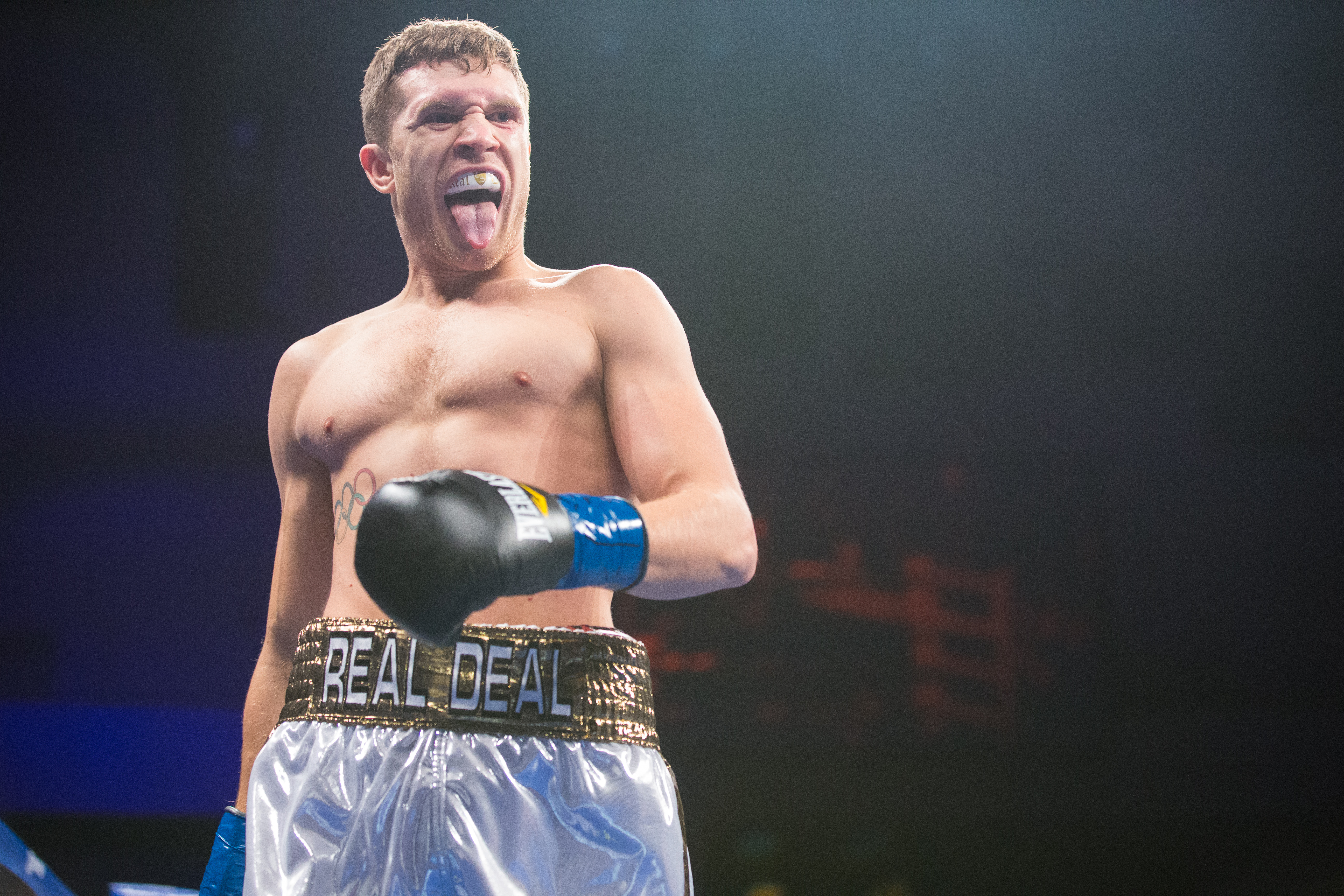 Taras Shelestyuk, who headlines on ShoBox this Friday against Jaime Herrera, is steadily working his way towards a welterweight title shot. As Shelestyuk closes in on professional glory, his ascent is further evidence of a boxing golden era in Ukraine.
At Ukraine's inaugural summer Olympics — the 1996 Games in Atlanta, Georgia — Wladimir Klitschko won super heavyweight gold. Klitschko, of course, would go on to have historic success as a professional fighter, and his example paved the way for his country's best ever boxing team — the 2012 squad, which captured five medals and included current welterweight contender Taras Shelestyuk.
But the marquee, blue chip Ukrainians to emerge from that historic team were Vasyl Lomachenko and Oleksandr Usyk. Lomachenko and Usyk both claimed gold medals and had meteoric rises as pros; Lomachenko is a two-weight champion through seven contests and is already considered one of the sport's best pound-for-pound fighters and Usyk wrested the WBO cruiserweight title from Krzysztof Glowacki in only his tenth bout and is being pegged for eventual heavyweight glory.
Taras Shelestyuk (14-0, 9 KOs) would go on to win bronze in London as his team tied Great Britain for the most medals overall, finishing ahead of such international powerhouses as Cuba, Kazakhstan and, to a (now) lesser extent, the United States. And make no mistake, Shelestyuk's podium finish was completely expected.
With a reported amateur record of 300-15, as well as a gold medal from the 2011 World Amateur Championships, Shelestyuk is part of a wave of elite amateurs with sparkling resumes who are invading professional boxing in every weight class. These are seasoned, skilled fighters who turn pro closer to their athletic primes, which means they are eager to take matchmaking risks to move quickly.
Not everyone can have the trajectory of a Vasyl Lomachenko, though. Lomachenko is a generational talent and someone who has benefited from powerful promotional backing. But if Lomachenko's success would seemingly cast a long shadow from which the likes of Taras Shelestyuk might struggle to emerge from, the humble Ukrainian doesn't seem worried in the slightest.
"I'm very happy for our teammates who won titles for my country," Shelestyuk said with pride. "They both did good work."
Shelestyuk, though, is singularly focused on his own career trajectory, and he has to be with a major opportunity to headline on ShoBox against Jaime Herrera (15-3-1, 8 KOs) looming. For Shelestyuk, who is already 30, an explosive main event victory will vault him to genuine contender status and land him the sort of opportunities worthy of his talent. And in Lomachenko and Usyk, he sees models who have paved the way for what he intends to achieve — not anxiety-inducing ideals.
But does he feel any pressure at all to live up to some gold standard? "No. I'm confident in my direction – no pressure," Shelestyuk said.
It's easy to dismiss such a blunt answer as a smokescreen, but Taras Shelestyuk is pragmatic about becoming a world champion. He does not claim to be ready for a title fight immediately but he clearly feels he will be by next year. Shelestyuk exudes a serene focus — on the task at hand, his next training session, the details — and a confidence grounded in the comfortable circumstances he's forged for himself since settling in the United States.
"It's easy," Shelestyuk said when asked about living in America. "It's easy for me because I enjoy it and my wife stays with me. And my parents support me from Ukraine, and my friends support me all the time because they know I'm following my dream."
Shelestyuk has been in the United States long enough now to have forged friendships with Americans who have followed and supported him since his professional debut. This means that he can find some solace and solidarity with people who aren't always more than an ocean away. He also never hesitated at the prospect of making sacrifices when it came to investing in his own talent.
"It was my dream from my first step in the boxing gym – fighting here in the U.S. and becoming a world champion," Shelestyuk said. "And I follow my dream, and when I was in my first fight, I was very excited.
"Professional boxing made me stronger. A lot of amateur skills work here very well but I always develop my body, my skills, my power, and my speed – and my mentality – to be stronger and be better than I was yesterday."
In speaking with Taras Shelestyuk, he kept circling back to the importance of mental fortitude. A psychological edge, more than sheer talent, is what he feels led to such historic success for Ukraine's 2012 boxing team, and it's also the facet of his craft that has evolved most since he turned professional — something that he credits trainer Eric Brown with honing.
Shelestyuk made an amicable switch from Freddie Roach to Brown, and he now trains at the Wild Card West gym in Santa Monica, California. Other than Brown, Shelestyuk benefits from sparring sessions with legend Shane Mosley, who has taken on a mentorship role with the emerging Ukrainian. With his amateur pedigree and the confidence he oozes since partnering with Brown, Taras Shelestyuk is ready for what he hopes will be the first of many main events, and while he's taking Jaime Herrera seriously, the upstart challenger should offer little he hasn't seen before.
"I know he beat a couple of guys who were undefeated and he lost to one guy from the 2012 Olympics [Egidijus Kavaliauskas]. But nothing special. He's orthodox, and he's a tough guy who wants to win this fight, and I need to do my best so that my hand is raised."
At the 2012 Olympics, seven men represented Ukraine in the boxing competition. Five of them won medals. Like the 1976 or 1984 American squads, Taras Shelestyuk and his teammates have already become the standard to which all future Ukrainian Olympians will be held.
Vasyl Lomachenko — gold in 2012 (and 2008), 6-1 as a pro; Oleksandr Usyk — gold in 2012, 10-0 as a pro; Denys Berinchyk — silver in 2012, 4-0 as a pro; Oleksandr Gvozdyk — bronze in 2012, 11-0 as a pro; and Evhen Khytrov (14-0) and Pavlo Ishchenko (3-0). Including Taras Shelestyuk, that's a combined 62-1 with three world championships so far.
These are the names and accomplishments to which Taras Shelestyuk will indelibly be linked. But although all these men share a storied history, they're also crafting their own narratives, and now is the moment for Shelestyuk to separate himself from the pack.
"This fight, I want to prove that I can be the best on this night," Shelestyuk said. "I want to show my fans and my team what I can do."
More from FanSided
This article originally appeared on