Sergey Kovalev vs Andre Ward: 5 reasons to watch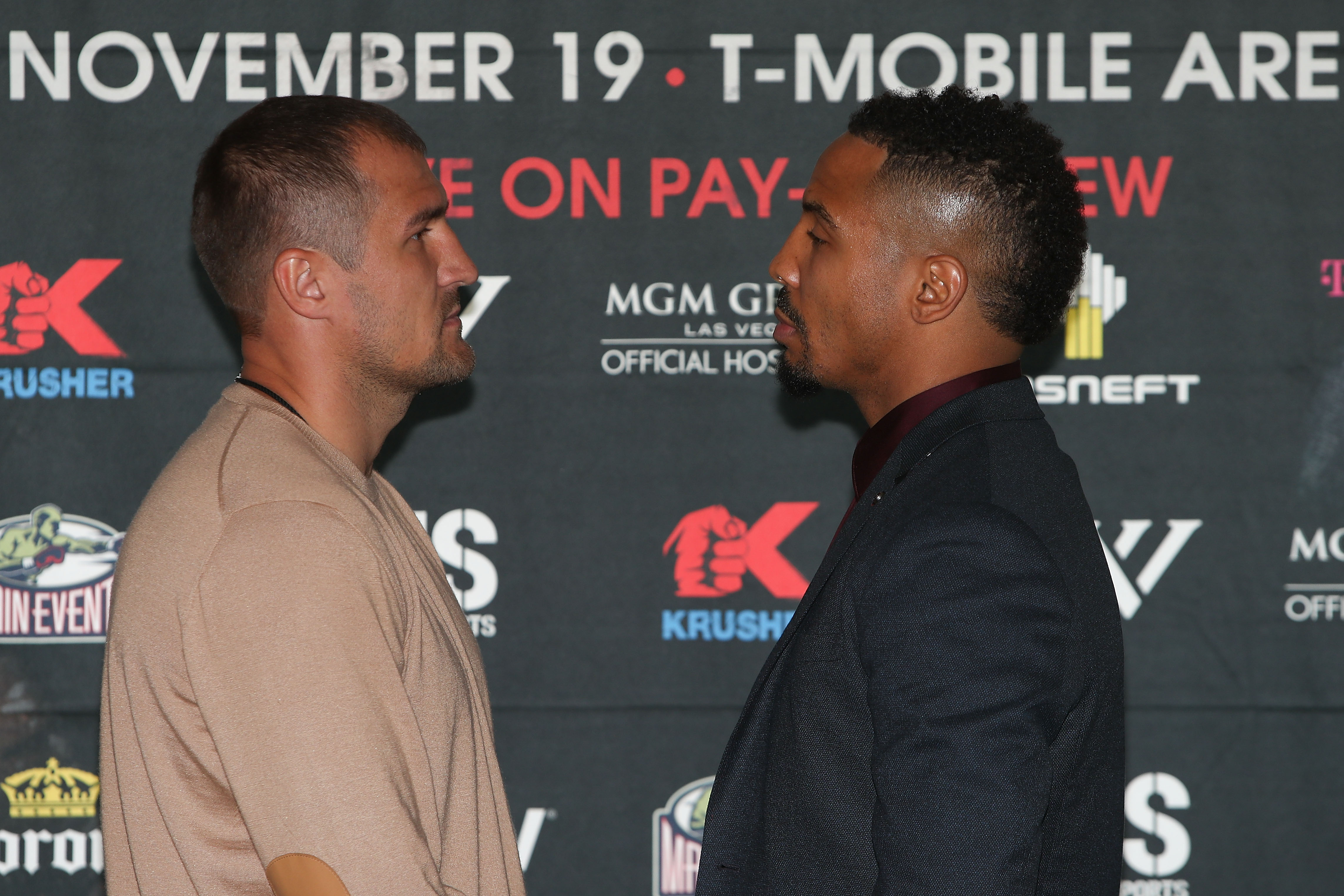 Sergey Kovalev defending his trio of light heavyweight titles against former super middleweight champion Andre Ward with pound-for-pound standing at stake shouldn't need selling. However, both Kovalev and Ward have failed to capture the public's imagination — yet that shouldn't overshadow the magnitude of this fight.
Finally, boxing got it right. With fights like Gennady Golovkin-Canelo Alvarez joining the scrap heap of failed negotiations and over-marinated match-ups, Sergey Kovalev-Andre Ward is a deserved treat for the sport's suffering fans. Now, all it has to do is live up to its immense hype.
The anticipation for Kovalev-Ward, though, is of an atypical sort — at least when one considers how boxing's landscape has shifted. The days of the best fighting the best at the optimal moment have virtually vanished, replaced by promoters and fighters more interested in buildings brands than legacies. Thankfully, Kovalev-Ward is the antithesis of this skewed logic.
Although Kovalev-Ward will be broadcast on HBO pay-per-view, it isn't the type of marquee fight that will break any revenue or viewership records — and that's a shame. Frankly, it's probably the most significant match-up since Oscar De La Hoya and Felix Trinidad put their undefeated records on the line in September of 1999.
In fact, as the Las Vegas Review-Journal notes, this will only be the third time since Ring Magazine started ranking fighters that two top-five, undefeated boxers have faced off. The other two bouts? The aforementioned De La Hoya-Trinidad match-up and Julio Cesar Chavez-Meldrick Taylor.
So, can Kovalev-Ward live up to such lofty company? Certainly. Is it a guarantee? Of course not. However, regardless of how the fight unfolds — and opinions on who will win are bitterly divided — it's one of those rare contests that demands viewing, because history will be made, and legacies will be defined, in some capacity. With that, here are five reasons to watch Sergey Kovalev-Andre Ward.
Two legacies are at stake
Sergey Kovalev-Andre Ward is a legacy fight. The winner, of course, will be unanimously viewed as the best light heavyweight in the world, as well as arguably the top pound-for-pound boxer on the planet. Moreover, added to these stakes is the reality that the victor will have likely punched their ticket to the International Boxing Hall of Fame in Canastota, New York.
For Sergey Kovalev, the chance to score a marquee, asterisk-less win has to be enticing. Kovalev's two best victories to date were his outclassing of Bernard Hopkins and his first bludgeoning of former lineal champion Jean Pascal. Both were excellent but came with mitigating factors: Hopkins, despite his sharp boxing skills, was pushing 50, and Pascal, while certainly a top contender, was somewhat faded.
To some, Andre Ward's run through the Super Six World Boxing Classic and his subsequent manhandling of Chad Dawson is enough of a resume to merit enshrinement in Canastota. And maybe it is. However, Ward's subsequent inactivity and promotional issues have left fans with nearly as many questions as answers about his career up to this point.
If Kovalev (30-0-1, 26 KOs) wins, he'll have earned that desperately desired signature triumph and irrefutable confirmation that he's not only one of boxing's most devastating offensive forces, but that he's one of its foremost craftsmen. As for Ward (30-0, 15 KOs), becoming a unified, two-weight champion and slaying the division's proverbial dragon will confirm that he is his era's best fighter.
It's a rare 50-50 match-up of contrasting styles
We've already examined the five keys to victory for both Sergey Kovalev and Andre Ward. Tactically, the match-up is a virtual stalemate, with every perceived advantage being negated by some other attribute. And yet, Kovalev-Ward is a classic test of hellacious puncher versus master boxer.
Few making predictions for Kovalev-Ward are doing so with genuine confidence because there are so many factors to consider. How will Ward fare when he tastes the full extent of Kovalev's power for the first time? Can he still replicate his 2011-2012 form? Conversely, will Kovalev even be able to reach Ward with a fight-altering punch? Is he actually a skilled enough boxer to solve the puzzle that is Ward?
Because Kovalev-Ward is so even, every element of it becomes fascinating, right down to their duelling jabs. Frankly, the tension will be almost unbearable. As both men jab, feint and deftly maneuver about the ring looking for angles to attack, the bursts of offense will explode faster than they can be absorbed. It's the kind of action— the omnipresent threat of Kovalev's power, and the depth of Ward's ring craft — that promises to captivate from the opening bell.
There will also be an epic struggle to dictate the terms of engagement, which promises to be absorbing. Andre Ward will want to get inside of Kovalev's power and set up shop in the trenches, but getting there is no straightforward task. Sergey Kovalev, on the other hand, needs to keep Ward at the end of his punches to maximize his power. Essentially, the winner will the one who bends the other to his will, and both are equally capable of succeeding in this regard.
Kovalev-Ward mirrors De La Hoya-Trinidad in magnitude
Remember when elite, undefeated, pound-for-pound fighters at (or near) their respective peaks were eager to fight each other? If such a concept seems like a mirage or a practical joke, you can be forgiven. But make no mistake, Sergey Kovalev-Andre Ward is a genuine A-level match-up, a potentially historic fight that fans could be revisiting for years to come.
Oscar De La Hoya-Felix Trinidad was billed as the "Fight of the Millennium." Entering the contest, De La Hoya was 31-0 with 26 knockouts and was the WBC welterweight champion; Trinidad sported a glossy 35-0 mark with 30 stoppages and held the IBF strap. Everything was at stake: undefeated records, world titles and pound-for-pound supremacy.
Kovalev-Ward matches De La Hoya-Trinidad in this sense. A unified championship is on the line, as are both men's perfect records. In terms of the actual bout, though, Kovalev-Ward promises to be even more compelling, and that's because of the threat of Kovalev's power and how he will inevitably draw Ward — who has a completely contrasting style — into a fight. How Ward copes with that will prove fascinating. Sure, De La Hoya and Trinidad were both tremendous punchers, but they never meshed as expected.
One facet where Kovalev-Ward will fall well short of De La Hoya-Trinidad is pay-per-view revenue. The "Fight of the Millennium" generated 1.4 million buys and the guaranteed purses for De La Hoya and Trinidad were 21 and 8.5 million, respectively. But in no way should this diminish Kovalev-Ward. And even though De La Hoya-Trinidad was hardly a classic, it's controversial verdict (a majority decision for Trinidad) is still hotly debated. Don't be surprised if Kovalev-Ward gives fans and pundits argument fodder for years.
It is a referendum on Andre Ward's lost years
After a dominant victory over Chad Dawson in defense of his WBA and WBC super middleweight titles on September 8, 2012, a win that solidified Andre Ward's status as the heir-apparent to Floyd Mayweather Jr.'s pound-for-pound throne, the fighter known as "S.O.G." went into hibernation. A slew of promotional issues and injuries led to a mere two fights prior to 2016.
Little can be gleaned from Ward's decision wins over Sullivan Barrera and Alexander Brand in preparation for the herculean task of dethroning Sergey Kovalev. Fans and pundits speculate about whether Ward is slightly diminished ad nauseam, but there's no way of knowing whether Ward is still actually one of the world's best fighters until he trades punches with Kovalev.
Simply put, Andre Ward still sits near the top of most pound-for-pound rankings by virtue of his reputation. Of course, it's not as if Ward looked ponderous or unable to pull the trigger against Barrera and Brand. Far from it. However, the harsh reality is that Ward hasn't fought an opponent worthy of his immense gifts since that Dawson fight four years ago.
Thus, the Kovalev bout is essentially a referendum on the "lost years" of Andre Ward's career, the meat of his athletic prime, don't forget. If Ward defeats Kovalev, his layoff will be vindicated, and he'll be declared by many as the pound-for-pound king. But if he loses, and especially if he gets stopped, Ward's career will be defined by a loud cohort — whether fairly or not — as a case of what could have been.
Can Kovalev or Ward finally capture the public's imagination?
As mentioned in the section comparing Sergey Kovalev-Andre Ward to Oscar De La Hoya-Felix Trinidad, neither Kovalev nor Ward has been able to captivate the public's imagination and become the type of elite earners their skills suggested they ought to be. Kovalev's failure to connect with fans is especially puzzling given his appealing, destructive fighting style.
Kovalev-Ward, of course, will take place at the T-Mobile Arena in Las Vegas, Nevada, and it will be telling to see who ends up holding the balance of power in terms of fan support. Conventional wisdom suggests Ward, only because his Oakland, California, supporters are relatively close to Sin City. However, consider that Ward, who has been an elite fighter for years, has never fought in boxing's capital.
Similarly, Kovalev, despite having been an A-side for several years, has never developed a home base where he can count on raucous fan support. Consider that Kovalev twice had to travel to Jean Pascal's backyard of Montreal and that no one has been able to help him captivate like Gennady Golovkin, a fighter with a similarly devastating style and who came to the U.S. with limited English.
Both Kovalev and Ward, though, have utterly unappealing, and sometimes disdainful personalities. Ward can come across as smug and aloof, and his layoff and career choices have been greeted by collective groans and eye rolls. Kovalev, on the other hand, embodies a cold, destructive Terminator persona that generally rings hollow. And then there's also the racist t-shirt of fellow champion Adonis Stevenson, and Kovalev's admission that he carried Jean Pascal in their second fight for the sole purpose of inflicting maximum damage and punishment, despite having previously killed an opponent. (Kovalev, to be fair, has shown genuine remorse for that tragedy.)
Fortunately for Sergey Kovalev and Andre Ward, they have the chance to captivate with their fists, which is by far their greatest strength. Ward, to be frank, seems to have zero interest in remotely altering his personality to become more appealing to fans, and that is his right; however, what he can do is earn unanimous respect with a dynamic performance. Kovalev seems to have a better shot at breaking through, especially if he scores a knockout. And yet, can either man shake the perception that they are withdrawn, vindictive or dull? Should they have to?
We'll know soon enough.
This article originally appeared on