Pacquiao vs Vargas result: Manny Pacquiao defeats Jessie Vargas by decision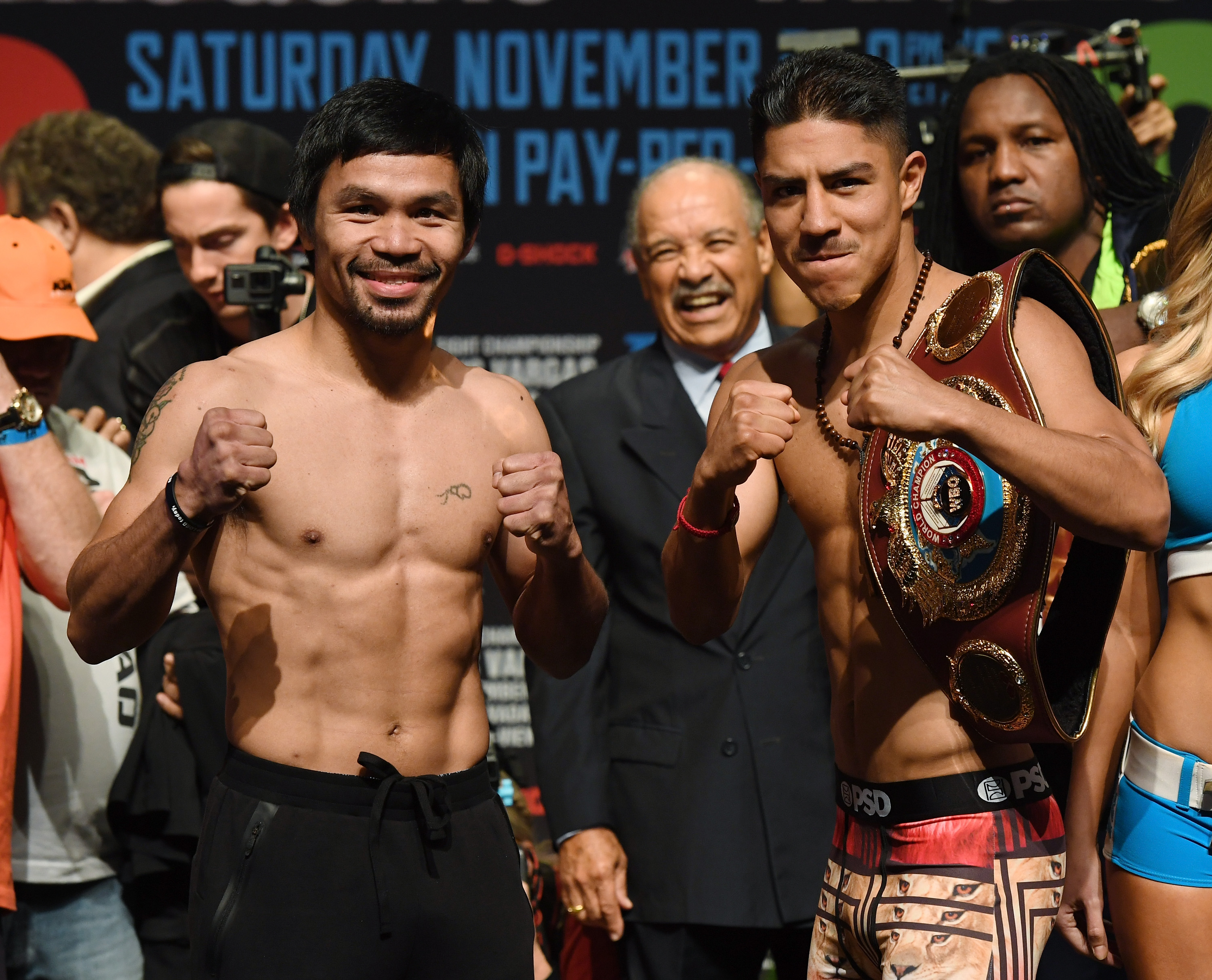 Manny Pacquiao added another belt to his impressive collection by putting in a clinical performance over an overmatched Jessie Vargas.
Despite how accomplished of a boxer Manny Pacquiao is, people couldn't have been more apathetic for his first fight back from retirement. A lot of that had to do with the opponent he chose, but Pacquiao has been steadily losing fans ever since he cried "injured shoulder" after losing to Floyd Mayweather.
Despite his age, the fact that Pacquiao was able to compete against two high-level fighters was impressive. What isn't impressive is that neither of them were Terence Crawford. Nobody asked to see a third fight with Timothy Bradley, and even less people asked for a fight with Jessie Vargas.
But Top Rank still had a show to put on, and they milked this fight as much as they possibly could. As much as people may have opposed it, there was still a fight to be had, and it was still Manny Pacquiao. So with that in mind, let's take a look at how it played out.
Round 1
Despite Pacquiao being the bigger name, he comes into this fight as a challenger. That's why he walked out first, though nobody really believes that he's an underdog. Both fighters started the round pretty tentative. Perhaps Vargas was nervous to be in the presence of Pacquiao, while Manny was showing the effects of a shorter training camp. They exchange few jabs, but the biggest action came from Vargas' clinch attempt near the end of the round.
10-10
Round 2
Manny's displaying some great defense this round. He's bobbing his head back and forth, and not letting Vargas connect on his punches. But Pacquiao's an action fighter, and it was only a matter of time before he got going. With a minute left, he starts stringing together one of his trademark flurries. After blocking a jab with his right hand, he scores the first knockdown of the fight with his left. It's the first time Vargas has ever been knocked down, and it puts him at a big disadvantage.
Pacquiao leads 20-18
Round 3
Let's see how Jessie Vargas responds to that knockdown. Stephen A's bias is really shining through, as he claims Pacquiao only stung Vargas on that punch. He starts this round with the same aggression that he ended the last one with. Jessie' hand speed is no match for Manny's – by the time he's finished landing two punches, he gets out of the way of one.
Pacquiao leads 30-27
Round 4
After his left hand has been ineffective for most of the fight, Vargas switches to Orthodox stance in this round. But it's not fazing Pacquiao, as he's able to walk in on him without any fear. After an aggressive last two rounds, Pacquiao is a bit quieter, and is displaying some of his defense here.
Pacquiao leads 40-36
Round 5
The stats reveal that Vargas has thrown more punches, but a lot of them have missed or aren't doing significant damage. Manny, meanwhile, is making the most of his chances. He lands a big left hand in this round, his best shot in a long time. He continues to walk down Vargas to great effect, though the announcers warn the viewers of the crowd cheering punches that don't land.
Pacquiao leads 50-45
Round 6
Vargas is now starting to use his reach to his advantage. After standing close with Pacquiao for the last couple of rounds, Vargas is keeping his distance in this round. He's able to land some solid jabs and a straight right. It's actually starting to work, as he can pick off Manny every time he tries to come in closer. He's still winning this fight, but not according to Stephen A. Smith who – shockingly – has Vargas winning.
Pacquiao leads 59-55
Round 7
Pacquiao's been able to break through a bit here. He's landed three straight right hands in the start of the round, then coasted the rest of the way. His offense disappeared for a bit, and both fighters have looked sloppy. But let's see if this sparks another knockdown for Pacquiao.
Pacquiao leads 69-64
Round 8
The punch stats have been close throughout, although Manny is connecting at a slightly higher rate. Vargas landed arguably his best shot of the night, when he connected on a straight right. It staggered Pacquiao. He countered shortly thereafter, and a flurry left Vargas with some blood over his right eye. Despite that big shot, Manny still won the round based on overall ring control.
Pacquiao leads 79-73
Round 9
This is turning into a brawl. With Vargas sensing that his cut could lead to a potential stoppage, he's going for it even more. We're starting to see headbutts from both sides, which is never good. Pacquiao lands a left hand, but Vargas should be acknowledged for staying in this fight. There's been some solid action on both sides.
Pacquiao leads 89-82
Round 10
Manny's displaying some tremendous hand speed in this round. It has staggered Vargas on more than one occasion. Despite holding a belt, Vargas' stamina has let him down in the later rounds, and Manny is countering at will. He's able to land a right hook, followed by a left to the chin. The decision is well wrapped up for Pacquiao, the question is can he knock him out?
Pacquiao leads 99-91
Round 11
Vargas catches Pacquiao with a left as he comes in. It was his best shot in a long time, but it doesn't faze Manny. Vargas goes to the ground again, but replays show it wasn't due to a punch. He simply tripped over during an exchange, and while Pacquiao made contact, it was too high to make any real impact. Regardless, that was another round to him.
Pacquiao leads 109-100
Round 12
Vargas knows he needs a knockout to retain his title, and as a result he comes out swinging. But Pacquiao is able to avoid it easily by moving his head. Vargas was beaten up, so his shots couldn't do much damage in the first place. Even though it wasn't a knockout, this was never in doubt.
Pacquiao leads 119-109
Manny got a one-sided unanimous decision, despite a 114-113 scorecard (that must've come from Stephen A. Smith!). While he may have considered retiring for good to focus on politics, that may have changed once he noticed Floyd Mayweather in the building.
While Manny looked great in this fight, nobody's convinced that he can beat someone like Terence Crawford at this stage of his career. Vargas was an overmatched opponent, and everyone knew he could make light work of him. This result only adds to his legacy, though, and whether he continues to fight or not, he can hold his head up high.
This article originally appeared on