Pacquiao vs Vargas: 5 keys to victory for Jessie Vargas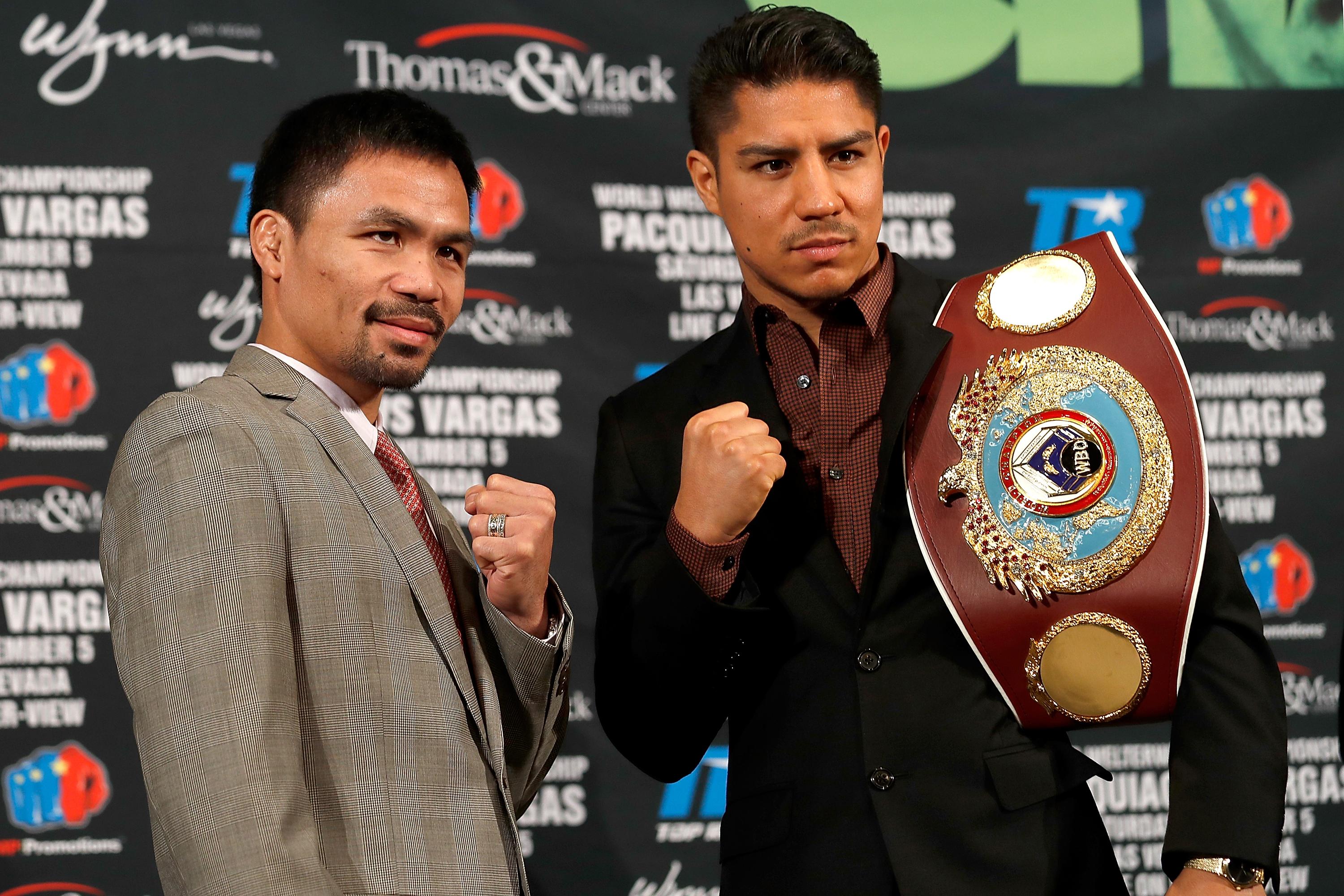 Jessie Vargas is less than a week away from the herculean task of trying to upset Manny Pacquiao. While few are giving Vargas even the slightest chance of winning, here are five keys to victory for the WBO welterweight champion.
No one should blame Jessie Vargas for landing a fight against Manny Pacquiao. For Vargas (27-1, 10 KOs), a skilled and likable champion, the Pacquiao fight represents a life-altering opportunity — both from a boxing and financial standpoint.
And yet, it's easy to understand why boxing fans are frustrated with the matchup. Pacquiao (58-6-2, 38 KOs) looked sharp in his last fight — another dominant win over Timothy Bradley Jr. — and his comeback after a brief retirement led to speculation about the potential of a Floyd Mayweather Jr. rematch or a tantalizing bout against unified junior welterweight champion Terence Crawford.
But in opting to face Vargas, one has to wonder about the ultimate purpose of Pacquiao's ring-return, especially given that the Filipino icon is now a senator (he was formerly a congressman) and likely eyeing his country's highest office at some point in the near future. Is Vargas a springboard to something bigger? Or is this simply a cash grab for Pacquiao?
Regardless, you can bet Jessie Vargas is taking this fight far more seriously than the majority of boxing fans. And given Pacquiao's age and Vargas' breakout win over Sadam Ali, he could exceed expectations. Here's how that happens.
5) Landing the right hand
A quick glance at Jessie Vargas' knockout record — a KO percentage of 36 — doesn't suggest fight-altering power. However, over his last two contests, Vargas appears to have harnessed genuine explosiveness in his right hand, which he used to shake Timothy Bradley Jr. to the soles of his boots in the final round of their fight and explosively stop Sadam Ali in his next outing.
Against Manny Pacquiao, a southpaw, Vargas' right hand will be his most crucial weapon. He must be able to set it up with jabs, counter with it and, if he's feeling bold, lead with it. At this stage of his career, Pacquiao is even more hittable and his whirlwind, attacking style means there will be openings for Vargas' right hand.
Pacquiao was famously knocked spark out by a Juan Manuel Marquez counter straight right hand that travelled mere inches in their unforgettable fourth fight. Vargas certainly can't counter punch on Marquez's level, but he doesn't have to; he merely needs to throw his right hand with conviction.
Footwork will be crucial in this regard, as Vargas will want to circle left and blind Pacquiao with his jab to create a path for his right hand. That said, feinting with his right, occasionally dropping the punch downstairs and throwing off-speed shots will be essential. For an orthodox fighter, this is the most basic power punch — yet variety will be key.
4) Avoid a dramatic drop in punch output
An analysis of CompuBox statistics ahead of Jessie Vargas' last bout against Sadam Ali reveals a fighter who boxes to the welterweight mean. Vargas averages 57.3 punches per round and 18.4 connects; the division averages are 57.6 and 17.8, respectively. Vargas also throws 22.2 jabs (landing 5.5) compared to 24.1 and 5.1 for typical 147-pounders.
In terms of power punches, Vargas' typical output is 12.9 of 35.1 for his hooks, crosses and uppercuts, while the standard welterweight averages 12.7 of 33.5 per round. But why do these numbers matter?
They matter in direct relation to how much they will drop against Manny Pacquiao because, make no mistake, Vargas will not meet or exceed his typical punch output — and this is natural. He's in by the far the biggest fight of his career against a generational talent, so he'll likely ease his way into the bout behind a cagey start in order to find firm footing. But what Jessie Vargas cannot do it let Pacquiao handcuff him.
Consider the total number of punches Timothy Bradley Jr. threw against Manny Pacquiao over three 12-round fights (in order): 839, 609 and 302. In the third fight, Pacquiao scored two knockdowns and Bradley appeared devoid of ideas. If Jessie Vargas finds himself averaging a per-round output of 40-45 total punches — or, god forbid, something in the mid-30s range — he stands no chance.
Vargas' opponents have also been able to land 38.3 percent of their power punches against him, which is slightly alarming with Pacquiao looming. Indeed, throwing more punches leaves one vulnerable, but against Pacquiao, retreating with a passive high guard can be worse.
3) Initiate exchanges
If Jessie Vargas is merely reactive in this fight, he will get thoroughly outclassed. Manny Pacquiao flurries with combinations from such diverse angles that Vargas will emerge second best from the majority of exchanges Pacquiao is allowed to dictate. Even if the majority of Pacquiao's punches don't land cleanly, his hand speed, volume and pressure impress judges.
It would be a significant tactical error for Vargas to attempt to match Pacquiao's whirlwind combinations but he will need to dish out a steady dose of crisp one-twos and stiff jabs to disrupt Pacquiao's timing and keep him at bay. Remember, also, that Vargas is the significantly taller fighter with a longer reach.
One of Pacquiao's greatest strengths is his ability to dictate tempo. And his footwork is so fluid that he can dart in, sting his opponent with a combination, dart back out and then resume the cycle. This leads to frustration, wild and missed punches as well as tactical breakdowns from befuddled foes.
If Jessie Vargas can consistently throw punches first — even if it's just a sharp jab or a one-two — and then reset, he'll start to win exchanges, and the significance of this cannot be overstated. And when Pacquiao starts to get into rhythm, Vargas will need to clinch and rough him up in order to re-establish distance and find the breathing room to initiate his own attacks. This is far easier said than done, but Vargas has the youth and gumption to pull this off in spots.
2) Ignore the magnitude of the moment
Although he has fought one elite opponent in Timothy Bradley Jr., Jessie Vargas is entering uncharted territory against Manny Pacquiao. One cannot adequately prepare for the circus that is a Pacquiao fight in Las Vegas, not to mention facing someone with Pacquiao's combination of natural gifts and championship pedigree. It simply has to be experienced.
But in a sense, Jessie Vargas' ignorance of such things could work to his advantage. Of course, this could naturally backfire and Vargas could freeze under the proverbial bright lights, but the thinking here is that he'll box with a confidence that belies the numerous discrepancies most fans and pundits see in this matchup.
Vargas can take solace in the fact that even though Timothy Bradley Jr. clearly outboxed him in their fight, he nearly knocked Bradley out in the bout's final frame. More importantly, Vargas produced his most decisive performance in his last outing — a knockout of 2008 Olympian Sadam Ali, who many viewed as the more talented fighter heading into their clash for the vacant WBO welterweight title.
All this to say that Vargas ought to enter the ring against Pacquiao feeling confident. The Ali victory erased the stains of some of the dodgy decisions he profited from as a 140-pounder, and the Bradley fight was an invaluable learning experience that proved he possesses championship resolve. This may not be enough to ultimately upset Manny Pacquiao, but it should at least foster an unshakable feeling that Vargas belongs in that ring and is there to do a job.
1) Exploit size advantage
Although he only recently moved up to welterweight full time (he had previously fought as heavy as 149 pounds), Jessie Vargas holds a significant size advantage over Manny Pacquiao in two respects: First, Vargas is 5'10" to Pacquiao's 5'5 1/2″; second, Vargas has a 71″-67″ edge in reach.
In terms of height, Vargas can box effectively if he keeps the fight at an optimal range, but that's an unforgiving task against someone as skilled, fleet and aggressive as Pacquiao. So, when Pacquiao inevitably works his way in range — which will be often — Vargas needs to clamp down on him with those long arms like a crab and lean on Pacquiao's back. This isn't an appealing strategy, but he must try and bully the 37-year-old Pacquiao at close range.
Pacquiao is a master of negating the advantages of taller, rangier opponents, but if Vargas has the confidence to initiate exchanges, he may be able to do so from a range that allows him to at least touch Pacquiao while avoiding counters. Physically, Vargas has the tools to land a spearing jab and a stinging one-two. But the bigger variable is whether he possesses the timing.
Face it: Manny Pacquiao is an aging fighter. And although he proved that he's still elite in his third fight against Timothy Bradley Jr., he isn't the same destructive force who was rising through weight classes at a historic rate and bludgeoning elite foes circa 2009. In the interim, he's been knocked out cold and outclassed by Floyd Mayweather Jr. He's mortal.
And in terms of Pacquiao's boxing mortality, there's no better way for Jessie Vargas to test it than by asserting his youth and athleticism. Vargas, after all, is the one entering his prime. Pacquiao is a better fighter, but if one of them ought to have the reserves to produce the type of late moment Vargas had against Bradley, it is indeed Vargas — not Pacquiao. Vargas needs to rough Pacquiao up and turn the fight into a grueling struggle in spots. He has the youth and size to do it, but does he have the confidence?
More from FanSided
This article originally appeared on