Orlando Salido-Takashi Miura a refreshing move from HBO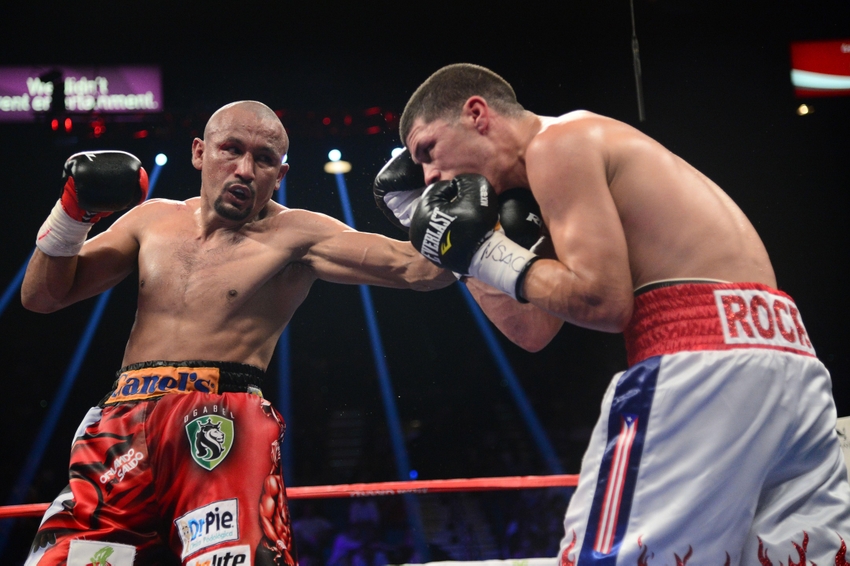 Orlando Salido and Takashi Miura will face off on December 17 on HBO in a fight that will undoubtedly bring 2016 to a close with a bang. For HBO, which has endured a somewhat rough calendar year, Salido-Miura is the kind of investment they should be making more often.
Orlando Salido is a genuine favorite of any hardcore boxing fan, both because of his fighting style and his determination in the face of suspect verdicts in many of his bouts. Salido (43-13-4, 30 KOs), in a sense, is emblematic of boxing — pure, almost noble violence in the face of maddening politics and private interests. No matter how often Salido gets robbed, though, he keeps grinding and making great fights — and the public reveres him for it.
Takashi Miura made an unforgettable impression on American boxing fans during his Stateside debut, a ninth-round title losing effort to Francisco Vargas in a bout that most outlets agreed was 2015's Fight of the Year. Miura (30-3-2, 23 KOs) losing his WBC belt to Vargas hardly mattered; like Salido, he embodied everything boxing fans want to see in a fighter.
That HBO will air Salido-Miura is refreshing because it pushes back against the maddening trend of investing in fighters as opposed to great match-ups. Canelo Alvarez, for example, essentially holds HBO hostage, as his star power is such that the network has to air his bouts regardless of his opponent. That's why fans had to suffer through Canelo's one-sided bludgeoning of Liam Smith.
Here are some details about Orlando Salido-Takashi Miura, courtesy of ESPN.com's Dan Rafael:
In a fight that virtually guarantees wild action, they will square off for a vacant interim junior lightweight title on Dec. 17 in the main event of an HBO "Boxing After Dark" card at The Forum in Inglewood, California, after their camps finalized a deal Thursday, Golden Boy Promotions CEO Oscar De La Hoya told ESPN.com.

More from The Living Daylights

"It's signed, sealed and delivered," De La Hoya said. "It's not complicated matchmaking, but it goes to show you that we at Golden Boy want to make the best fights. We want to go out with a bang to close the year. We're hopefully going to do a tripleheader on HBO. We're talking to [HBO Sports executive vice president] Peter Nelson about it, because we want to give the fans a special treat for the holidays."
Although Golden Boy Promotions CEO Oscar De La Hoya should avoid patting himself on the back with too much gusto due to how he's handled the Canelo-Gennady Golovking saga, Salido-Miura does deserve praise.
In 2016, fight fans have also had to witness the slow boil leading to Sergey Kovalev-Andre Ward, with HBO again backed into a corner where they had to air a string a unnecessary tune-up fights ahead of a bout that should have happened by now. As the same protracted to path to Golovkin-Canelo looms, fights like Orlando Salido-Takashi Miura are even more essential.
So, do you expect to see more fights like Salido-Miura from HBO going forward after a forgettable 2016? Or will the status quo reign supreme? But more importantly, who wins Salido-Miura? Let us know in the comments section below.
This article originally appeared on