Mayweather vs. McGregor: 5 reasons it will not happen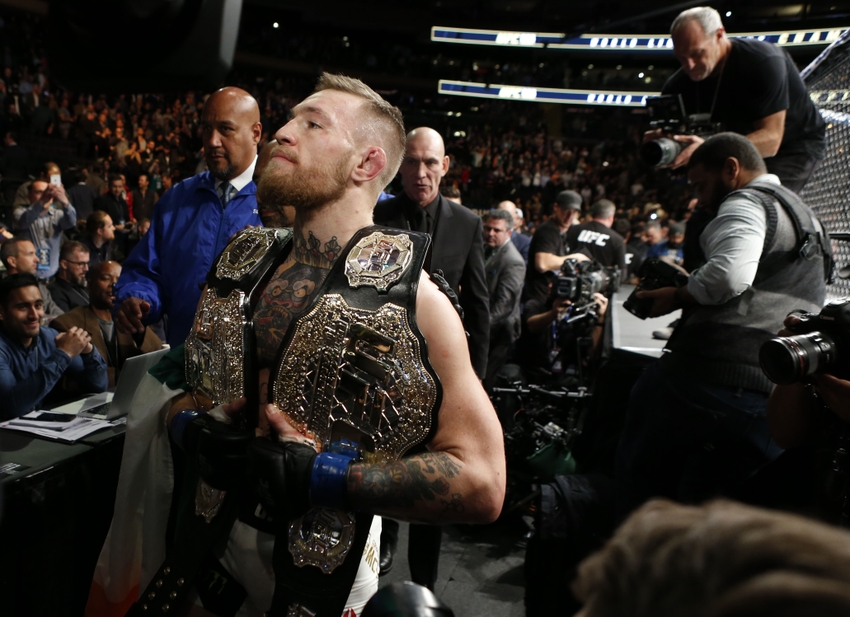 As fun as it is to imagine, chances are that the much-hyped Conor McGregor vs. Floyd Mayweather fight will never happen.
If it's one thing that Conor McGregor knows how to do better than fighting, it's grabbing headlines. Every time the Irish fighter takes to Twitter, gets in front of a microphone or a video recorder, his words capture the attention of millions of MMA fans.
One story that he's continued to push for the last year or longer is the idea that he will fight Floyd Mayweather at some point in his career. Mayweather and McGregor continue to go back and forth at each other in interviews and across social media; fueling the flames to this fantasy battle. And that is exactly what this proposed fight is: fantasy.
Yes, the idea of McGregor stepping into the boxing ring with perhaps the greatest boxer of this era does create interesting conversation. Yes, this fight would bring together two of the biggest combat sports stars of this era. And yes, this fight would generate millions of dollars for all of the parties involved.
However, these reasons are not enough to power this fantasy fight into reality. There are a number of hurdles that both men and the business partners behind them would have to leap in order for a fight between McGregor and Mayweather to occur. With that in mind, these are five reasons why fans shouldn't get too excited at the idea of Mayweather versus McGregor; regardless what some mainstream sports outlets may proclaim.
Number #5: Floyd Mayweather is retired
At 39 years of age, Mayweather retired in a position that many combat athletes fail to reach. When he retired after his last fight against Andre Berto in 2015, he hinted at a comeback, but has mostly focused on developing fighters through Mayweather Promotions. Even as Manny Pacquiao is pushing for a rematch, McGregor has been the main name that Mayweather frequently mentions. Yet, it's hard to believe that "Money" will come out of retirement, especially at this age.
While McGregor has become perhaps the biggest star in combat sports, that's a position that Mayweather relinquished when he retired. He doesn't need to come back in the same way that forces many other fighters to come back into the sport. He's one of the highest grossing athletes of all time and he has multiple endeavors outside of sports to fill his coffers.
While McGregor may demand massive paydays for this fantasy fight, truth is that he hasn't reached that point to be the same type of attraction as Mayweather to demand such massive rates. The proof is in the PPV rates, event revenues and payouts which are all public information.
While the back and forth is funny to see and hear, Mayweather is retired without any real motivation to return to the game.
Number #4: UFC binding contracts
The language in UFC contracts is extremely binding; in ways that fans, and often times the fighters on the roster don't understand. This is the same company that has used their contracts to own the likenesses of any fighters that have competed for them in perpetuity. McGregor's acquisition of a California boxing license is an interesting development, but it still doesn't circumvent the language found in these contracts.
These contracts also grant the UFC the right to be the sole promoter for their contracted fighters in any realm of combat sports which includes boxing, professional wrestling and other forms of martial arts. The only time a fighter is allowed to step outside and compete in other venues such as Metamoris is when the UFC grants an "O.K." There's nothing of note to create the belief that the UFC would allow McGregor to step outside this clause and compete in a boxing match.
What has made Floyd Mayweather such a financial success is that he's the main promoter for his bouts; which allows him to reap massive amounts of the revenue from each event. Neither side has shown a tendency to give up control to any other entity nor that would cause a major issue in this idea of a fight. The UFC uses their restricting contracts to keep athletes from such ventures when they see fit and McGregor's efforts to box against Mayweather could find all the parties in court.
Number #3: Conor McGregor has work to do in the UFC
Whether the UFC wants fans to believe it or not, McGregor is still the people's two-division champion. The promotion has stripped him of the featherweight title and is ready to move forward with the 145-pound division. That leaves McGregor to rule over the lightweight division where there's a lot of work to be done.
One way that McGregor detractors continue to attack the champion is that many point towards the fact that he's yet to defend the title. Since winning the title a year ago, he's yet to defend it and taken other big money fights that continue to build his fame.
But he's only competed once in the UFC lightweight division; dispatching Eddie Alvarez in quick fashion. That leaves a number of men ready to challenge him for that belt. One being is Khabib Nurmagomedov whose style seems to be a direct threat to what makes McGregor so dangerous.
The list of potential contenders for McGregor in this new weight class goes beyond the Russian fighter. There's Tony Ferguson, Nate Diaz and others pushing their way up the rankings to face this new champion. McGregor has even referenced fighting at welterweight in the near future. McGregor may be looking towards other opportunities, but there's still work that needs to be finished within the 155-pound division.
Number #2: What rules?
One of the biggest issues with a Mayweather fight is the frequent disputes around rules. Disagreements around weigh-ins, glove sizes and drug testing impacted many of the biggest fights on his resume. With that in mind, it is very difficult to see Mayweather letting go of any control in the rules discussion to McGregor.
When fans debate about a fight between Mayweather and McGregor the conversation always turns to rules: if MMA rules are in play, it's McGregor's fight to lose. If boxing is the main rule set, then Mayweather has the advantage. Both of these men are very controlling over every aspect of their career; which is one reason McGregor has become a darling in MMA. Just as with Mayweather, it would be hard to see McGregor willing give in on the rule set that play directly into Mayweather's wheelhouse.
UFC President Dana White has frequently commented on how bad Mayweather would do if he ever stepped into the mixed martial arts arena, and he's correct. But any sports fan with knowledge of Mayweather knows that he wouldn't be caught anywhere near the Octagon, unless he was watching safely from the crowd. His quest to control nearly every aspect of his fights creates a problem for a creating a fight against Conor McGregor.
Number #1: Risk vs. Benefits Analysis
On both sides of the equation there are risks and benefits for both men. Obviously, all the parties involved stand to make a lot of money if this fight would be successfully launched.
For McGregor, he stands to gain a massive amount in being paired with a recognizable face of Mayweather's magnitude. That same opportunity isn't there for Mayweather, but he's never been one to shy away from the limelight.
However, are these benefits enough to outweigh the risks? Would a defeat on such a grand stage damage the level of fame that McGregor has built to this point? Is Mayweather willing to take the risk of shattering his entire, well-protected legacy on one well-timed left hand from McGregor? That back and forth creates a conversation that's dwarves the frequent complaints that delayed Mayweather's fight with Manny Pacquiao and almost cancelled his bout with Shane Mosely.
McGregor's presence in mixed martial arts has been a major catalyst to push the sport more towards entertainment rather than sporting contest. Mayweather is the master of that spectacle which has made the idea of a fight against McGregor so alluring. Still, there are massive risks both business and professional career worthy that will make it difficult, if not nearly impossible to get these two men into the ring or cage.
This article originally appeared on