Manny Pacquiao vs Jessie Vargas: 5 biggest takeaways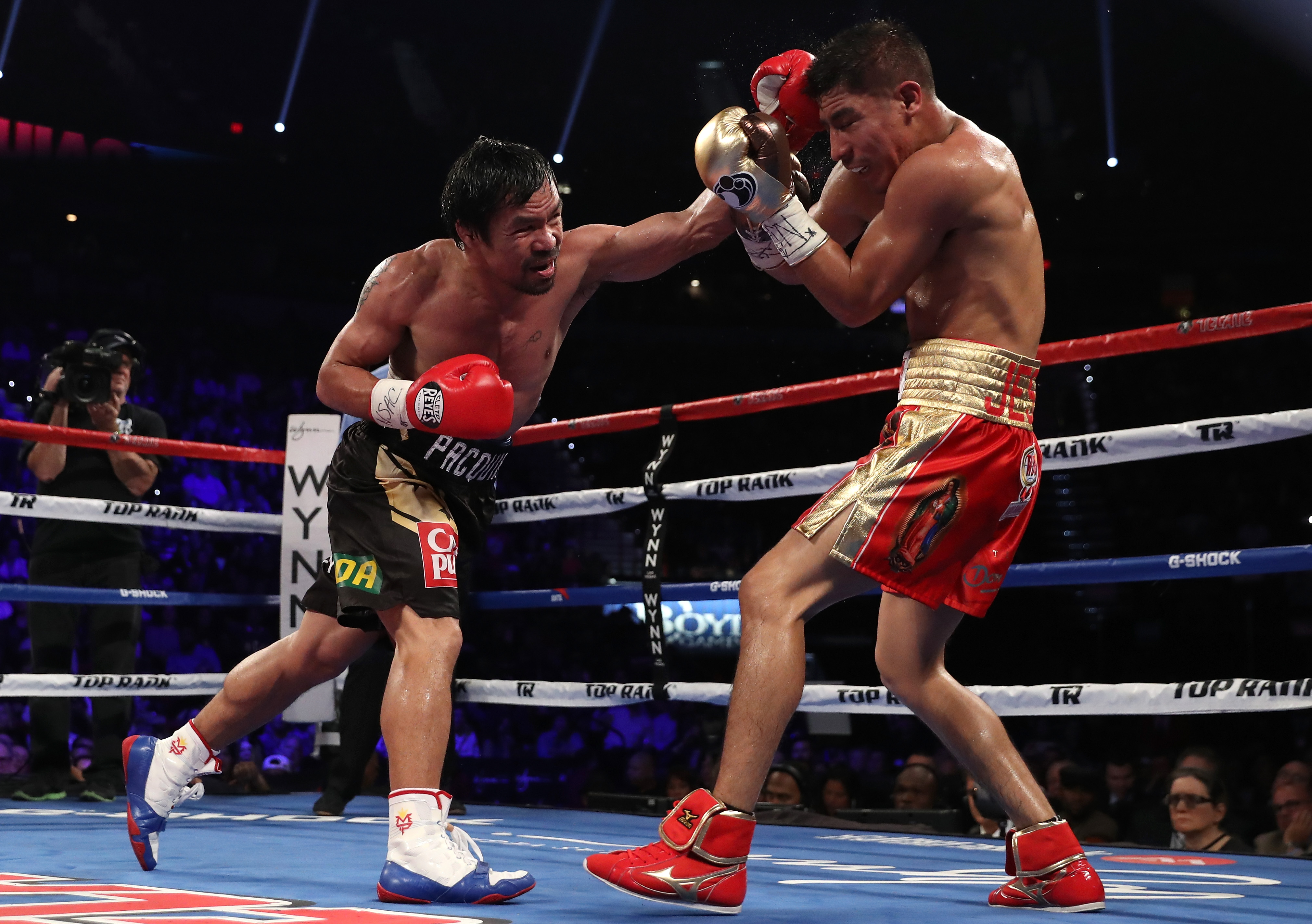 Manny Pacquiao scored a comprehensive unanimous decision over Jessie Vargas in a fight that exceeded expectations. Here are five takeaways from Pacquiao-Vargas and the trio of bouts that rounded out the pay-per-view broadcast.
Although he couldn't scored the stoppage so many fans craved, Manny Pacquiao went into an extra gear in the final third of his fight against Jessie Vargas, outclassing his game, younger foe after a compelling and competitive eight rounds.
Vargas (27-2, 10 KOs), though, has nothing to be ashamed of, and the experience he gained should prove invaluable. But all the attention and plaudits will go to Pacquiao (59-6-2, 38 KOs), the Filipino senator who proved that demanding political commitments have not adversely impacted his boxing skills in the slightest. Pacquiao has naturally regressed with age, but he's still an elite fighter.
On the undercard, Oscar Valdez impressed with a devastating stoppage win, and Jessie Magdaleno wrested the WBO super bantamweight title from former pound-for-pound stalwart Nonito Donaire in the card's best contest.
Also, Zou Shiming finally broke through and claimed a world title as a pro, defeating Prasitsak Phaprom for the second time to win the WBO flyweight title. Expect a triumphant homecoming defense for Shiming, which could serve as a watershed moment for China's burgeoning boxing culture.
With that, here are five takeaways from the Manny Pacquiao-Jessie Vargas pay-per-view card.
Manny Pacquiao should fight Terence Crawford
Indeed, Floyd Mayweather Jr. made a show of sitting ringside for Manny Pacquiao's decisive unanimous decision win over Jessie Vargas, but a Mayweather-Pacquiao return bout will only be another monstrosity that will hold boxing hostage. Instead, Pacquiao should direct his attention to Terence Crawford.
By outclassing Vargas over the bout's final third, Pacquiao reinforced what he proved in his trilogy bout against Timothy Bradley Jr.: that he's still an elite fighter. Pacquiao has always had the desire to face the best possible opposition, and given that he can still perform at a high level, continuing to seek out the likes of Jessie Vargas — excellent but not yet elite fighters — is a waste of everyone's time.
In his post-fight interview with Stephen A. Smith, Pacquiao was characteristically noncommittal about who he wanted to face next, but he did leave the door open to challenge WBC/WBO 140-pound boss Crawford. It's an extremely dangerous fight for Pacquiao, and he should be the underdog; it's a fight, though, that he can win.
Crawford is one of the sport's few elite operators who has the versatility to match Pacquiao's offensive brilliance. An effective switch-hitter, Crawford can box and brawl in equal measure. Both are promoted by Top Rank, and it could serve as a symbolic passing of the torch. Simply put, Crawford-Pacquiao is one of the best fights that can be made in boxing.
Jessie Vargas fought well, but Pacquiao figured him out
Those who thought Jessie Vargas was simply going to get outclassed by Manny Pacquiao now have to eat their words. Although the scores of 118-109 (twice) — and forget the perplexing 114-113 card — reflect a comprehensive Pacquiao victory, this was a legitimately competitive fight through eight rounds.
Pacquiao, to his immense credit, won going away, sweeping the fight's final third (or final half depending on your scorecard) after figuring out how to largely negate Vargas' right hand while peppering him with a steady dose of sharp lead rights and left hand power shots from his southpaw stance. As ever, Pacquiao's precise footwork and managing of distance befuddled Vargas and created angles for clear scoring blows.
Vargas, though, acquitted himself with aplomb in a variety of ways: first, he showed he can overcome adversity after settling down following a second round knockdown and a disruptive cut over his right eye; second, he had legitimate success with a spearing jab, body shots from range and his vaunted straight right hand — particularly when countering; and third, he accepted defeat gracefully and sustained his intensity and fighting spirit as the bout clearly slipped away.
There's no shame in ultimately losing both the physical and tactical battle to Manny Pacquiao. Vargas proved that he's a championship-caliber fighter, and in a loaded welterweight division, he'll find himself in another significant bout in 2017. And losing to Pacquiao will only make him a better fighter in the long run.
Oscar Valdez needs to fight elite opposition in 2017
Oscar Valdez's rise to becoming the WBO featherweight champion has been logical and has seen him gain his footing as a belt-holder by feasting on a pair a no-hope opponents meant to highlight his enviable skill set. Following his frightening one-sided destruction of Matias Rueda to win the title, Valdez (21-0, 19 KOs) made his first defense by bludgeoning the brave but offensively timid Hiroshige Osawa in seven rounds.
Valdez, as expected, was able to flash the seemingly unlimited extent of his abilities in what amounted to a showcase fight. Although he abandoned his jab for a time, Valdez used his lead left as an impressive battering ram at key moments, stepping in with rare power to land the punch. His left hook was characteristically devastating, and he showed admirable patience when he had Osawa (30-4-4, 19 KOs) hurt.
The brave and rugged Osawa, however, was unable to mount any effective offense. At this point, with that first title defense now out of the way, Valdez can step up and face opposition worthy of his talent. Featherweight is loaded division, and Valdez is already at the level where he belongs in the ring with his fellow champions and elite contenders at 126.
Valdez would likely run roughshod over IBF titlist Lee Selby, and he's also ready for Gary Russell Jr. or Jesus Cuellar, who fights Abner Mares next month. The Carl Frampton-Leo Santa Cruz winner also looms as an ideal foe in the near future. However, don't expect these bouts to materialize in the first quarter of 2017. But in terms of top contenders, how about someone like former U.S. Olympian Joseph Diaz, who beat Valdez as an amateur? If Valdez isn't fighting someone of Diaz's caliber by his second bout of 2017, the year will already be a waste — he's that good.
Jessie Magdaleno ended Nonito Donaire's run as an elite fighter
The best fight on the Manny Pacquiao-Jessie Vargas pay-per-view card was, to no one's great surprise, Jessie Magdaleno's title-wresting victory over Nonito Donaire. And in snatching away Donaire's WBO super bantamweight belt in a grueling, compelling contest, Magdaleno (24-0, 17 KOs) effectively ended Donaire's run as an elite fighter.
Magdaleno overcame a cut over his left eye to outfight Donaire (37-4, 24 KOs) in a bout where the defending champion was simply unable to match his younger challenger's energy and firepower. Magdaleno, a southpaw, abused Donaire with his lead right hand, connecting with stiff jabs and skull-rattling check hooks. Magdaleno also kept Donaire off-balance with left hands to the body, and Madaleno even looked like he was heading towards a stoppage circa rounds eight and nine.
Donaire, though, was in the fight and even mounted a mini championship-rounds rally, connecting with an explosive straight right hand — which was by far his most effective punch. But in losing to a young, emerging contender, Donaire engaged in the most dangerous type of bout for a once top fighter: a contest that is competitive but proved he can longer pull the trigger effectively enough to defeat an elite foe hovering around 122 pounds.
Sure, Donaire can be competitive. He proved that against Magdaleno. He can't, however, keep pace in a blistering 12-round fight, nor can he avoid getting hit flush with wincing consistency. Like Abner Mares, Donaire lost something after struggling at featherweight. Donaire's had a remarkable career, and here's hoping his resume and name recognition don't temp him into the kind of fights where he's being set up as a valuable scalp for someone else's record.
A title defense in China will be Zou Shiming's high water mark
Give Zou Shiming some credit. He overcame the dancing, slapping style that marred his early pro career to win a world title when it seemed as if he was destined to go down as a remarkable amateur who delayed his transition to the paid ranks for too long. And make no mistake, Shiming (9-1, 2 KOs) claiming the WBO flyweight title is massive for boxing in China.
Shiming is too old and limited as a fighter to ever become a global star on the level of Manny Pacquiao (obviously), but he's already a national hero and can now stake an important claim as one of his country's two professional world champions, justifying the length and accomplishments of an amateur career that included three Olympic medals (two of them gold).
What Shiming deserves now is a triumphant first title defense in China, which would be an event so massive that it's hard to fathom in a North American context. China is already excelling at international boxing competitions, and Shiming simply winning the WBO flyweight title will encourage more Chinese boxers to make that logical transition from amateur to pro — perhaps earlier.
But make no mistake, that gargantuan homecoming fight will be Zou Shiming's high water mark. He's 35 years old, and against Prasitsak Phaprom (39-2-2, 24 KOs) — who he had already beaten once as a pro — Shiming went from a disciplined start to reverting to flailing, scoring shots and a low guard. Some bad habits, like bringing his jab back down to his waist after throwing it, will never be corrected. Shiming was skillfully guided to a world title against extremely limited opposition. Were he to fight someone like 112-pound king Roman Gonzalez, he would get annihilated.
So, Manny Pacquiao produced yet another clinical performance, defying his advanced age to prove that he's still one of the world's best fighters. What do you think Pacquiao should do next? Is Terence Crawford too great of a risk? Are you actually interested in a rematch against Floyd Mayweather Jr.? Let us know in the comments.
More from FanSided
This article originally appeared on