Kovalev vs Ward: 5 keys to victory for Sergey Kovalev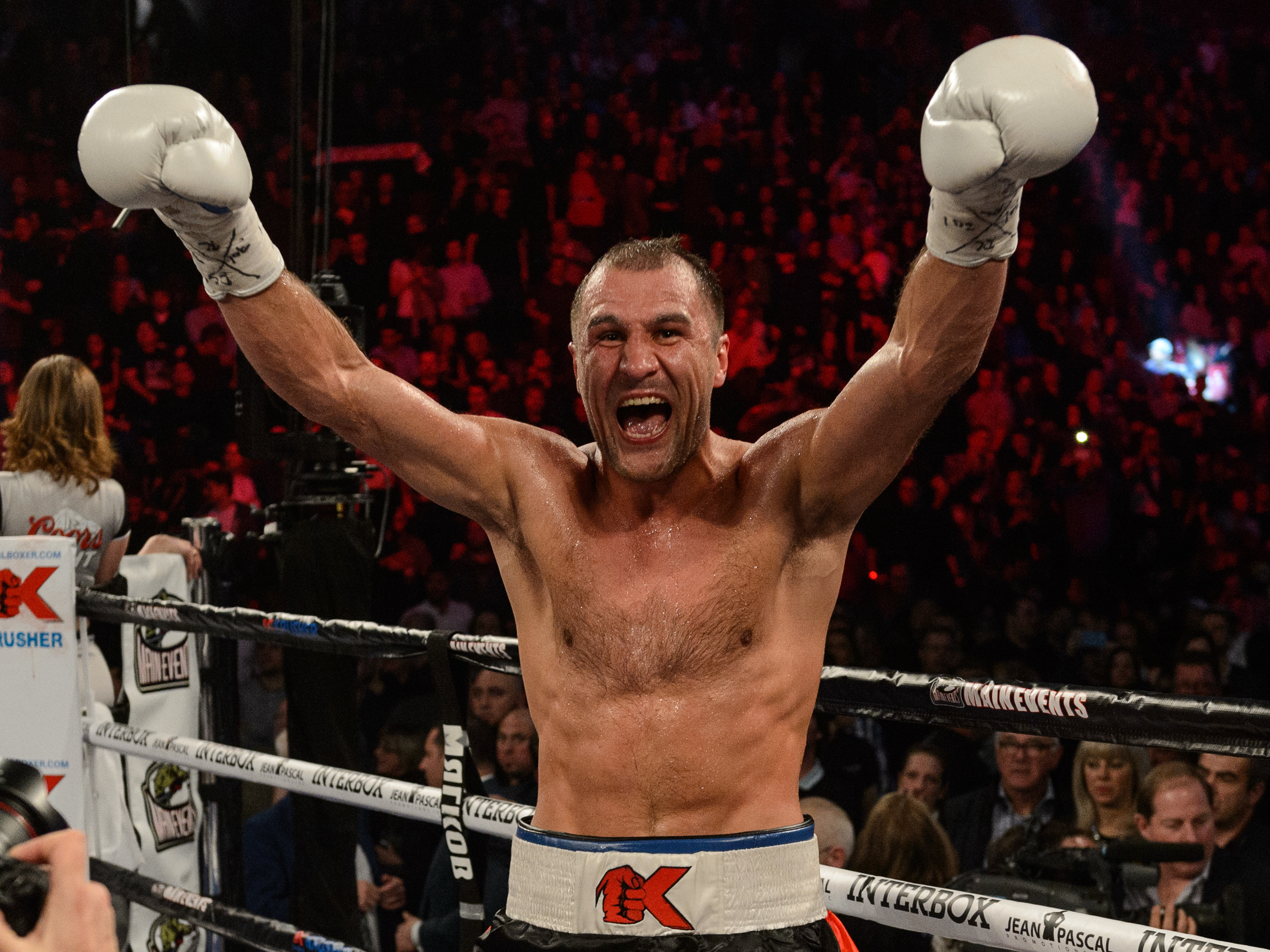 Sergey Kovalev defends his IBF/WBA/WBO light heavyweight titles against former super middleweight king Andre Ward in arguably boxing's most fascinating match-up in a decade. Here's what Kovalev has to do in order to retain his titles.
The significance of Sergey Kovalev fighting Andre Ward cannot be overstated. World titles, division/pound-for-pound supremacy and legacies are a stake. Matchups like Kovalev-Ward are increasingly rare in boxing's contemporary landscape, a fact made even starker by the myriad disappointments that have defined 2016.
For hardcore boxing fans, there's no better fight than Kovalev-Ward. Even a bout like Gennady Golovkin-Canelo Alvarez, which comes with star power to spare, cannot remotely approach Kovalev-Ward when it comes to tactical nuances, stylistic clashes and magnitude (in terms of historical implications).
Sergey Kovalev has emerged as one of boxing's most feared and skilled fighters during a title reign at 175 pounds that has seen him bludgeon almost all available opposition while reducing lineal champion Adonis Stevenson to a mere afterthought. In particularly devastating performances, Kovalev (30-0-1, 26 KOs) reduced former division ruler Jean Pascal to a punching bag and outboxed Bernard Hopkins — who, despite his advanced age, remains one of boxing's ultimate craftsmen.
But how will Kovalev cope with Andre Ward's defensive acumen, which is practically unmatched inside fighter and sophisticated ring IQ? Kovalev, for the first time, may have to cope with being reactive — instead of dangerously proactive — for significant stretches. We know he's an elite boxer, but is he at Ward's level? And yet, Kovalev bring his vaunted power, boxing's great equalizer, to the table.
With that, here's how Sergey Kovalev solves the puzzle that is Andre Ward (30-0, 15 KOs).
5) Win the battle of jabs
The simplest punch could turn out to be the deciding factor in Sergey Kovalev-Andre Ward, and that's because both men employ their jabs with purpose and variety. Whether it's controlling distance, setting up power shots, keeping opponents off-balance or simply scoring, the battle of dueling jabs will set the tone for Kovalev-Ward from the opening bell.
Sergey Kovalev may have the most powerful jab in boxing, particularly when he steps in and harpoons it at an opponent's midsection. And this is a tactic Kovalev will have to employ in order to stymie Ward's willingness to close distance and set up shop on the inside. If Kovalev can use his jab like a battering ram against Ward's belly, he'll slow the American down and get him to drop his hands.
Kovalev's vaunted right hand largely depends on the effectiveness of his jab, making his straight left even more essential. If Kovalev is going to hurt ward, his right hand will likely do the damage; so, when Kovalev forces Ward onto his back foot, he'll want step in with a double jab at key moments to set up his right cross. Too many straightforward one-twos will play into Ward's hands.
Defensively, Kovalev's jab will also be critical in terms of maintaining distance. This is crucial because Kovalev needs to fight at an optimal range to impose his edge in natural punching power, and Ward, even moving up in weight, is a nightmare to fight at close range. Indeed, Kovalev's jab makes his offense tick, but it's also the weapon that will keep Ward guessing— and, hopefully for Kovalev, at a safe distance.
4) Seize the initiative early
Those who are picking Andre Ward to beat Sergey Kovalev are counting on the American to seamlessly replicate his Super Six form when once against faced with an elite opponent. Even if this does happen, Kovalev backers can still feel confident for a couple of reasons: Kovalev will be the best opponent Ward has ever faced, and Ward last tangled with an elite foe in September of 2012, fighting only four times since.
Because of this, Kovalev will want to seize the initiative early and put Ward under pressure. Sure, Ward dusted off some cobwebs when he beat Sullivan Barrera and Alexander Brand, but those fights served no benefit other than perking up his muscle memory. Kovalev possesses power the likes of which Ward has never felt, and the Russian must make his more skilled foe understand that from the opening round.
Kovalev is a calculating — almost eerily so — destroyer, and he must start this fight in characteristic fashion. Indeed, Ward is also the best opponent Kovalev has ever faced, but the "Krusher" can't afford to show Ward too much respect. If Kovalev is more reactive than proactive over the first four rounds, he'll fall behind and be in trouble.
This doesn't mean that Kovalev needs to come out early blasting all of his artillery. Far from it. Rather, what Kovalev should do is focus on establishing his jab, holding the center of the ring and dictating the terms of exchanges. Kovalev-Ward will be a fight filled with subtle shifts and tactical adjustments; for Kovalev to win, he needs to force Ward to be the first one to abandon his "Plan A."
3) Use a variety of feints
Sergey Kovalev is not some reckless, destructive freak of nature. Yes, the mere thought of his vaunted power can shrivel any opponent's ambition and confidence, but much of that has to do with how Kovalev is capable of both ending a fight with one punch and systematically breaking foes down.
Kovalev's jab, and by extension his boxing skills, have already been touched on, but his ability to feint, and more importantly, consistently feint, will serve to create the openings to hit Andre Ward with clean, effective power shots. And when Kovalev is able to feint fighting off his front foot, it's usually game over.
Kovalev's feints, though, don't simply take the form of posturing with his punches. The "Krusher" is adept at befuddling with his feet and making it seem as if he's about to pounce, which inevitably creates that split second of hesitation in a flinching fighter that facilitates an actual attack. Also, don't discount the way Kovalev shifts his weight, lulling even clever opponents to sleep and then launching, say, a right hand counter or lead.
In fact, have a look at the way Kovalev scored his opening round knockdown against Bernard Hopkins. Kovalev ever so subtly dipped his lead left shoulder, making it seem as if he was about to lunge in and smother Hopkins, who promptly rushed forward looking to land a counter left hand. A completely balanced Kovalev then took a half step back and tagged Hopkins — who swung at air —- with a pinpoint right hand. These are the kinds of traps Kovalev will need to set against Ward, especially if the challenger is attempting to quickly work his way inside.
2) Tie Andre Ward up on the inside
If Sergey Kovalev is perceived as having a weakness, it's that he isn't the most adept inside fighter. This assumption, though, doesn't necessarily stem from Kovalev having been previously bothered by a fighter who managed to fight him at close quarters; rather, it simply reflects that Kovalev prefers to fight at range to optimize his power.
But there's another factor at play here. Because Kovalev needs to keep opponents on the end of his punches, Andre Ward (perhaps boxing's craftiest in-fighter) should have a distinct advantage if he can close distance on the "Krusher." Ward will attempt to fight Kovalev chest-to-chest for significant stretches, so the Russian must be prepared to counter this.
Although Kovalev's devastating jab and footwork keep most opponents at bay, Ward's ring IQ will enable him to breach Kovalev's force field. Essentially, what Kovalev has to do is quickly put Ward in a headlock, clamp down on him like a crab or shove him away every time this happens. Kovalev, however, needs to be careful about avoiding a point deduction for employing any of these tactics excessively, and that's why he must also consistently force Ward onto his back foot when given the chance.
What's so surprising and maddening for Ward's foes is how active the American is on the inside. He expertly handcuffs opposing fighters while digging to the body and driving sharp uppercuts into unsuspecting jaws. If Kovalev gets drawn into stretches of in-fighting, he must fire back. He can't merely react to Ward's wrestling and maneuvering.
1) Cut off the ring and throw confident combinations
Sergey Kovalev isn't the type of fighter to overwhelm with five-punch combinations (unless he has an opponent badly hurt). Indeed, Kovalev has the technical ability to pull off such dazzling offensive displays, but he's generally more restrained in his approach and judicious with his shot selection. Plus, Kovalev can afford to be selective because of his thunderous power.
What Kovalev must avoid against Andre Ward is throwing single shots or too many predictable one-twos. Ward is an exceptional counter puncher, and the American will figure out how to time Kovalev's jab if the "Krusher" doesn't double it up, throw it consistently to the body and bring his vaunted right hand behind it.
Also, when Ward jabs to the body, he tends to duck to his right, which against Kovalev would serve to negate the power of his cross. To counteract this, Kovalev should make use of his left hook to corral Ward and then follow up with his right hand. The important thing, though, is that Kovalev is putting these punches together and doesn't get caught up in trying to tag Ward flush with a knockout blow; otherwise, he'll end up reaching and exposing himself to return fire.
Ward also expertly changes levels with his punches and disguises shots well (his stinging "up jab" comes to mind). Luckily, so does Kovalev. Kovalev needs to vary his combinations, but, more importantly, he must cut off the ring and force Ward to engage. Kovalev can only exploit his power advantage if he can make Ward stand his ground and fight, which will only happen if Kovalev traps Ward and then draws him into throwing combinations of his own.
Sergey Kovalev-Andre Ward is uniquely fascinating. For every slight edge each fighter holds, there's a negating factor to consider. Because of his power, Kovalev may actually have a greater margin for error, but he's also never tried to solve a puzzle as complex as Ward. Do you think the "Krusher" will be able to pull if off? Let us know in the comments section below.
This article originally appeared on