Jarrett Hurd is on the cusp, but focused on the present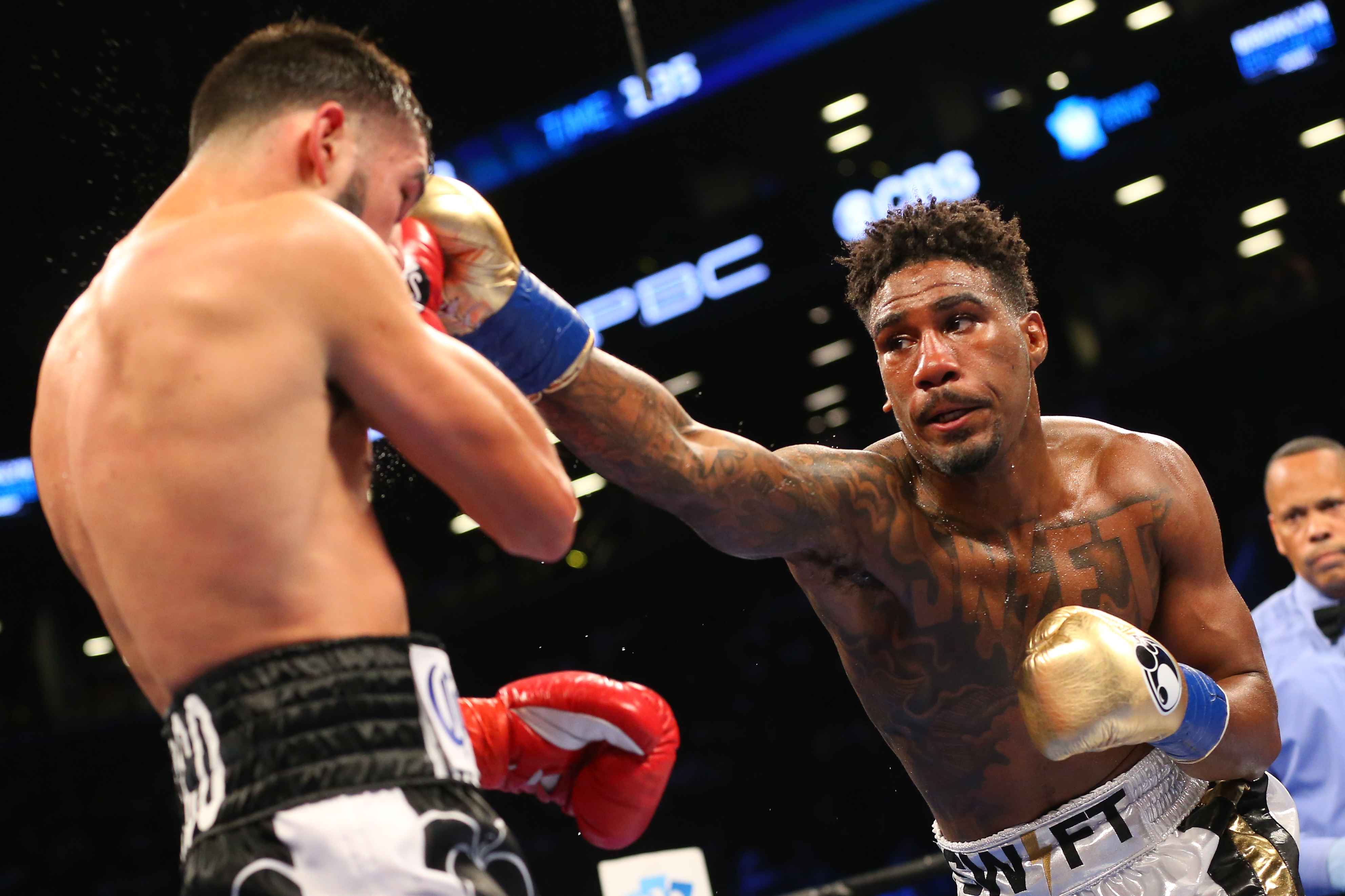 Jarrett Hurd's last two stoppage wins have propelled him into the spotlight as one of boxing's most talented rising contenders. On the cusp of a title shot and marquee bouts, Hurd is trying to remain grounded and firmly focused on the present.
To see a fighter seize an opportunity on national television and score an explosive knockout victory is particularly thrilling for hardcore boxing fans — especially when said fighter is the bout's B-side and hasn't been force-fed to viewers as a notable prospect. So, when Jarrett Hurd stopped then-undefeated Frank Galarza in his ShoBox debut back in November of 2015, everyone watching took note.
And after Hurd (18-0, 12 KOs) followed up his dissection of Galarza with a punishing halting of former Mexican Olympian Oscar Molina in 10 rounds, the Maryland native was being hailed as an emerging force in a talent-laden junior middleweight division.
On Saturday, after two opponent changes, Jarrett Hurd will aim to break through the last barrier standing between him and unquestioned elite contender status when he faces former world title challenger Jo Jo Dan (Saturday, Nov. 12 — 9:00 p.m. ET, Spike). This time, though, Hurd is the A-side attraction — the fighter under the proverbial microscope expected to replicate the excitement and dominance displayed in his last two outings.
But Hurd is relishing the pressure that comes with his newfound recognition and esteem. He's clearly aware of his current standing at junior middleweight and how he's entered a new phase of his career. "After those two wins, I think I'm being compared to the top guys in the 154 division, and my name's being thrown around with the big names now."
In a sense, Hurd has almost materialized from the ether. Although he signed with vaunted manager Al Haymon in November of 2014 after flashing undeniable talent during the early phase of his professional career, Hurd didn't enter the paid ranks with the fanfare that accompanies national champions or Olympians.
While Hurd obviously had success as an amateur, he fell short against the likes of fellow prospects D'Mitrius Ballard, Travis Peterkin and Demond Nicholson. Now, though, a reversal has occurred, and it's Hurd who is distinguishing himself as one of boxing's most compelling young talents, pulling away from some of his contemporaries in a manner no one could have predicted even five years ago. (Ballard, it should be noted, is very much on track as well.)
Hurd's father started taking him to the gym when he was 15, but a love for the sport was fostered as a child watching the likes of Roy Jones Jr. dazzle with unparalleled athleticism and showmanship.
"I actually fell in love with it [boxing] when I saw Roy Jones fight, because, you know, his style was so exciting. It was different from everyone else. He was doing things in the ring besides boxing, and it caught my attention."
Although his father warned him not to mimic some of Jones' more famous exploits, like holding his hands behind his back as he evaded punches, Hurd was hooked. And while no fighter can properly emulate a transcendent talent like Jones, Hurd's unique physical skill-set and athleticism have been on full display in his dominant wins over Galarza (17-2-2, 11 KOs) and Molina (13-1-1, 10 KOs).
Hurd is a broad-shouldered 154-pounder who stands an imposing 6-foot-1 with a tentacle-like 76.5-inch reach. He keeps his left hand low and his battering ram right cocked by his chin, employing a maddeningly elusive shoulder roll defense — a tactic so many fighters attempt but fail to master. Hurd's right uppercut is a thing of beauty; he used the shot to floor Molina in the opening round of their fight and to abuse Galarza for the duration of theirs. His jab is a harpoon, and he has thus far displayed preternatural calm when it comes to slipping punches in the pocket and returning fire.
It's confidence in these abilities that allowed him to capitalize on his opportunity to jump in and face Galarza, who had already made a name for himself on ShoBox, was undefeated at the time and was garnering a fair bit of hype after a string of explosive wins.
"I was on the B-side, so I wasn't really getting no love," Hurd recalls. "In their mind, they were thinking, 'This is just another guy in front of Frank Galarza that he's going to walk over.' So I had the mindset going into the fight that I can't leave this fight close at all. I got to go in here and dominate this fight."
And dominate he did. Galarza is a hard-hitting, rugged fighter, and he tried to pressure Hurd and impose himself from the opening bell. But more often than not, Galarza was reduced to swinging at air or slapping Hurd's brick wall arms and left shoulder — all while eating a steady dose of jabs and counter rights. Hurd acknowledges that Galarza's style played perfectly into his hands, and that he was able to use his height and range to control distance and prevent the New Yorker from working his way inside.
Fortunately for Hurd, and for fans and pundits eager to assess his potential, he has banked a variety of character-building experiences inside the ring that are essential to the development of any young pro.
The Oscar Molina fight, for example, went from looking it was going to be a spectacular early stoppage, after that aforementioned perfect right uppercut, to a grueling contest that Hurd was able to end shortly before the final bell. And Hurd learned a valuable lesson in having to contend with a rugged, talented foe who was able to absorb one of his best shots, dig in and fight back.
"It's crazy because everyone said, 'Man, you could have stopped him in the first round if you had picked it up,'" Hurd said. "But I'm actually glad I didn't because it let the world see that I can actually fight through 10 hard rounds, I can take a good shot, and – you know, if I would have got the knockout in the first round, they wouldn't have been able to see what I'm really capable of."
Against Molina, Hurd was able to bank rounds and still produce a stoppage, an ideal outcome for a fighter still gaining traction with a large cohort of fight fans. The experience has also helped prepare him for his upcoming bout against Jo Jo Dan and the series of opponent changes that have led to an unexpectedly diverse training camp.
Hurd was originally supposed to face Jorge Cota, an awkward right hander, with a win guaranteeing a number two world ranking with the WBC. When Cota had to withdraw from the fight after undergoing an emergency appendectomy, Willie Nelson — a 6-foot-3 physical anomaly who scored an upset stoppage win of Tony Harrison — was slated to step in, which forced Hurd to adjust his tactics to compensate for a rare height disadvantage and the need to get inside. And now, with Dan (35-3, 18 KOs) as his actual foe, Hurd has been tasked with dealing with an experienced, methodical southpaw.
"The change is not a big issue because, like I said, it's just minor adjustments we need to make," Hurd assured.
Right now, Hurd is at an exciting phase of his career, but one that could lead to complacency or angst for a less grounded fighter. It's almost as if he's one step away from being one step away, with some still hesitant to label him a top contender, even though that's clearly how Hurd views himself. Nov. 12 is Hurd's opportunity to leave no doubt about his standing at 154 pounds, and that chance to once again prove that he's at the level of the Charlo twins, Julian Williams, Erislandy Lara and Demetrius Andrade motivates him. After all, that's precisely what Hurd has done in the two biggest bouts of his career.
"I've always been this type of fighter. I'm a low-key guy – to myself – I'm not really loud or outspoken. I knew that sooner or later my talent was supposed to be forced out. You know, back in the gym we sparred with guys that were on television, and we used to hang in there with them. And I said, I always told myself, once my it's time to get on TV, I'm going to shine."
Jarrett Hurd has already done that, but he needs to keep doing it — every time out. The puzzle he presents as a challenger — legitimate power, crafty boxing skills, imposing physicality — means he'll need to earn a mandatory position to get the fights he wants.
Soon, however, the demand to see Hurd in those marquee bouts could outpace the ability of title holders to avoid fighting him. When he beat Molina, Hurd was featured on the Keith Thurman-Shawn Porter undercard, and this weekend he'll be fighting in chief support of WBC welterweight champion Danny Garcia, who shares Hurd's "Swift" moniker. And given Garcia's porous quality of opposition, don't be surprised if Jarrett Hurd is the "Swift" who steals the show.
There's another aspect to Hurd worth noting, and partly because it's on the verge of evolving. Hurd and his team have produced short documentaries leading up to his past few fights — intimate portraits of Hurd with family, friends and his team in the lead up to (and through) specific bouts that he's used to connect with fans.
"It actually gets the fans to feel as if the were there," Hurd said. And while he insists that he'll keep making them, a juggernaut like Showtime could soon turn this form of all access into slick, stylized episodes of All Access. Such is the promise that Hurd has shown and that he'll need to keep demonstrating as the lights get brighter and microscope under which he fights gets more focused. That, though, is what Hurd relishes.
"Being seen is the key. I'm coming up, so the more people get to see who I am – when they hear my name – better for me."
More from FanSided
This article originally appeared on