Taishan Dong: Perks of being the Great Wall of China
On the far east of China, in the city of Shandong, rises the gigantic Mount Tai (Tà i Shān, in its original language), one of the five sacred mountains of Taoism. Its highest peak, the Jade Emperor, is a center of inspiration. Not for the faint of heart though, as it's really difficult to reach its summit.
The harsh trip to the top is reserved for men of great patience and discipline. This is due to the fact that it has 6,600 stone steps that go all the way to the top, and it takes an average of four to six hours of strenuous physical effort to complete the trail.
At the summit of this great mountain, a 20-year-old man said to himself: "I can be great, I can be huge, and one day people will look up to me with admiration, just like Mount Tai."
This is the story of Taishan Dong, the heavyweight who has joined Golden Boy Promotions. He arrived in the U.S. in order to fulfill his dream of becoming the next heavyweight boxing champion.
The 7-foot, 286-pounder is preparing to take his country's name to the highest point. Without any previous amateur boxing experience, Dong won his first two fights by KO. Then, on Friday night, he scored a unanimous-decision victory over Roy McCrary (3-3, 2 KOs) at Fantasy Springs Resort and Casino in Palm Springs, California.
Dong often is called "The Great Wall of China," due to his size, and through a translator, we found out he loves it when he's called by his nickname.
"I like to feel big, exceptional," Dong said.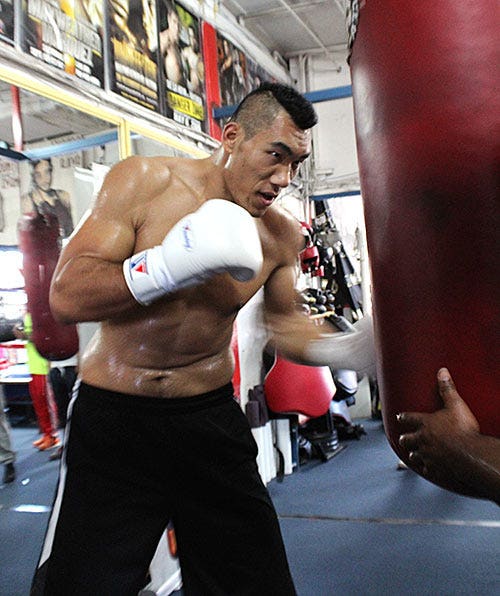 Dong's introduction to sports started with basketball and kickboxing, but his dream of becoming a champion made him trade the hoop for the ring. He had no trouble adapting.
"The transition wasn't really hard," he said. "Nowadays I have to concentrate on fewer things, since I only have to apply punches and protect the upper part of my body."
Because of his height, a lot of people would expect him to be slow and unathletic, but the truth is quite the opposite. The boxer from Beijing has an astounding agility.
"I don't get nervous before a boxing match," Dong said. "I focus and ponder on the strategy to follow, what I need to do in order to beat my opponent. I chose boxing because it's a challenge for me, and I love challenges."
The new Golden Boy star is on the right track. His features are perfect for a heavyweight champion, and he knows what this would entail for his countrymen.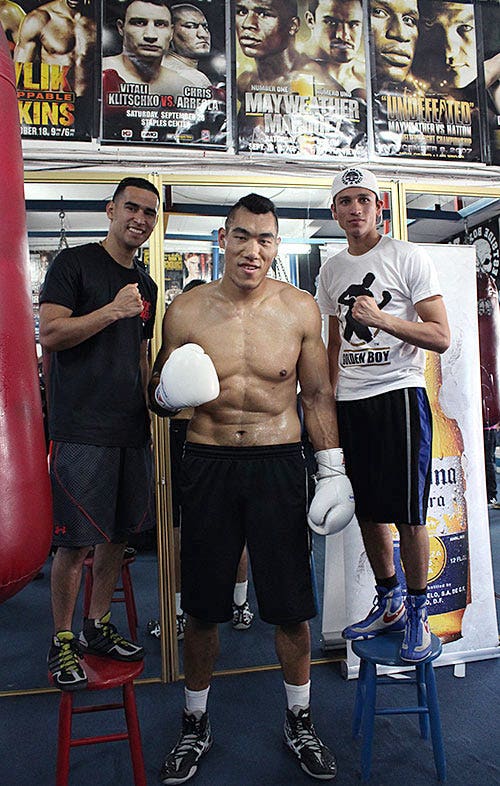 "Mr. (Oscar) De La Hoya wanted to open the Chinese market because he believes in me," Dong said. "He knows I can become a champ."
That's why he wishes more opportunities in pro boxing become available for others from his native land.
"I would love to see more Chinese boxers coming to the U.S. to show their talent, to see the best of both countries," he said.
So far the experiment is working. Dong has won over both the public and boxing fans, since many admire the courage the boxer had to leave China.
"Although I miss China, the will of succeeding in the U.S. is stronger," Dong said. "I still have three years or so to reach my highest level and after that I can go back to my country as a champion, knowing that I made it."
Before his bout with McCrary, Dong said: "I have learned so much from the two previous fights. I've got new skills. Nowadays I am more patient and can overcome any challenges that arise during the fight. I will give the best of myself. I will try to understand my opponent's strategy from the beginning and therefore defeat him.
"My maximum potential has not been revealed yet. That is why I train hard, in order to become a world champion."
With his height, his punching speed and his imposing figure, Dong prepares to climb another step of a new summit with his hands up high. Then he can look down and relive what he felt at the top of Mount Tai, the same feeling that inspired him to be the biggest boxer in China, the one that made him feel that he had the world at his feet.