Daniel Jacobs: Post-cancer journey goes far beyond boxing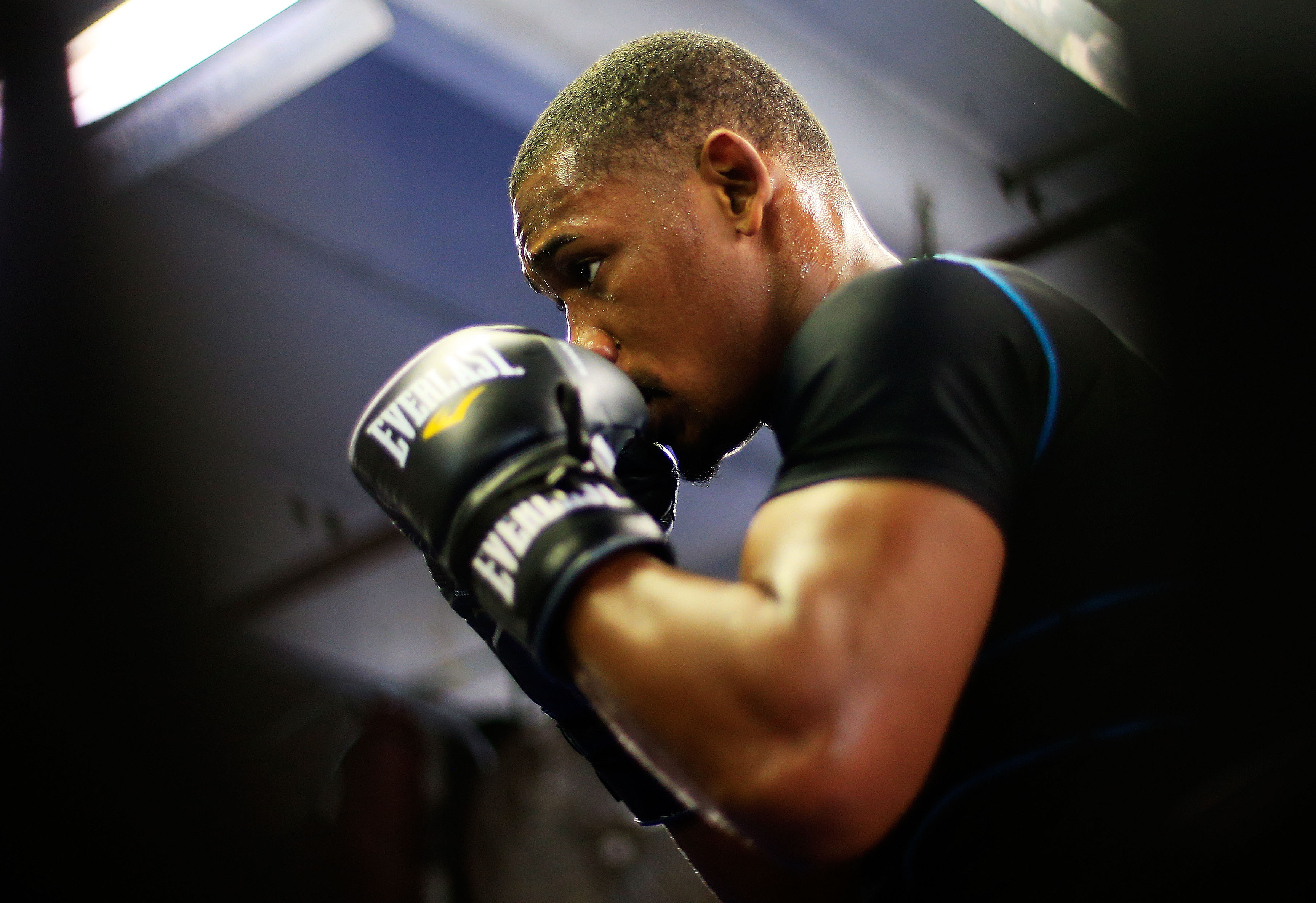 Daniel Jacobs, the WBA "regular" middleweight champion, overcame osteosarcoma, an aggressive form of bone cancer, to make a remarkable and unprecedented return to boxing. But for Jacobs, fighting inside the ring is only one aspect of his inspiring comeback.
The promotion ahead of the anticipated Daniel Jacobs-Sergio Mora rematch, which takes place this Friday at the Santander Arena in Reading, Pennsylvania (9:00 p.m. ET/PT, Spike TV), has adopted a tone of overt animosity, with Mora and Jacobs engaging in heated verbal sparring on a recent conference call that contained even more venom than their social media spats.
Make no mistake, there's plenty on the line for both Jacobs (31-1, 28 KOs) and Mora (28-4-2, 9 KOs). Jacobs, viewed by many as the second best middleweight in the world, is desperate for more marquee opportunities, including an eventual shot at Gennady Golovkin; Mora, the former WBC champion at 154 pounds, is fully aware that this may be his last shot at world honors.
They also have to live up to the thrilling and explosive nature of their aborted first fight, which saw Jacobs and Mora trade first round knockdowns, only for Mora to succumb to a fractured ankle after getting dropped again in the second stanza. The fight's opening three minutes held up for many as Round of the Year, and the sharply divided opinions on whether a rematch is warranted imbues the return bout with legitimate intrigue.
The point here, though, is that it's easy to talk about Daniel Jacobs, now 29, strictly from a boxing standpoint. That's a testament to the success he's had during his career's second act, which has seen him become the first boxer to beat cancer and go on to win a version of a world title.
It's almost easy to forget that in May of 2011, Daniel Jacobs was diagnosed with osteosarcoma after complaining about back pain prior to a fight. At that point, Jacobs went to see a doctor, who found a baseball-sized tumor wrapped around his spine. Within weeks, Jacobs experienced paralysis in his legs. A six-hour surgery would follow — the kind of operation one legitimately fears not waking up from.
More from The Living Daylights
Confronted with his mortality and bodily decay in a way few individuals, let alone a physically gifted professional athlete, can fathom, Jacobs had to accept that even if he survived the gruelling surgery, he would likely never walk again. Forget boxing. Returning to such a demanding sport was supposed to be impossible. In fact, in speaking with Jacobs, who scraped rock bottom during his harrowing ordeal, everything seemed skewed; he had a toddler son who needed taking care of, yet he — the parent — had been rendered essentially helpless.
"My mental state was at its worst," Jacobs said. "I felt like I couldn't get better; I felt like I wanted to give up."
Get in the Ring & The Road to Recovery
It's easy to devolve into hyperbole when describing Daniel Jacobs' triumph against such overwhelmingly long odds. But how else can one speak of the supposedly impossible? For Jacobs, an extremely spiritual man, it was indeed a resurrection of sorts, albeit one grounded in the support of those closest to him, who helped affirm his will to live.
"When you're battling something as severe as cancer – especially for me it was a life or death type thing – the most important thing, I think, for me in terms of recovering, for my mental state, was my family," Jacobs said. 
Jacobs' support network helped him get back into the ring by October 2012, a particularly remarkable feat when you consider he was sidelined for less than two years. His first bout was also an emotional homecoming, as Jacobs fought at the Barclays Center in his native borough of Brooklyn, New York, knocking out Josh Luteran inside of a round.
That would start a run of nine post-cancer wins that have all ended inside the distance, confirming that Jacobs still possesses his vaunted power. A victory over Jarrod Fletcher would see Jacobs make history by becoming a world champion, and his most recent triumph, a first-round knockout of local rival and former titlist Peter Quillin, can be viewed as a defining moment.
But for Daniel Jacobs, defining moments are not confined to the ring. Jacobs has made sure to use his newfound fame and success as a platform for philanthropic work, most notably through his Get in the Ring Foundation, which aims to combat childhood cancer, obesity and bullying.
At first, though, Jacobs wasn't so concretely focused on charity work. Cancer treatments crippled him financially, and the entire ordeal was a mental and physical nightmare. Jacobs focused on his athletic comeback, but he quickly realized the profound effect his story was having on people far beyond boxing's sometimes insular community. That, combined with a recognition of all those who helped him as young amateur fighter in Brooklyn, as well as his own natural tendency to provide support for family members, eventually led to the founding of Get in the Ring.
"It really dawned on me, because in my mind, the biggest thing for me was just to get back into the ring," Jacobs said. "But I never kind of knew what I was doing in the process as far as, like, how it would look from the outside looking in. I never really thought of how people viewed that."
In becoming a philanthropist, Daniel Jacobs wanted to ensure that he could be a major, active presence with his foundation and that he was addressing issues that meant something to him. He didn't want to give back just for the sake of it. Focusing on children was natural, especially given the role reversal Jacobs experienced when rendered virtually helpless during his cancer treatment.
"Having a son changes your perspective on life in general," Jacobs said. "When I was battling cancer, I was the parent who was the victim."
It's not as if Get in the Ring ignores issues and forms of cancer that plague adults; rather, as Jacobs did more research into children dealing with cancer and the support networks available to them, he saw an opportunity to make a profound impact. Also, with the harsh experience of suffering and despair intimately familiar to him, Jacobs developed a keen sense of how difficult going through cancer must be for any child, a fact only reinforced by fatherhood. 
And so, Daniel Jacobs started to ask himself the proverbial "big" questions about life and where meaning can be found. It's almost a cliché to say that surviving cancer fundamentally alters someone's perspective on life, but that's because it's so often true.
"You ultimately have to come out more appreciative of life, because when you almost lose your life, you realize – you start to take a step back and you realize all the negative things that are following you in your life, or how you could be living a better life, or how it could be a little bit more meaningful," Jacobs said. "I think that's the biggest difference now – I look at things from a totally different perspective."
It would be too simplistic, however, to merely suggest that Daniel Jacobs' work with Get in the Ring is rewarding. Indeed, it is most certainly gratifying, but it can also be arduous. Visiting children battling cancer, talking to those wading through the physical and psychological trauma of bullying and helping those suffering from obesity in a society that is hyper-critical of body image can tax even the most compassionate, optimistic and spiritual person.
The logistics of philanthropic work have also proven to be a challenge as Jacobs seeks to grow his foundation and plan events. While he won't go so far as to say that his work with Get in the Ring is a calling, he does acknowledge that he has been given a unique platform through which he can inspire others. He knows that his cause — and the struggle that comes with it — is a worthwhile one, a fact only reinforced by time spent with the children his foundation helps.
"It's a beautiful thing," Jacobs said. "But, you know, it's very challenging, and I kind of embrace it because being a professional boxer where you have to be 100 percent focused on training and your opponents – especially when you're at the peak of your career – it's very challenging to take on a philanthropic role – especially dealing with something that's heartfelt and that can change your emotions just like that when you're dealing with kids and cancer."
The Mora Rematch and Marching Forward
The tribulations of overcoming osteosarcoma have helped Daniel Jacobs in his boxing career. The entire process strengthened his mind to the point where he feels he now has the mental capacity to deal with any challenge. For a supremely gifted fighter like Jacobs, the fortitude and confidence to know you can cope with the pain and trials that boxing consistently presents is often that missing ingredient to greatness.
After knocking Sergio Mora down in the first round of their firefight, Jacobs admits he got careless. When he thinks back on that memorable but odd encounter, the biggest takeaway is the adage that a wounded opponent can be more dangerous than a fit one; it's something every fighter is supposed to be aware of, but experiencing it firsthand is something else entirely.
You can debate how hurt Jacobs and Mora truly were in that first fight, or whether the second-round knockdown that injured Mora was more of a push. Hypotheticals abound when it comes to Jacobs-Mora I — that's why they're going to settle their score.
There is a more personal element to this fight because Daniel Jacobs feels Sergio Mora has disrespected him as a champion. But amidst all the extracurriculars surrounding this bout, Jacobs is focused on the lesson learned from Mora flooring him with a perfect counter left hook. Jacobs feels like he's the best middleweight in the world, but he also knows he has to prove it. Beating Mora convincingly is a crucial step.
But ultimately for Daniel Jacobs, being a champion is about more than knocking people out, which is something he has little problem doing; rather, it's about standing for something larger than oneself. In that regard, Jacobs is unquestionably an example other fighters — and anyone, really — can aspire to.
"There was a point in my life where all I wanted to do was run, all I wanted to do was walk again, all I wanted to do was these things," Jacobs said. "And now that I have it, it's much easier for me to get up in the morning; it's much easier for me to push myself."
(For more information about Get in the Ring and their past and upcoming initiatives, please visit their website. All quotes from Daniel Jacobs were obtained firsthand.)
This article originally appeared on