Conor McGregor: 'I want a $100 million in cash to box Floyd Mayweather'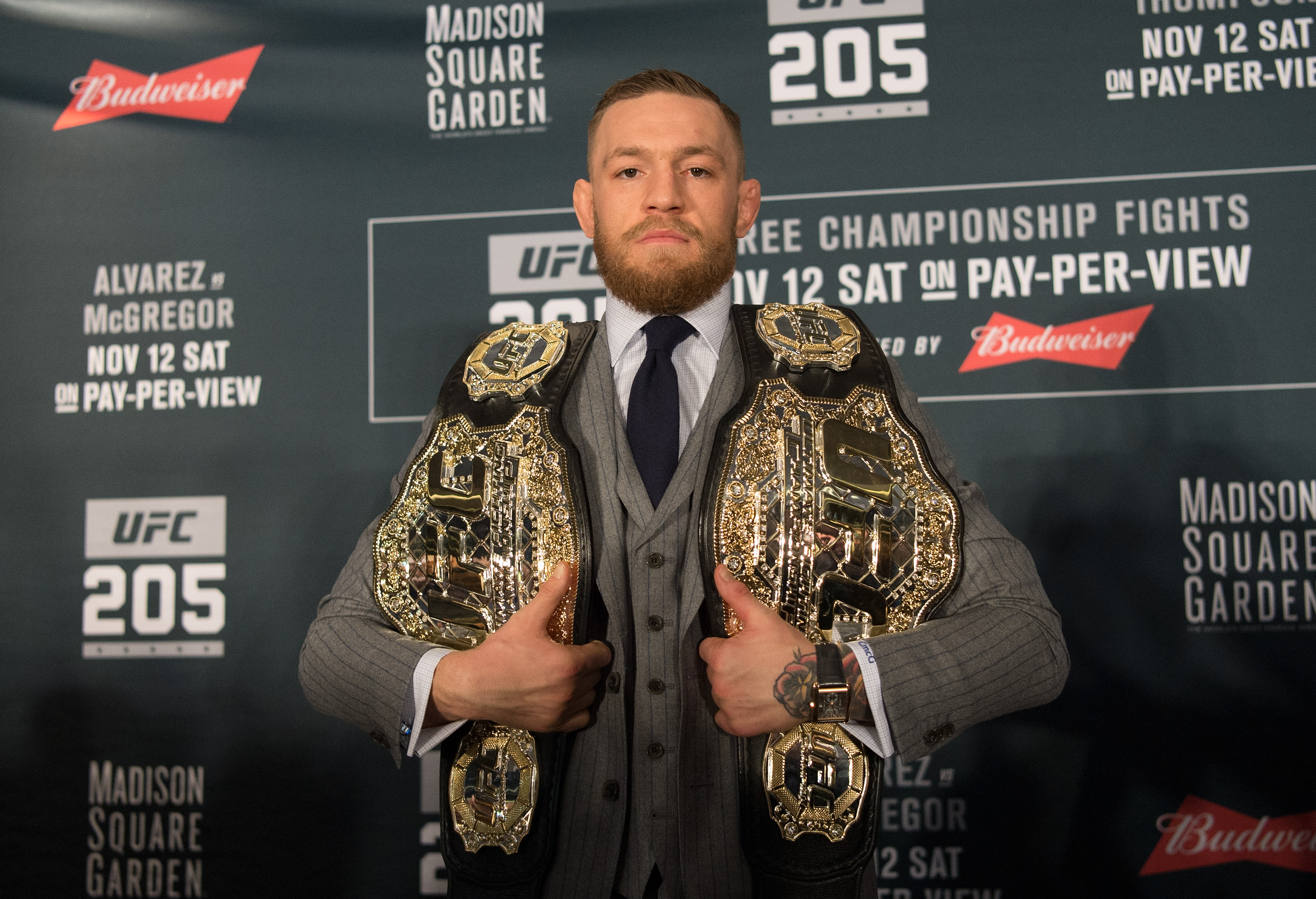 Conor McGregor is asking for a nine-figure payday to challenge Floyd Mayweather Jr. in a boxing match
Reigning UFC featherweight and lightweight champion Conor McGregor and boxing's pound-for-pound best Floyd Mayweather Jr. have kept the fighting community on the edge of their seats as they continue to trade verbal jabs through the media.
On Tuesday, Mayweather made headlines after declaring "an elephant don't beef with ants" when he was asked about a comparisons between himself and his MMA counterpart.
McGregor, to his credit, responded rather bluntly by telling the man known as 'Money' to "say it my face."
But now, McGregor is taking the trash talking to a whole other level, as Tuesday night at 1 OAK in New York, the man known as 'Notorious' hijacked the mic at the DJ booth and called out the boxer for everyone to see.
"Floyd's not ready for this," said McGregor.  "Much respect to Floyd. He's a solid businessman on what he's been able to do, he's a f–king animal at what he's been able to do. But as far as real fighting,  as far as true pure unarmed combat …Floyd don't want none of this."
"He wants boxing rules. He wants a boxing match, he doesn't want a fight."
This just adds to the feud that has essentially reached a boiling point. Earlier this year, Mayweather took to social media in an attempt to drum up interest in the dream matchup, while McGregor famously joked the boxer and Showtime were simply gathering up the money he required to even consider the fight.
But following McGregor's history-making performance at UFC 205, where fans saw him earn his second UFC title with a violent fourth round knockout over Eddie Alvarez, the comparisons between both colorful pugilists once again picked up steam
But what will it take for McGregor to challenge Mayweather inside of boxing ring? For McGregor, the answer is simple.
"I want a $100 million cash to fight him under boxing rules," said McGregor "He's afraid of a real fight."
McGregor's victory win over Alvarez not only made him the first fighter in UFC history to hold two belts in two different weight classes at the same time, but also marked his 18th career knockout victory.
Mayweather has not stepped foot inside a boxing ring since his decision win over Andre Berto in September 2015, pushing his perfect record to an astounding 49-0.
This article originally appeared on