Canelo Alvarez vs Liam Smith result: Canelo knocks out Smith in the ninth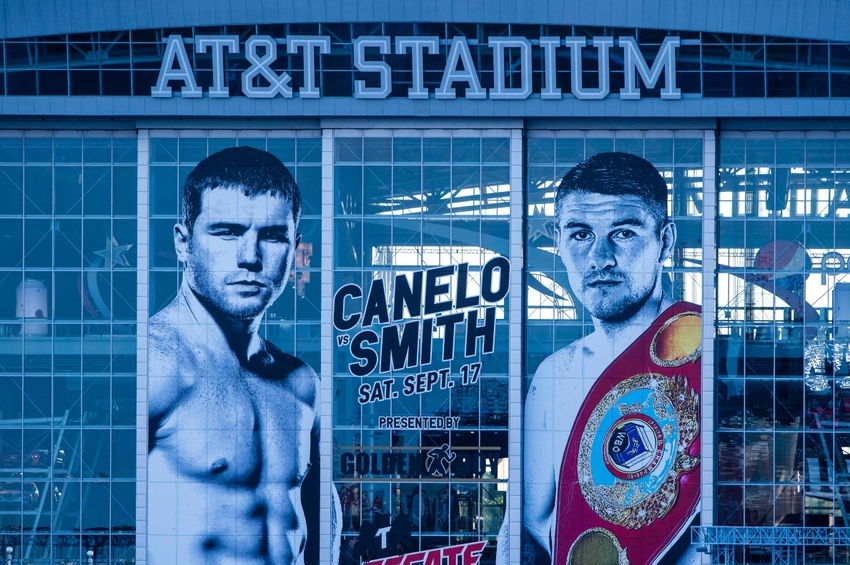 Canelo Alvarez made easy work of Liam Smith and captured the WBO junior middleweight belt. But the question remains whether he'll move up and fight GGG.
On this day in 1994, Julio Cesar Chavez knocked out Meldrick Taylor with two seconds left. So it's only fitting that Canelo Alvarez, Mexico's next great fighter, would choose today to try and capture another belt.
The way Canelo has handled the negotiations with Gennady Golovkin for a superfight has seen him lose fans. But with his countryman celebrating Independence Day, they packed Cowboys Stadium to support their own. They were treated to another emphatic win, as Liam Smith proved to be an overmatched opponent.
Here's a look at how the fight played out:
Round 1
Well, this is interesting. Liam Smith, the champion, is the one walking out first, which should tell you all you need to know about what they think of him. Right from the opening bell, Canelo goes to work with the body shots. He's done a great job sticking the jab and landing combinations, a few of which have staggered Smith. Two minutes into the round, Smith starts throwing a few punches, but they aren't troubling Canelo at all. What a dominant round by Canelo, who's leading 30-6 in the punch count.
Canelo leads 10-9
Round 2
Canelo's only going to get more aggressive from here on out. He's landing even more punches in Round 2, and is smothering Smith with these combinations. Smith is able to back him into the ropes, but Canelo's defense is preventing him from landing anything tangible. Canelo did suffer a cut over his right eye, which could slow down his already aggressive attack. Smith finished strong, but didn't do enough to even the scorecards.
Canelo leads 20-18
Round 3
Canelo lands a combination that traps Smith against the ropes. However, he lets him get back into the center of the ring before continuing. If he was expected to slow down due to that cut, he hasn't done so yet. Canelo goes for an emphatic uppercut, but Smith is able to counter it. As far as showcase fights go, this one is like his fight with James Kirkland, but it's a lot more technical.
Canelo leads 30-27
Round 4
Canelo is landing some beautiful combinations, and landing at will on Smith's head. He now has a visible cut over his right eye. However, Alvarez got warned by the ref for a low blow. The body shots have worked well for him so far, but he's got to be careful going forward. The punch count was near even in that round, but while Smith has landed clean shots, Canelo's have had a greater impact. Smith tried to land a money combination at the end, but Canelo got out of the way beautifully.
Canelo leads 40-36
Round 5
Canelo was slowing down after Round 1, but his hand speed is back in this round. He landed a five-punch combination that staggered Smith. Smith gets Canelo to the ropes, but Canelo lands some significant uppercuts from there to escape. Smith is trying to expose the cut on Canelo's eye, and so lands a punch there towards the end of the round. It was his best shot so far.
Canelo leads 50-45
Round 6
Liam Smith gets Canelo with a right hook, and Alvarez responds by delivering uppercuts. The number of times Alvarez has had to retreat to the ropes makes people question whether the cut down to 154 pounds is taking a toll on him. Whatever it is, Smith is starting to tag his opponent a bit more often. Smith actually out-landed Canelo in power punches that round, but he's starting to gas out due to all the body shots he's taken.
Canelo leads 59-55
Round 7
Liam Smith landed a combination against Canelo, but Alvarez responded gloriously. Alvarez lands an overhand, then a body shot, but the second overhand right drops Smith. He gets his first knockdown against the ropes, and the blood from Smith's right eye cut is starting to gush out. As Jim Lampley states, it's the first time Smith has ever been knocked down. Once he gets up, though, Canelo continues to pour it on by landing shots to the head. But Smith ended the round with a flurry as he refuses to quit.
Canelo leads 69-63
Round 8
After that knockdown, the crowd can smell blood. Perhaps that's a result of all the blood that's been spilled onto the canvas. But Smith isn't showing signs of fatigue, as he continues to press Alvarez against the ropes. Canelo landed three straight head shots, followed by a liver shot, prompting Smith to fall to the canvas yet again. Could his corner throw in the towel soon?
Canelo leads 79-71
Round 9
The body shots have been the story of this fight. They have been Canelo's go-to weapon, and it has limited the mobility of Smith. So it's not surprising that Canelo goes to the body once again. It drops Smith for the third straight round, and the ref wisely calls an end to the fight.
Canelo is a great fighter, but he shouldn't be fighting glorified bar brawlers like Smith. Fights like this, and the Amir Khan one, are stunting his growth rather than aiding it. There's actually talk that his next opponent will be Willie Monroe Jr., which is insane since his fight with Gabriel Rosado earlier could go down as one of the worst of all time.
However, the more impatient boxing fans grow, the closer the fight appears to be getting made. Oscar de la Hoya is an outstanding promoter, and Canelo's fights will always be a spectacle, but he doesn't want to see his fighter to lose more fans. Here's hoping the next time Alvarez steps in the ring, it's against Golovkin.
More from FanSided
This article originally appeared on