5 sports Tim Tebow would suck at worse than baseball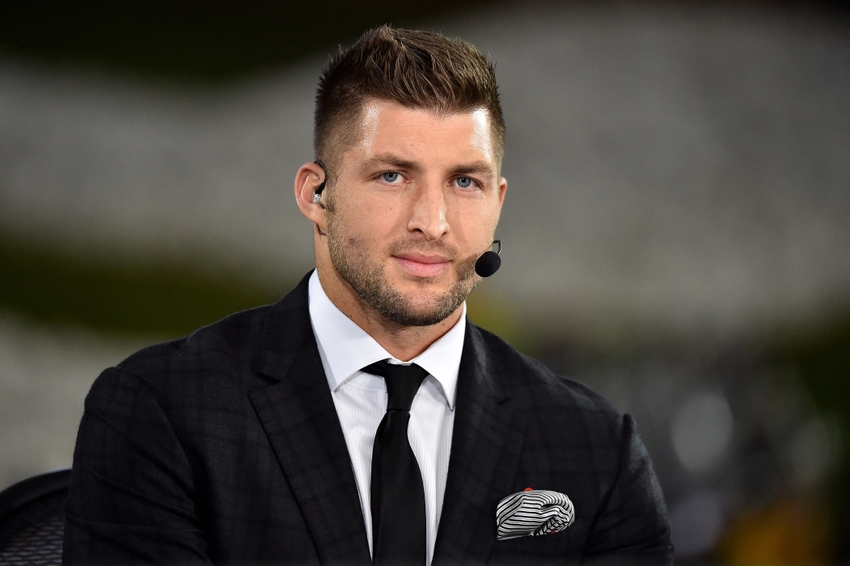 Ex-football player Tim Tebow is trying to play baseball. If that doesn't work out, what will he do next? Hopefully, he doesn't try his hand at these five sports.
There's a decent sized part of the American public who still believes Tim Tebow can play professional football. Those people are ignorant. The former Chosen One and everlasting object of Skip Bayless' deepest fantasies recently gave up on his NFL aspirations to pursue baseball. For all of our sakes, it's about time for you to move on too.
After all, if Tebow's MLB scouting reports aren't just typical media-driven hyperbole, he could be serviceable on the diamond. That's a cautiously optimistic take. A more realistic one would be that if Tebow – who last played competitive baseball as a high school junior – finds his way onto a professional roster, he'll more than likely become the next Michael Jordan of baseball. That's not a compliment, by the way.
Honest question: If Tebow's baseball tryst flames out, where does he go from there? He seems like a nice guy, is highly driven, and despite his shortcomings, is a proven leader. It also doesn't hurt that he's a rich white dude with good hair, so really, the sky's the limit for him.
However, there's always the possibility that he'll attempt to play another professional sport, and if he does, he'll probably fail at that too. Not due to lack of trying, but because it's just not in the cards for him – kind of like me and Jennifer Lopez.
Here are five sports that we think Tim Tebow would suck at even more than football (and potentially baseball):
5. Basketball
Unlike football, basketball is a sport of finesse. You've got to have an astronomical amount of it in order to shoot, pass, and flop with the best of the best within today's professional atmosphere.
Tebow has about enough finesse as Shaq has acting ability, which is none. Don't get me wrong, dude is fast for a 6'3", 236-pound ball of muscle. The problem is that he runs like a flat-footed geriatric in booty shorts. Seriously, look at this. Can you imagine what it would be like for him to guard an athletic freak of nature like Russell Westbrook or John Wall? He'd get shook like a pair of maracas.
It would be brutal. Westbrook would become the first athlete to receive fines from both the NBA and the FCC – simply because he clowned Tebow to the point of it being considered both unsportsmanlike and obscene. For that, and many other possibilities, an NBA career should be out of the question.
On the flip side, Tebow may have a chance to succeed in the Chinese Basketball Association. The league's leading scorer for the 2015-16 season was Jordan Crawford. Crawford, whose greatest NBA contribution was this pass, averaged about 40 points a game (YO!!!) for Tianjin Ronggang.
So, if he can transform into Pistol Pete, Tebow could definitely make something happen overseas as well.
4. Boxing
Tebow appeared on the unexplainably popular trash heap known as Lip Sync Battle and did a whole Rocky-inspired routine set to "Eye of the Tiger." It was funny I guess, but good Lord almighty, his stance was TERRIBLE.
He looked like a slower, less coordinated Floyd Mayweather attempting to do the Wobble at a wedding. Real talk, my man would get TKO'd before Michael Buffer can get his hands on the mic.
Before you get all bent out of shape, I know that his appearance on the show was all in good fun. I got that. That's why I say this with the utmost seriousness: If Tim Tebow were to step into a ring with true intent to box, it would be more unbearable to watch than Rocky V.
Plus, there's no telling the kind of damage Tebow's face would take during any scheduled bout. That's his moneymaker, and unless he wants to follow Mickey Rourke's footsteps, he's got to work hard to protect it.
3. E-Sports
Tebow seems like the kind of dude that doesn't get angry very often. Passionate, sure. But he's not going to be the one to yell at a squeaky-voiced teenager who slays his orc in World of Warcraft or whatever the kids are playing these days.
That anger is what fuels e-gaming, and it's what drives competitive gamers to want to be the best in the whole world. That, and that they probably aren't very good at actual, physical sports, so this provides catharsis. (That's not shade, as I'm in the same boat. I got love for everyone).
As much as you future Cowherd's of the world don't want to admit it, competitive gaming is a thing. It will continue to be a thing until humans are eventually eradicated by the robot overlords. Then, robot children will play these kinds of games with each other and no one will ever fight or scream at each other again since robots don't really have any other feelings or emotions.
If Tebow were to join some sort of pro gaming league, he'd probably get booted off of the chat for telling the other gamers to watch their mouths or to respect the opponents mothers. Both noble intentions, but unfit for the situation.
Maybe he'd be better suited to be a substitute teacher than an athlete.
2. Soccer
Football is a game that revolves around using your hands. In soccer, you can only use your feet. Just as Tebow is not particularly gifted in throwing any sort of ball, his footwork also leaves much to be desired.
Quite frankly, there would be no possible situation for any smart team manager to put him in a soccer rotation. That is unless we're talking about Shaolinn soccer, which is an entirely different beast than the game that we've become relatively ambivalent about here in the States.
Shaolin Soccer is a movie written, directed, and starring Stephen Chow – the same man responsible for Kung Fu Hustle, one of the greatest movies ever made (which is both opinion and fact). It's about soccer, obviously. It's also about the diligent practice of martial arts, and how it makes you 1000x better at soccer than your average Joe.
In fact, if you're a kung-fu master, you don't need to have any inherent soccer skills to outpace your opponent. You just need to know how to kick harder and stronger than them, while maintaining the ferocious gracefulness of a tiger throughout. If Tebow were willing to dedicate a couple of years to trekking across the globe to find a legendary kung-fu master, undergo harsh tutelage, and put his mastery to work on the pitch, he'd arguably be the greatest American soccer player of all time.
However, if he doesn't want to put in that kind of work, he shouldn't bother with it. After all, there's really no point in playing soccer if you can't roundhouse kick a few fools at the same time.
1. Croquet
I don't know much about croquet except for the fact that it involves hitting small, hard balls with giant, Nintendo-ass looking mallets through square horseshoes. I don't know how you win, or what the actual rules of the game entail. I just know for a fact that Tim Tebow should be kept far away from this game.
Tebow wouldn't make a compelling croquet player because dude would probably send his ball into orbit every time he gave it so much as a love tap. You know, because of residual strength. Now, I'm no expert on space-related things, but that doesn't sound like something that anyone should want to happen.
What if the International Space Station gets dinged by one of Tebow's cricket balls and ends up crashing down to Earth and wiping the entire state of Iowa off of the face of the planet?It'd be a disaster. The front page of the New York Times would read "Iowa Destroyed In Fiery Explosion Because Tim Tebow Can't Play Croquet Like A Normal Friggin' Person," or something like that.
Even worse, Donald Trump would use the incident as leverage for his campaign by pushing an agenda to force Tebow to stick to football to prevent similar events of mass destruction in the future – which ultimately results in Trump's election and Tebow's government mandated return to the NFL.
That's a lose-lose situation that none of us can afford. Let's hope this baseball thing ultimately works out for our old pal Tim.
This article originally appeared on