Without Trumbo, D-backs march on
PHOENIX — Mark Trumbo is unlikely to play again until early June, and the Diamondbacks understand exactly what they will be missing.
"You're probably talking about 40 homers and 100 ribbies, so I think the question to ask is, can we replace him?" D-backs third baseman Eric Chavez said.
His answer?
"We can't replace him. We just collectively have to be better," Chavez said.
The D-backs found a power replacement for the night Friday when Aaron Hill had a two-run home and RBI double in a 5-4 victory over Philadelphia that extended their season-long winning streak to three games.
D-backs 5, Phillies 4
"You hate to lose anybody, but it's another chance for someone to come up and play more in an everyday role and establish themselves," Hill said when talking about Trumbo's absence before the game.
Hill took the baton with his second homer of the season. Others will take their turn.
"You are not just going to replace 30 homers and 100 RBIs, so I think everybody just has to do their thing and get their job done and get to the next guy in line," said Tony Campana, who started in left field Friday. "Just do what you do. It's tough, but you have to keep going.
Campana did what he does, making what manager Kirk Gibson called the defensive play of the game when he cut off Marlon Byrd's liner toward the left field corner to keep base runner John Mayberry Jr. from getting to third.
Trumbo was told he is likely to miss six weeks because of a stress fracture of the third metatarsal on his left foot that he first felt when he jogged out to left field for the last of the seventh inning Monday in Chicago. An MRI in Chicago revealed the stress fracture and Trumbo had a CT scan when he returned to Arizona on Friday. It showed the same injury.
So he will miss about a week for every home run he has hit in his first season here. Trumbo is tied for the National League with seven home runs and has a team-high 19 RBIs.
"Six weeks is the length I've been told," Trumbo said. "I think that would be a nice target. It would be nice to come back sooner than that, but I think six weeks is pretty accurate."
Trumbo wore a walking boot with an electronic stimulation device attached in the D-backs' clubhouse Friday.
Cody Ross, who returned from the disabled list April 18 after recovering from a fractured hip suffered last August, will become the regular left fielder, Gibson said.
"I think you guys all know what he can do when he gets hot," Gibson said. "He needs to play to get there. At the same time, I still need to time him time to recover from how far he's come. You'll probably see him playing quite a bit. Also, I have to give him his time off."
Ross is 1-for-22 since he was activated April 18, about eight months after he suffered a fractured hip on a play at first base. Gibson called it the expected rustiness from a player who returns after such a long layoff. He still expects to give Ross an extra day or two off in the coming weeks.
"As time goes on, he gets better and better," Gibson said. "He's taken a lot of steps from where he was a month ago, but he is still not where I think he will end up being. He was swinging the bat pretty good when he got up but didn't get rewarded for it. Then he was trying to over-think things and now is maybe out of whack a little bit. He's going to have to make an adjustment to get his swing and his groove going and he'll have better results."
The worst thing players can do, Miguel Montero said, is try to carry Trumbo's load themselves.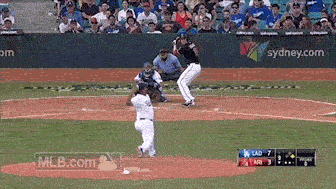 "We shouldn't. We should just do our job," he said. "If everybody does their job, we'll have a better year. If you think about putting all the weight on your shoulders, it's going to be tough, because you are going to put too much pressure and try to do too much. That's what we don't want to do. We want everybody to do their part. A little bit from everybody is just enough."
"Whenever you step in the box, you try to have a good at-bat," Paul Goldschmidt said.
"You do that, and they next guy does it, and the guy after that. I've never once thought 'this guy is not in the lineup, we have to do more.' Everyone steps in the box and does the best they can."
Oliver Perez was forced to remove his sleeves after retiring the first batter in the eighth inning after Philadelphia manager Ryne Sandberg complained to the umpires. The sleeves under his uniform jersey were not the same length, and one was torn at the end. "Supposed to be the same length, same color, and it can't be flapping," Arizona manager Kirk Gibson said. Perez changed and gave up a a single to Ryan Howard before replaced in a situational substitution. Phillies bench coach Larry Bowa was believed to be the man behind the move. Perez declined comment after the game.
2 — consecutive quality starts by the D-backs, a season first.
— Aaron Hill has six hits in his last 12 at-bats, raising his batting average to .243.
— Zombie Night fit Phillies right-hander A.J. Burnett to a torn tee. Burnett had his face zombie-fied before the game in the face-painting area behind the center field scoreboard. The Diamondbacks posted a picture on their Twitter feed.
— Closer Addison Reed has three saves in three innings in the last three days, and Gibson had no qualms about turning to him in the ninth inning Friday. "He'll probably be toast for tomorrow, but when you have a chance to win the game, you have to go get it," Gibson said. Reed is not stranger to usage. He once save six consecutive games in a seven-day period with the White Sox.
— A.J. Pollock was 2-for-4 with what turned out to be the deciding home run in the eighth inning in his return to the lineup after missing four starts with a sore neck suffered on an awkward swing at a Josh Beckett breaking ball last Sunday.
LAST CALL
Hey @Phillies, so this just happened to @wudeydo34. #ZombieNight pic.twitter.com/SQXtH3FvWU

— Arizona Diamondbacks (@Dbacks) April 26, 2014
Josh Collmenter found his location in spring training, and it has been with him ever since. Collmenter was effective in pitching to the corners while giving up only four hits — all singles, one that stayed on the infield — in six innings. "That guy kind of has a funky delivery and he hit his spots," Phillies first baseman Ryan Howard said. "He had a game plan and stuck to it." Collmenter struck out five and did not walk a batter.