With Orioles playing for playoff spot, D-backs look to be spolier
BALTIMORE — The Baltimore Orioles attempt to bounce from being swept in a crucial four-game series when the Arizona Diamondbacks come to town for a three-game set starting Friday.
Boston rolled over Baltimore (82-71) in four straight including a 5-3 verdict Thursday, all but ending the Orioles' chances at winning the American League East.
They sit seven games behind the Red Sox — and in third place with nine games left.
Baltimore fell one-half game behind Detroit for the final wild-card spot after Detroit swept a doubleheader from Minnesota on Thursday. The Orioles are 1 1/2 games behind Toronto, which leads the wild-card race.
Yovani Gallardo (5-8, 5.77 ERA) starts Friday for the Orioles, and he's struggled throughout the season. His last start came Sept. 15, when the right-hander lasted 3 1/3 innings and allowed six runs on seven hits in a 7-6 loss to Tampa Bay.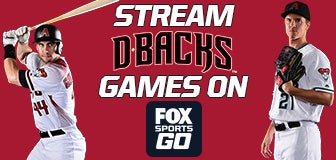 He's won once in his last 14 starts, but sports a 7-2 career record versus the D-backs.
Arizona (64-88) starts Shelby Miller (2-12 6.90), who's never pitched versus Baltimore. He's lost six straight decisions and hasn't won since June 20 while spending most of July and all of August in the minors.
Baltimore came into an 11-game homestand with a 45-25 record at Camden Yards but dropped six of the first eight games.
Manager Buck Showalter said the Orioles need to get going again, and he's got faith they can do it.
"When you are down they are going to step on you and when you're up you are going to ride the flow as much as you can," Showalter said. "It's all about riding the good times and shortening up the bad times as much as you can and we are going to try to shorten this one up starting tomorrow."
Baltimore first needs to start hitting again. Boston starters shut down the Orioles throughout the four-game series, holding them to eight runs after Baltimore recently took two of three from the Red Sox at Fenway Park.
The Orioles made it clear that they must forget about this series as quickly as possible.
"This series is over," closer Zach Britton said. "It's disappointing. It would have been a nice … to at least stay close for the division. The whole thing is just come back and be better tomorrow. If we're better tomorrow and win that one, then we can try to be better the next day."
The D-backs already have been eliminated from the playoff race, but are playing hard.
Paul Goldschmidt (.298, 23 home runs, 90 RBIs) hit two homers in the last game, a 3-2 victory over the Padres on Wednesday, and said he felt good after getting Monday off. But he wanted to be ready to go when returning to the lineup.
"You're always looking to take rest when you get it, and when (manager) Chip (Hale) puts me in the lineup … just try to be ready to go and do my job," Goldschmidt said on MLB.com.