Wishful thinking: Who might be on Suns' shopping list?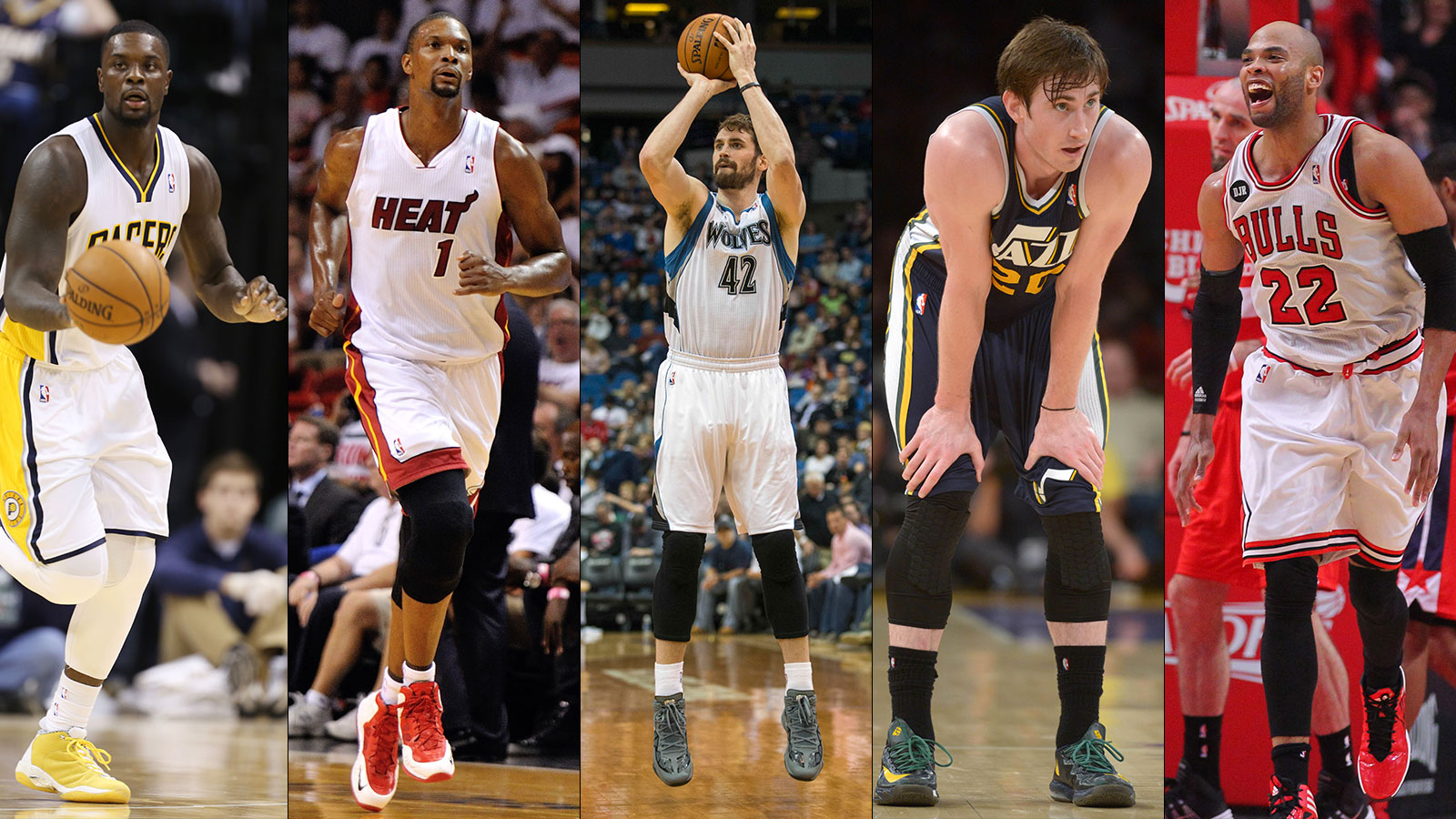 Our noses are pressed against the window separating Phoenix from one of the most compelling NBA playoff socials we've seen in a while.
And it's only the opening round.
This exclusion feels even more painful because the Suns were thiiiiiis close in a season expected to yield little more than slick positioning for future roster upgrades.
"We've reached a point where we'd rather put ourselves in that elite group of contenders sooner rather than later," general manager Ryan McDonough said. "Coming into the year, I think we all weren't sure how long that would take. Luckily, we've made a lot of progress and, hopefully, gotten closer to that elite group."
Well, we certainly don't mind recollecting that — when fully healthy — the Suns' point-guard heavy lineup produced a record of 23-11. The analytics sharpies have decreed that Phoenix's starters were the third-best five-man collection in the league.
"We feel like we're not far away," McDonough said. "If we use our draft picks to get better, to get a veteran or package them to help us take the next step and get us from wins in the upper 40s to 50s or, ideally, 60s, then we'll do that."
That means standing pat and presuming things will progress from this season's stopping point can be dangerous. Even with expected internal improvement from the likes of Archie Goodwin and Alex Len, the Suns will continue the search for another elite talent.
But what are their potential options?
Since this is a hypothetical exercise, we'll begin with a discussion of the dream-land consideration of LeBron James opting out of the final year of his contract in Miami and joining pal Eric Bledsoe in Phoenix.
Even though the Suns can muster around $20 million to spend (before re-signing Bledsoe and/or P.J. Tucker), it seems farfetched that LeBron would feel comfy working with a team already up to its neck in primary ballhandlers.
True, if James became a Sun, ultra-popular Goran Dragic could be moved, but let's recommend exhaling on all of this and saving our "wows" for when it actually happens.
So now that the unreasonable option is on the table, let's look at what could happen. Please note that with McDonough on the Suns' payroll, anticipating maneuvers is not unlike surveying the landscape for gators — it's the one you don't see that gets ya.
The object of this category is — and has frequently been — Minnesota Timberwolves power forward Kevin Love.
What a great Phoenix fit he would be, right?
Love — who has one more season left on his current deal with a team very unfamiliar with the postseason — can stretch the floor, score on the block and is a great defensive rebounder.
OK, so he's not exactly a rim protector or ball-screen interrupter.
But imagine him in pick-and-pop tactics with Dragic and Bledsoe.
Unfortunately, the Suns aren't exactly flooded with elite talent to send back to Minny. Even if they would offer Dragic or Bledsoe in a trade package, the T-wolves already have Ricky Rubio. They also would have marginal use for a series of Suns' draft picks that probably will begin with No. 14 this June.
Suns fans have been helpful in suggesting the Suns throw those draft picks and who player that doesn't play point guard into an offer for Love. But a flock of pretty good players typically has less impact on victory than a great player.
And Love is a great offensive player.
The best bet here would be involving a third team that has interest in a collection of players and picks. But, once again, if a team has a player that would interest the T-wolves, why would it want to move him?
It also should be noted that Love — even if he loves the notion of playing for the Suns — is unlikely to sign an extension by the end of October.
If Love wants to leave the T-wolves and isn't as lovey-dovey with Los Angeles as some presume, he could do a lot worse than Phoenix.
It would take a lot of assets to get him, but the Suns aren't pretending everything would be ducky (and automatically better) on the chemistry-performance fronts if they do nothing.
With the salary cap reportedly going about $5 million north and the potential amnesty option for Carlos Boozer, the Chicago Bulls could be able to land Carmelo Anthony in free agency.
And do it without moving Taj Gibson.
With 'Melo on board, the Bulls would have the offensive upgrade they need (we won't mention Derrick Rose) and could fold Anthony inside Coach Tom Thibodeau's team-defense construct.
But Chicago's personnel executives and head coach might not always share the same roster opinions.
Gibson, who has three more years (at a bit more than $25 million overall) left on his current deal, is a stellar defender who continues to improve on offense. He seems like a Chicago keeper.
The Suns do, however, have enough solid players, draft picks and potential cap space to land Gibson and help the Bulls become pretty deep.
Markieff and Marcus Morris, for example, might turn the heads of some evaluators.
We do know quite a few coaches around the league are high on the twins' versatility, but — if still considered a package deal — extending the contacts of both in the same year can be a chore for any team required to do so.
Gibson can play, but the Suns may think Markieff (who had a higher efficiency rating, according to hoopsstats.com) has a chance to be better.
If Miami continues to steamroll its way through the playoffs, any notion of LeBron or Chris Bosh opting out could be moot. It might be moot even if they don't.
But if Bosh would prefer to start over and have the ball more often, Phoenix certainly might be a swell destination.
Gallery
"Great history, great infrastructure, great weather … never to be underestimated in the free-agent process," Lon Babby, Suns president of basketball operations, said when speaking of free agents in general. "We have a better team. We have a coach that I think every player in the league wants to player for.
"Free agents, when they come here, will have faith that what we say will come true. If I put my former agent hat on, where else would you rather go than the Phoenix Suns right now?"
Bosh would be another swell pick-and-pop four man in the Suns' system, with the capacity to do some work from the mid-post.
He's hardly a beast on the boards for the Heat, but he was a pretty good rebounder when he worked for the Toronto Raptors.
Although his future seems to be tied to LeBron, league insiders remind us not to presume these player friendships are of the BFF variety.
If done before financial reconciliation with Bledsoe, the Suns — who are expected to renounce the cap-clearing Emeka Okafor contract rights — would have enough loot to land Bosh.
Then again, even though he'd make Phoenix really dangerous, Bosh might decide staying in the Eastern Conference makes reaching the Finals considerably easier.
An unrestricted free agent pool is about as deep as most network sitcoms.
The UFA with the most statistical cache is Indiana Pacers lightning rod Lance Stephenson.
Unfortunately, Lance's efforts to upgrade his statistical profile reportedly have made him a bit of a pariah in the Pacers' locker room.
That's not exactly what the Suns are looking for.
A strong, tough two-guard with a sporadic stroke from deep, adding Stephenson at the expense of the Dragon-Blade backcourt feels unlikely.
The Suns also have Gerald Green and the rising Goodwin in that rotation.
Option No. 2 could be small forward Luol Deng, a good defender and solid shooter.
But the price of that ticket probably wouldn't be worth passing on the chance to keep Tucker.
They could add Deng and keep Tucker, pushing Marcus Morris out of the small forward rotation.
A popular name in this category is Utah Jazz three man Gordon Hayward.
Hayward frequently is connected to the Suns because Phoenix coach Jeff Hornacek — a former Jazz assistant — is credited with developing young Gordon's skills.
Those hoping to see Hayward in Phoenix are rationalizing his slippage in 3-point accuracy this season (from 41 percent last season to an icy 30) as payment for being thrust into a go-to-guy role.
That wouldn't be the case with Bledsoe and Dragic as running buddies.
But even with the change-of-system theory in place, do you want to muster an offer sheet for Hayward capable of scaring off the Jazz?
And would he be worth diminishing existing roster depth in a sign-and-trade deal?
Checking in as post player in this category is Detroit Pistons lefty Greg Monroe. Working in a big-guy crowd in Motown, Monroe was ranked 11th among power forwards for efficiency.
If you're thinking of Monroe as a center, the Suns already have Miles Plumlee doing decent work at bargain prices and McDonough's 2013 draft prize in Len. Monroe could spend time there, however.
As a four, he wouldn't be much of a floor spacer.
He also wouldn't exactly be a rim protector, but — working without a crowded lane area — he'd be pretty good right away and give Phoenix some inside punch.
The Pistons might not be willing to go crazy high to keep him with Andre Drummond on board and the Josh Smith contract on their books.