Tyson Nash 'fan boy' makes quite an impression on Coyotes' analyst
Tyson Nash has his own language.
He knows it, and so does everybody who watches him.
"You know what, I have my own language I think, just in general," said Nash, television analyst for the Arizona Coyotes on FOX Sports Arizona. "I know it comes across on television, but anyone who knows me or played with me, I have sayings and things that I've done in the locker room. I guess things that I was superstitious about that I always said going out for warm-ups and at the end of games. After a win on the bus, after all the boys would get on the bus, I'd yell something out when we'd take off."
With all of the little nuances that Nash routinely offers up, perhaps it was only a matter of time before some admirer compiled a mix of Tyson's greatest hits. Only this admirer, Pat Cassidy, went a step beyond — doing a full-on improvisational impersonation that one a ringing endorsement from his subject.
"I completely peed my pants," Nash said. "I guess I was just blown away that someone would take the time to put all that stuff together. A joke or not, it's pretty funny and pretty flattering."
Cassidy is the mastermind and the star of "Nashisms: A Day in the Life of (Not) Tyson Nash." He also collaborates with his buddy, Justin Petrytus, on the @notTysonNash Twitter account.
Use it, Lou. Use it. #nashisms #lou #theolfirepoker pic.twitter.com/MxsEzMs8t1

— NotTysonNash (@NotTysonNash) February 11, 2016
"I've been talking with friends maybe a year or two about the idea of how Tyson Nash talks in his everyday life," Cassidy said. "And how it would be funny to see the way he is in everyday life. This year I learned that my brother had acquired a video tape and I was like 'Hey, I have this idea, and I don't know if people are gonna get it, but let's just do it and see what happens.'
"I didn't know how much to commit to it because I'm 5-9, I don't have a tan and I don't have nice suits, but I was like 'I think I just need a bad wig and to accept that it's going to look bad and that's it.' It was a good kind of bad. I feel like it was just right."
Cassidy, born and raised in Phoenix, is 28 years old. He's been a Coyotes fan for roughly seven years and tries to make it out to Gila River Arena five to 10 times per year. When he's not making humorous videos, he's working at Vanguard as a processing associate.
Throughout the video, he portrays Nash in everyday scenarios such as going to yard sales and stores and doing practical things around the house. He also gives his take on Nash's wardrobe — saying "I'm going out like a house on fire" when pairing a suit jacket with a flannel.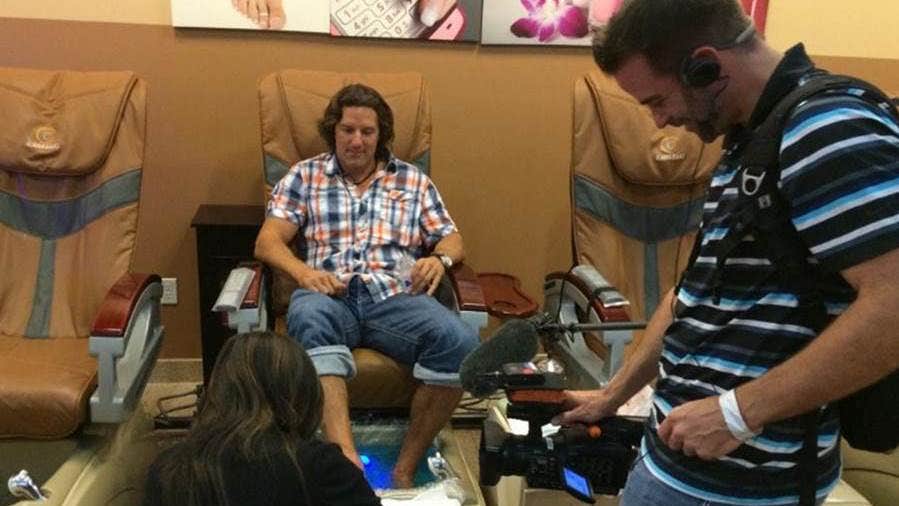 The process of shooting the video meant trotting around public places in his messy wig and Coyotes jersey, and at times Cassidy just wanted to get the skits over with.
"Super, super awkward," said Cassidy. "The 'mouse-fart' one in Barnes and Noble was probably the most uncomfortable, just because it was really quiet and we did the take five or six times. My brother was like, 'You've got to be louder! I can't hear you.' Also, Lowe's was pretty uncomfortable, too, just because walking into a place like that while wearing a ridiculous wig and Coyotes jersey at 10 in the morning, I felt like everybody was looking at me."
The idea for the video began with Nash's pepperoni pizza video and started to snowball from that point on.
"I feel like his signature at this point is the pepperoni pizza thing. They play that Boedker clip all the time in overtime and you hear the pepperoni pizza deal. That's kind of how it all started. I was texting between friends and was like, 'Did he really just say that on air?' and that's kind of how it built up."
Well done boys!! Now that is funny!!! https://t.co/RrqyOCRRDg

— TYSON NASH (@TysonNash) February 3, 2016
After Nash showed a positive reaction to the video on Twitter, Cassidy and his friend Justin Petrytus, who runs the Twitter account, have been in communication with Nash through the use of direct messages. But to this date, they've never met.
"We were full-on fan boys," said Cassidy. "Tyson's been super rad, and we've reached out to him in a private message on Twitter. He chats back to us and tells us that we're really funny and to keep it up. He just changed his Twitter profile picture to a meme we made of his 'who wore it best' thing with the ridiculous suits that he wears. It's been so awesome."
@TysonNash another segment of "Who Wore it Best! #TBT pic.twitter.com/bAb2cvSfqN

— NotTysonNash (@NotTysonNash) February 18, 2016
After Cassidy's video started gaining interest, he began receiving suggestions for future videos.
"We have ideas for sure," Cassidy said. "We're getting pelted with ideas. On the video someone was like 'Hey you didn't do anything with the nose' or 'I'm really bummed that there wasn't the jockstrap in the rafters comment,' but we've got time. We certainly plan to do more."