This date in FOX Sports Arizona history
On Sept. 7, 1996, FOX Sports Arizona hit the airwaves with our first telecast — a Pac-10 football showdown between Washington and Arizona State. Check back with us daily as we recount some of the top sports moments in Arizona during our 20 years of serving the state's sports fans.
May 31
2000
The D-backs turn the first triple play in franchise history in a 6-2 victory over the St. Louis Cardinals. Steve Finley caught a Mark McGwire fly ball and threw out Placido Polanco at the plate as he tried to score. Catcher Damian Miller then threw to third base, where shortstop Tony Womack tagged out Edgar Renteria as he tried to advance on the throw home.
2003
In his final major-league at-bat, Matt Williams delivered a pinch-hit single to score Junior Spivey in the D-backs' 8-7 loss to San Diego. He was designated for assignment and released the next day and would announce his retirement eight days later.
2006
Brandon Webb extends his scoreless streak to 25 innings by pitching seven shutout innings against the Mets, but neither he nor Mets starter Pedro Martinez is around for the finish. The Mets win it 1-0 in the 13th inning.
May 30
2006
The Suns square the Western Conference Finals at 2-2 with a 106-86 victory over the Mavericks. Leandro Barbosa leads the way with 24 points, making 10 of 13 shots.
May 29
2001
After playing 17 scoreless innings against the Giants, Erubiel Durazo doubled home Steve Finley with one out in the top of the 18th to give the D-backs a 1-0 victory at Pacific Bell Park.
2010
Kobe Bryant scores 37 points as the Lakers close out the Western Conference Finals with a 111-103 victory over the Suns in Phoenix, giving the Lakers a 4-2 series victory.
2014
Josh Collmenter faced the minimum 27 batters in an 4-0 victory over the Reds. Collmenter allowed three hits, but all three base-runners were erased on double-plays.
May 25
2007
Nine days after being called up from Double-A Mobile, rookie Mark Reynolds goes 5 for 5 with two home runs and five RBI in a 13-3 victory over Houston.
May 24
2006
Boris Diaw scores a career-high 34 points and hits the go-ahead basket with 0.5 seconds left to lead the Suns to a 121-118 victory over the Mavericks in Game 1 of the Western Conference finals. Steve Nash added 27 points and 16 assists as the Suns outscored Dallas 16-4 over the game's final 3:43.
May 23
2010
Amar'e Stoudemire totals 42 points and 11 rebounds to lead the Suns to a 118-109 victory over the Lakers in Game 3 of the Western Conference finals, cutting the Lakers' series lead to 2 games to 1.
May 22
2005
The Suns lose the opener of the Western Conference Finals at home to the San Antonio Spurs, falling 121-114 despite a 41-point night from Amar'e Stoudemire.
2012
Dustin Penner scores the game-winning goal in overtime as the Los Angeles Kings defeat the Coyotes 4-3 in Glendale to win the Western Conference Finals 4 games to 1 and end the most successful season in Coyotes franchise history.
"It's very disappointing," Coyotes captain Shane Doan said. "I've been knocked out in the first round a lot, and you think that it's going to feel better when you get to the next round, but I don't care when you get knocked out; it feels awful and you don't want to be part of it."
May 20
2005
Steve Nash scores eight points in the final minute of regulation as the Suns beat the Mavericks 130-126 for a 4-2 series victory and a trip to the Western Conference finals.
2012
Shane Doan scored two goals and Mike Smith made 36 saves as the Coyotes stay alive in the Western Conference finals with a 2-0 victory over the Kings in Game 4.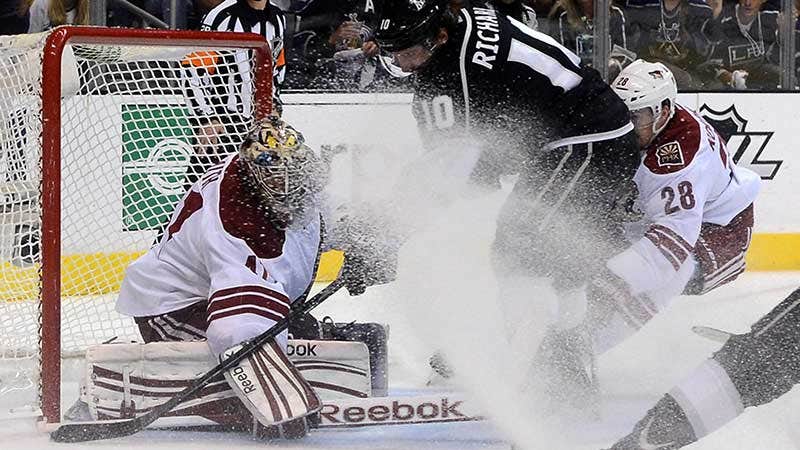 May 18
1999
Luis Gonzalez goes hitless in an 8-3 loss at San Francisco, ending his 30-game hit streak. Gonzalez was the 37th player in major-league history to hit in at least 30 consecutive games. Gonzalez had 7 home runs, 46 hits, 25 RBI and a .400 batting average during the streak.
2004
Randy Johnson becomes the 16th player in major-league history to throw a perfect game, setting down all 27 Atlanta Braves to come to the plate. Johnson needed 115 pitches to complete the perfecto, striking out Eddie Perez with a 98 mph fastball for the final out and his 13th strikeout in the game.
2005
Steve Nash records the first playoff triple-double of his career (34 points, 13 rebounds, 12 assists) to lead the Suns to a 114-108 victory over the Mavericks and a 3-2 advantage in their Western Conference semfinal series.
2007
The Spurs wrap up a contentious Western Conference semifinal series against the Suns with a 114-106 win in Game 6, leaving the Suns and their fans to wonder what might have been had Amar'e Stoudemire and Boris Diaw not been suspended from Game 5.
"We'll never know. What can I say? Part of me wants to be a sportsman and give them credit. They beat us," Steve Nash said. "At the same time I can't really answer that question because I don't know what the outcome might have been."
May 17
2002
In just his second game of the season, following recovery from wrist surgery, first baseman Erubiel Durazo blasts three home runs and drives in a D-backs record 9 runs in a 12-9 victory over the Philadelphia Phillies. Durazo hit homers off of Terry Adams, Greg Swindell and Rheal Cormier and capped his night with a three-run double in the eighth inning.
"I hit the ball pretty good today," he said, in an understatement.
2012
The Los Angeles Kings rally from a 1-0 deficit to beat the Coyotes 2-1 and take a 3-0 lead in the Western Conference finals. Dwight King scored the game-winner 1:47 into the third.
May 16
2006
Shawn Marion totals 36 points and 20 rebounds in 54 minutes as the Suns beat the Clippers 125-118 in double-overtime to take a 3-2 lead in the Western Conference semifinals.
2007
The Spurs take a 3-2 lead on the Suns with an 88-85 victory at America West Arena as the Suns are forced to play without suspended Amar'e Stoudemire and Boris Diaw. The Suns led by 16 in the second period and 79-71 midway through the fourth quarter before running out of gas.
May 15
2005
Steve Nash scores a career-high 48 points, but the Suns suffer a 119-109 loss to Dallas, leaving the Western Conference semifinals tied at 2-2.
2008
Brandon Webb makes it nine wins in his first nine starts, striking out eight batters in an 8-5 win over Colorado.
May 14
2003
Curt Schilling records his second consecutive shutout, striking out 14 batters in a 2-0 victory over the Phillies in Veterans Stadium.
2007
The Suns beat the Spurs 104-98 to even up their Western Conference semifinal series at 2-2, but the final seconds of the game prove to be among the most reviled in franchise history by Suns' fans.
It started with a dirty foul by Robert Horry on Steve Nash, leading to Nash defending himself, and then to Amar'e Stoudemire and Boris Diaw leaving the Suns bench area as tempers flared. Ultimately, it would result in one-game suspensions for Stoudemire and Diaw for Game 5 in Phoenix — an 88-85 Spurs win that turned the tide in the series.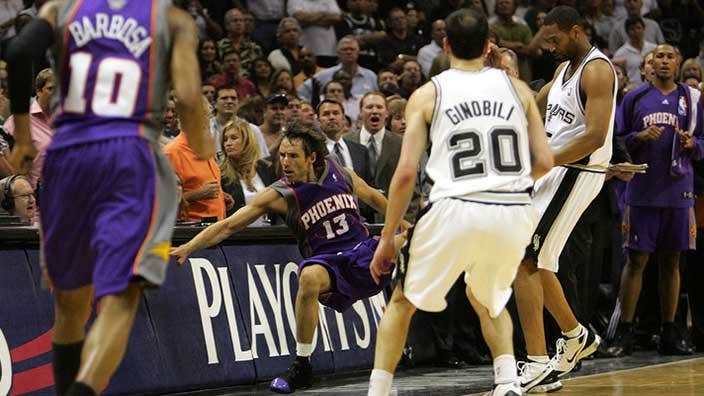 May 13
2009
Gerardo Parra, making his major-league debut, homers in his first at-bat to become the second Diamondbacks player and 100th in MLB history to hit a home run in his first plate appearance.
2012
The Coyotes suffer a 4-2 loss to the Los Angeles Kings in Game 1 of the Western Conference Finals in Glendale.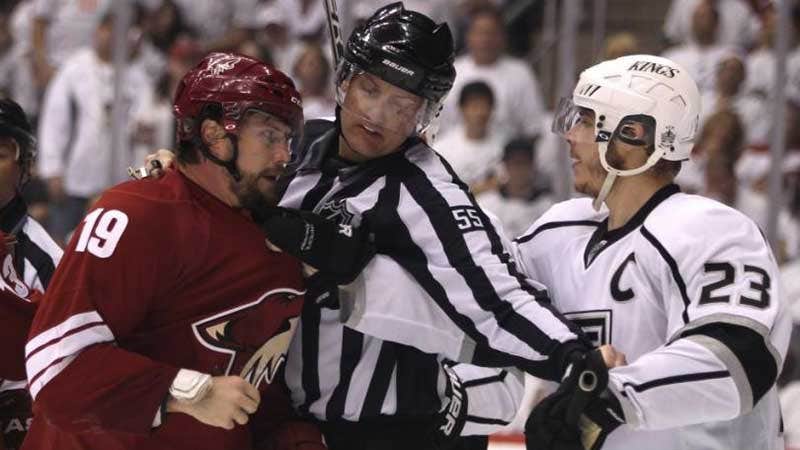 May 12
1999
The Diamondbacks hit three home runs and score five times in the ninth inning to beat the Montreal Expos 8-6 — winning on a walk-off home run by Matt Williams. It was the third walk-off home run in three nights for the D-backs. The night before it was Luis Gonzalez, and the night before that, Jay Bell walked-off the Expos.
May 11
2005
Joe Johnson crashes face first to the floor after a flagrant foul by Dallas' Jerry Stackhouse and suffers a displaced fracture of his left orbital bone in a 108-106 loss to the Mavericks  in the second game of the Western Conference semifinals. The injury would sideline him for the next two weeks.
May 10
2008
Mike D'Antoni resigns as Suns head coach and vice president of basketball operations to become head coach with the New York Knicks. D'Antoni led the Suns to three Pacific Division championships and a 253-136 record in four-plus seasons, including four consecutive seasons with at least 54 wins.
May 9
2005
>>Mike D'antoni wins NBA Coach of the Year Award after leading the Suns to 62 wins, a 33-win improvement over the previous season.
>>Amar'e Stoudemire scores 40 points and pulls down 16 rebounds in the Suns' 127-102 victory over Dallas in Game 1 of the Western Conference semifinals.
2010
The Suns conclude a four-game sweep of the Spurs in the Western Conference semifinals with a 107-101 victory in San Antonio. Amar'e Stoudemire leads the way with 29 points. Steve Nash finished the game with a bloodied, swollen and bandaged face, after catching an inadvertent elbow above the eye from Spurs center Tim Duncan.
May 8
2001
Randy Johnson strikes out 20 Cincinnati Reds in nine innings but is deprived of his place in the record books because the game went longer than nine innings, with the Diamondbacks pulling out a 4-3 win in the 11th. A replay of Johnson's 20-strikeout game will air on FOX Sports Arizona tonight at 7 p.m.
2005
Steve Nash edges out future teammate Shaquille O'Neal and becomes the second Phoenix Sun to win the NBA's MVP Award, joining Charles Barkley. Nash averaged 15.5 points and an NBA-best 11.5 assists while leading the Suns to a 33-win improvement over the 2003-04 season.
2010
Goran Dragic scores 23 of his 26 points in the fourth quarter to lead the Suns to a 110-96 victory over the Spurs and a 3-0 lead in their Western Conference semifinal series.
May 7
2012
The Coyotes advance to the Western Conference finals by closing out the Nashville Predators 2-1 in Game 5 of their playoff series.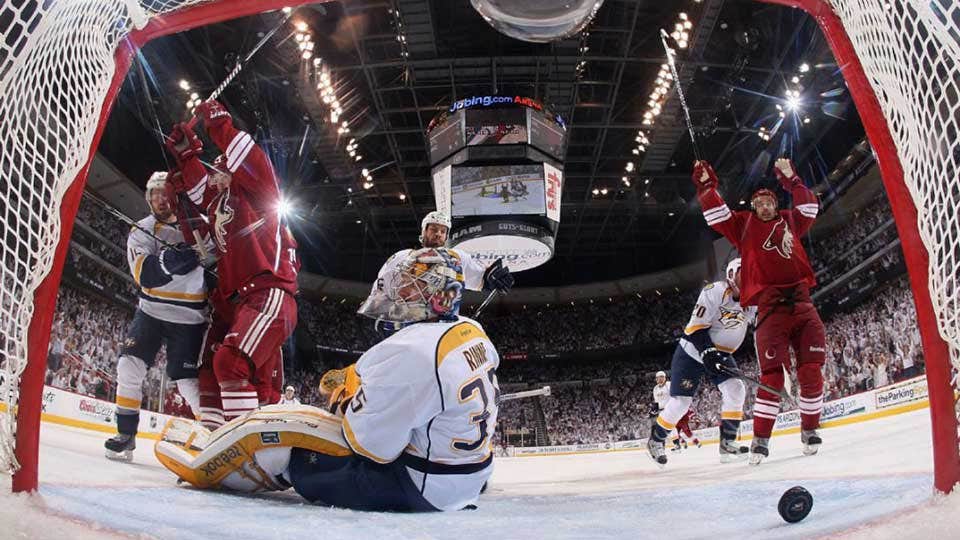 2013
The Suns hire Celtics assistant GM Ryan McDonough as their general manager.
May 6
2006
Suns point guard Steve Nash is named NBA Most Valuable Player for the second consecutive year.
2006
Leandro Barbosa scores 26 points and Boris Diaw has 21, nine assists and six rebounds as the Suns wallop the Lakers 121-90 in Game 7 of their opening-round playoff series. The Suns' third consecutive victory wipes out a 3-1 deficit and advances them to a Western Conference semifinal series against the Clippers.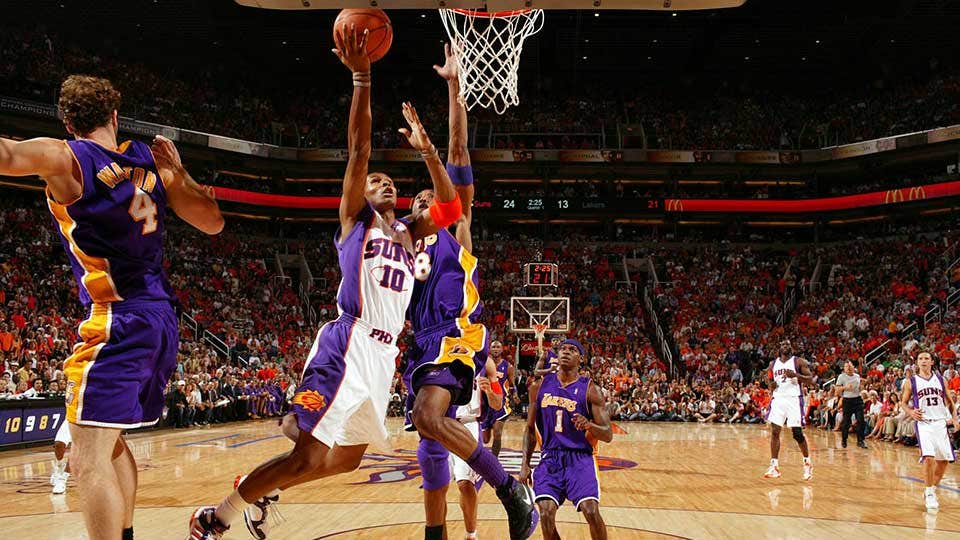 May 5
2003
Steve Finley hit a pair of home runs and Matt Williams hit the 12th and final grand slam of his career in the D-backs' 10-1 victory over the Phillies.
2016
The Coyotes name 26-year-old John Chayka as general manager, making him the youngest general manager in pro sports history.
May 4
1999
Grant Fuhr makes 35 saves and Pierre Turgeon scores 18 minutes into overtime as the Blues eliminate Coyotes with 1-0 overtime victory in Game 7. It was the Coyotes' third consecutive loss — two in overtime — after they had taken a 3-1 lead in the series.
2006
With the Suns down 3-2 to the Lakers and facing elimination, Steve Nash scores 32 points and the Suns pour in 21 points in overtime to defeat Los Angeles 126-118. Kobe Bryant, taking advantage of Raja Bell being suspended because of a clothesline, scored 50 in a losing effort for L.A.
2012
Shane Doan scores the game's only goal and Mike Smith stops 25 shots as the Coyotes beat the Predators 1-0 to take a 3-1 lead in their Western Conference semifinal series.
May 3
2008
Brandon Webb wins NL Pitcher of the Month Award for April, going 6-0 with a 1.98 ERA.
May 2
1999
The Coyotes fail for a second time to close out the St. Louis Blues, losing 5-3 in Game 6 of their first-round playoff series and forcing a Game 7 in Phoenix.
2006
Boris Diaw scores 25 points as the Suns, down 3-1 to the Lakers in their first-round playoff series, stave off elimination with a 114-97 victory in Game 5. The chippy game might best be remembered for Suns guard Raja Bell getting ejected after tossing Kobe Bryant to the floor in response to getting elbowed by Bryant.
"It's been a pretty physical series, and at that point in time
I had caught another elbow in the jaw and I lost my head and
overreacted to it," Bell said. "It could have cost my team, and
for that I'm sorry."
2007
Amar'e Stoudemire has 27 points and 16 rebounds as the Suns eliminate the Lakers for the second year in a row, closing out their opening-round playoff series in five games with a 119-100 victory.
May 1
2000
Suns forward Rodney Rogers wins the NBA Sixth Man of the Year Award after averaging 13.8 points and 5.5 rebounds per game.
2005
Joe Johnson scores 25 points to lead the Suns to a 123-115 win over Memphis and a four-game sweep of their first-round playoff series.
Previous months