This date in FOX Sports Arizona history
On Sept. 7, 1996, FOX Sports Arizona hit the airwaves with our first telecast — a Pac-10 football showdown between Washington and Arizona State. Check back with us daily as we recount some of the top sports moments in Arizona during our 20 years of serving the state's sports fans.
April 30
1999
Matt Williams becomes the first Diamondbacks player to be named National League Player of the Month after compiling a .357 average with eight home runs and 25 RBI.
2000
Randy Johnson caps the first month of the season by pitching seven shutout innings and striking out 11 in a 6-0 win over the Cubs. He finished the month a 6-0 record, 0.91 ERA, three complete games and two shutouts.
April 29
1997
Anaheim ends the Coyotes' first playoff run with a 3-0 victory in Game 7 of the Western Conference quarterfinals.
2008
Max Scherzer, the team's first-round draft pick in 2006, makes his major-league debut in a 6-4 loss to the Astros and retires all 13 batters he faces — seven by strikeout.
April 28
2004
Steve Finley accounts for all three D-backs' runs in a 4-3 loss to the Cubs with three solo home runs. Compounding the misery, Richie Sexson injures his right shoulder on a checked swing, just two days after hitting what had been the longest home run in Bank One Ballpark history. The injury — diagnosed as a subluxation — would sideline him for the rest of the season.
April 27
1997
Paul Kariya scores a pair of goals, including the game-winner in overtime, as Anaheim defeats the Coyotes 3-2 to even their Western Conference quarterfinal series at 3-3. Making matters worse for the Coyotes, they'll have to play Game 7 without star center Jeremy Roenick, whose season comes to an end with a torn knee ligament following an on-ice collision with Anaheim's Ted Drury.
1999
Dallas Drake and Greg Adams score goals and Nikolai Khabibulin makes 27 saves to lead the Coyotes to a 2-1 victory over the Blues and a 3-1 edge in their Western Conference semifinal series — giving Phoenix what would turn out to be an ill-fated three opportunities to win a playoff series for the first time.
2003
Brandon Webb pitches seven scoreless innings in his first career major-league start, giving up three hits and strikeout out 10 in a 6-1 victory over the Mets in the first game of a double-header, then was promptly optioned back in the minor leagues to make room for Randy Johnson, who came off the disabled list to start the second game of the twin-bill. Johnson struck out 12 in his return, giving the Diamondbacks a major-league record for most batters struck out in a double-header.
"We've been hearing about Brandon Webb for a long time in this organization," manager Bob Brenly said afterward. "I don't think anyone in his wildest dreams thought he'd go out and do what he did today. There's not much more he could have done. He was spectacular."
2010
Pavel Datsyuk and Nicklas Lidstrom scored two goals apiece as the Red Wings beat the Coyotes 6-1 in Game 7 of the Western Conference quarterfinals, ending the Coyotes most successful season since moving to Arizona.
April 26
1998
Jeremy Roenick has two goals for the second straight game and Oleg Tverdovsky has three assists as the Coyotes beat the Red Wings 3-2 to take a 2-1 in their Western Conference playoff series.
2001
Luis Gonzalez sets a National League record and ties Ken Griffey Jr.'s major-league record by hitting his 12th and 13th home runs in the month of April as the D-backs pound the Atlanta Braves 13-6. Gonzo's record was eclipsed by Albert Pujols in 2006.
2004
D-backs first baseman Richie Sexson hits his ninth home run of the month — a towering shot to center field that smashes into his image on the Bank One Ballpark JumboTron and destroys part of the screen. The hit was measured at 410 feet long and 82 feet high — giving it a projected distance of 503 feet, which was the longest in stadium history at the time and still ranks as second longest (to Adam Dunn's 504-foot blast in 2008).
"You see things in this game on occasion that you've never seen before," manager Bob Brenly said. "I think Fins (Steve Finley) said it best, he's never seen a ball get so small so fast. It seemed like it was accelerating when it hit him in the face out there on the JumboTron."
April 25
2007
Stephen Drew hits a two-run walk-off homer off of Trevor Hoffman to give the D-backs a 3-2 victory over the Padres, offsetting a 16-strikeout performance by San Diego's Jake Peavy.
2010
Ilya Bryzgalov makes 31 saves and the Coyotes force a seventh game in their Western Conference quarterfinal series vs. the Detroit Red Wings with a 5-2 victory at Joe Louis Arena.
April 24
1997
Bob Corkum had a goal and two assists in the Coyotes' 5-2 victory over Anaheim, taking a 3-2 lead in the Western Conference quarterfinals.
1998
Jeremy Roenick has two goals and two assists in the Coyotes' 7-4 victory at Detroit, tying their Western Conference quarterfinal series at 1-1.
1999
Shane Doan scores the winning goal in overtime to give the Coyotes a 4-3 victory over the St. Louis Blues, tying the best-of-seven Western Conference quarterfinal series at 1-1.
April 23
2012
Mike Smith makes 39 saves as the Coyotes blank the Blackhawks 4-0 and win a playoff series for the first time in franchise history.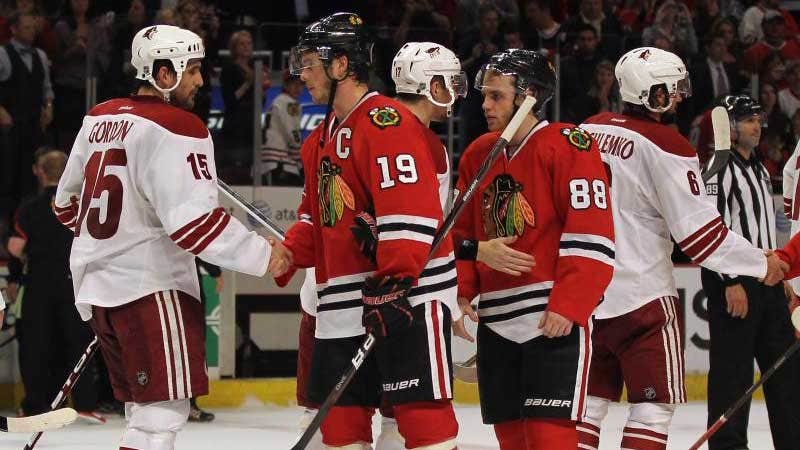 April 22
1997
Nikolai Khabibulin stops 32 shots as the Coyotes beat Anaheim 2-0 to even their Western Conference quarterfinal series with Anaheim at 2-2.
2010
Jason Richardson erupts for 42 points as the Suns whip the Trail Blazers 108-89 in Portland to take a 2-1 lead in their first-round playoff series.
April 20
1997
The White-Out is born, and the Coyotes record their first playoff win in Phoenix franchise history, beating Anaheim 4-1 in Game 3 of the Western Conference quarterfinals. Darrin Shannon scored two goals, and Cliff Ronning had three assists.
April 19
2012
Mikkel Boedker scores an overtime goal in a second consecutive game to give the Coyotes a 3-2 win over the Blackhawks in Chicago and a 3-1 lead in the Western Conference quarterfinals.
April 18
2005
The Suns conclude a 62-win season with a 128-114 victory over the Denver Nuggets. Their 33-win improvement is the third-best in NBA history.
2010
Sami Lepisto scores 29 seconds into the game and the Coyotes take a 2-1 lead on the Detroit Red Wings in the Western Conference quarterfinals with a 4-2 victory. But the victory was bittersweet for the Coyotes, who lose Shane Doan for the remainder of the series due to an injury.
2012
The Suns induct former coach John MacLeod into the team's Ring of Honor. MacLeod coaches the Suns to 579 wins from 1973 to 1987.
April 17
2003
Carlos Baerga hits a pair of home runs and drives in 7 in the D-backs 11-2 victory over the Rockies.
2012
Mikkel Boedker's overtime goal gives the Coyotes a 3-2 win and a 2-1 series lead over the Blackhawks. The game was best known for a crushing hit on Chicago forward Marian Hossa by Raffi Torres, resulting in Hossa being taken off the ice on a stretcher and a suspension for Torres that carried over into the following season.
April 16
1997
The Phoenix Coyotes play their first playoff game in the franchise's brief Arizona history, losing 4-2 to the Mighty Ducks of Anaheim.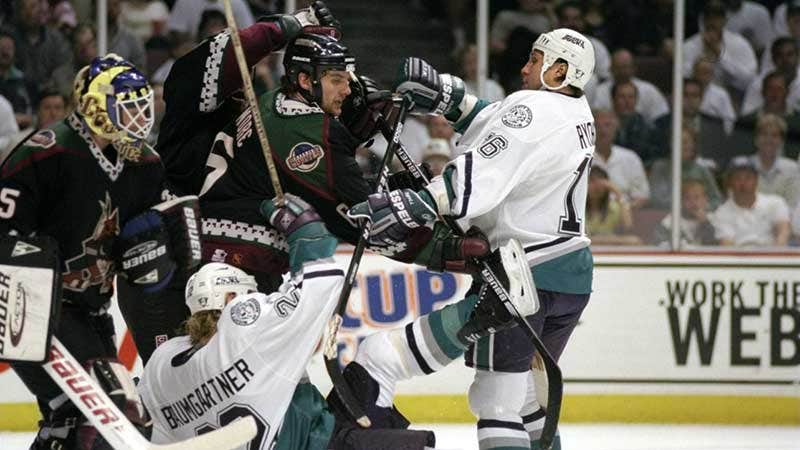 2004
Banking and real estate executive Robert Sarver reaches agreement to purchase the Suns for a then-NBA record price of $401 million.
April 14
2010
Derek Morris registered his first career playoff goal and added two assists to lead the Coyotes to a 3-2 victory over Detroit in Game 1 of the Western Conference quarterfinals.
2012
Todd Helton hit a walk-off home run off of J.J. Putz to give the Rockies an 8-7 win over the D-backs and end Putz's club-record streak of 28 consecutive saves dating back to July 27, 2011.
April 13
2003
The Suns assure themselves of a return to the playoffs after a one-year absence, capping an eight-win improvement over the previous season and securing the eighth spot in the Western Conference with a 92-85 victory over San Antonio.
April 12
2002
The Coyotes beat the Minnesota Wild 7-1 as Sean Burke sets a team record with his 33rd victory of the season and Teppo Numminen registers his 400th career assist with the franchise.
2012
In the first of an NHL record five consecutive overtime games, Martin Hanzal scores at the 9:29 mark to give the Coyotes a 3-2 win over the Blackhawks in the opening game of their Western Conference quarterfinal series. Chicago sent the game into overtime on Brent Seabrook's goal with 15 seconds left to play.
April 11
1999
Luis Gonzalez homers off of Greg Maddux in the Diamondbacks' 3-2 loss to Atlanta, starting a 30-game hitting streak through May 18. He became the 37th player to reach 30-game mark.
2010
Chris Young, Kelly Johnson and pitcher Edwin Jackson all hit home runs in a 13-run fourth inning as the Diamondbacks wallop the Pirates 15-6 at Chase Field. The 13-run inning stands as a franchise record.
2011
Channing Frye ties a Suns team record with nine 3-point field goals in a 135-127 overtime victory over Minnesota.
April 10
2001
Todd Walsh is hired as FOX Sports Net Arizona's pre-game host for Diamondbacks and Coyotes telecasts.
April 9
2015
ASU hires Bobby Hurley to replace Herb Sendek as men's basketball coach.
2016
Devin Booker becomes the fourth youngest player in NBA history to crack the 1,000 point barrier, scoring 16 in a 121-100 victory over New Orleans. Only LeBron James, Kobe Bryant and Kevin Durant have topped 1,000 points at a younger age than Booker (19 years, 162 days).
April 8
2010
Adrian Aucoin scores in the fourth round of a shootout to give the Coyotes a 3-2 victory over the Kings in Los Angeles, giving the team 50 wins in a season for the first time in the 30-year history of the franchise.
2011
Ilya Bryzgalov is the winning goalie in a playoff-clinching 4-3 victory over San Jose, becoming the Coyotes' all-time leader with 130 career victories.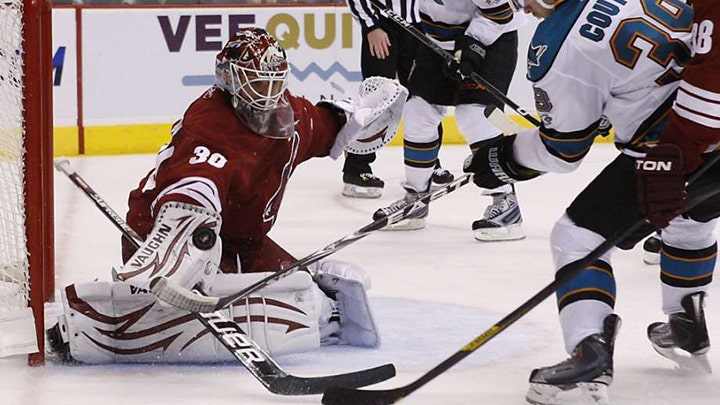 April 7
1998
Danny Manning, who would be named the NBA Sixth Man of the Year, tears his anterior cruciate ligament in a 103-97 victory over Sacramento, costing a 56-win team one of its most vital players and leading to a first-round playoff exit vs. San Antonio.
2001
The Suns defeat Cleveland 102-98 to clinch a 13th consecutive playoff berth.
2002
Curt Schilling tosses a one-hitter and strikes out a career-high 17 in the D-backs' 2-0 victory over the Brewers in Milwaukee.
2012
The Coyotes defeat Minnesota 4-1 to clinch the Pacific Division championship, their first division title in franchise history.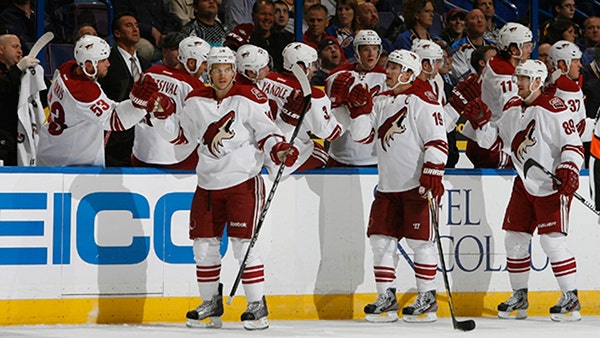 April 6
1997
Keith Tkachuk scores the Coyotes' only goal in a 2-1 loss at Colorado, becoming the first Coyote to score 50 goals in a season.
2009
Felipe Lopez and Tony Clark each hit home runs from both sides of the plate and the D-backs hit five home runs overall in a 9-8 win over the Rockies on Opening Day. Brandon Webb started and gave up six runs in four innings for the D-backs in what would be the last start of his injury-shortened major-league career.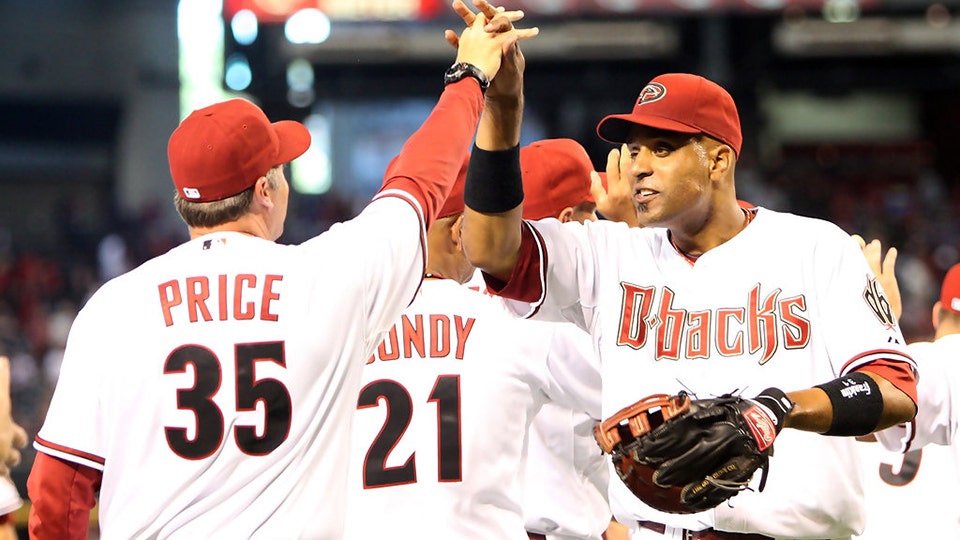 2009
After being rebuffed by several other candidates, Arizona hires Xavier coach Sean Miller to take over a basketball program that had struggled to maintain elite status after Lute Olson's retirement.
April 5
1998
After losing their first five games, the D-backs get to Giants starter Shawn Estes for three first-inning runs and hold on for the first victory in franchise history, 3-2 at Bank One Ballpark. Andy Benes, who took the franchise's first loss, also got the first win, giving up two solo home runs in seven innings.
2004
Suns chairman and CEO Jerry Colangelo was elected to the Naismith Memorial Basketball Hall of Fame in Springfield, Mass., joining former Suns player Connie Hawkins as a recipient of the sport's highest honor.
April 4
2008
Rookie enforcer Daniel Carcillo, owner of a league-high 324 penalty minutes, notches his first career hat trick in a 4-2 win at Dallas.
April 3
1998
Teppo Numminen has a goal and three assists in a 6-3 victory over Anaheim, becoming the Coyotes' all-time leading scorer among defensemen with 336 points — a total that  would eventually grow to 534 before Numminen was traded to Dallas in 2003.
2001
Luis Gonzalez hit a two-run homer in the seventh inning to give the Diamondbacks a 3-2 Opening Day victory over the Dodgers in Los Angeles in Bob Brenly's managerial debut.
2012
Mike Smith sets an NHL expansion-era record for most saves in a regulation game by stopping 54 shots in a 2-0 victory over the Columbus Blue Jackets. It is Smith's third consecutive shutout and eighth of the season, tying a franchise record.
April 2
2001
Arizona's bid for a second national championship in five years came up empty when the Wildcats fall 82-72 to Duke in the title game in Minneapolis. Arizona's starting backcourt of Gilbert Arenas and Jason Gardner combined to shoot 0 for 12 from 3-point range, and the Wildcats were held scoreless for the final 2:48 after a Richard Jefferson basket had pulled them within three points of the Blue Devils.
April 1
2009
Rookie Al Montoya makes 23 saves in a 3-0 win at Colorado, becoming the first U.S.-born goaltender in NHL history to record a shutout in his debut, and the second rookie in Coyotes history to debut with a shutout.