This date in FOX Sports Arizona history
On Sept. 7, 1996, FOX Sports Arizona hit the airwaves with our first telecast — a Pac-10 football showdown between Washington and Arizona State. Check back with us daily as we recount some of the top sports moments in Arizona during our 20 years of serving the state's sports fans.
Feb. 28
2012
Mike Smith wins his 11th consecutive game, stopping 39 shots in a 2-1 victory over Vancouver to cap a perfect (11-0-0) month for the Coyotes' goaltender.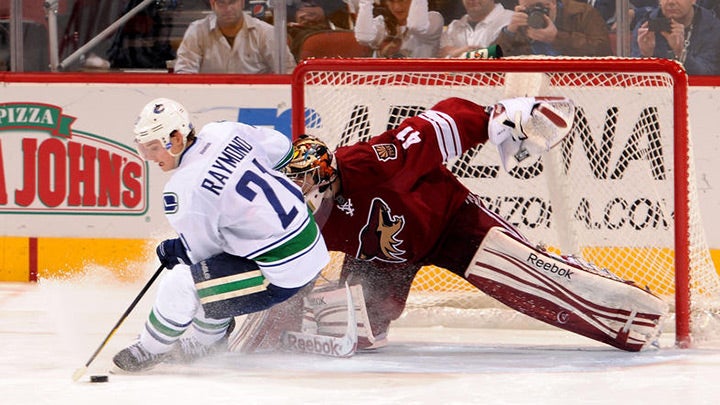 2014
Goran Dragic scores a career-high 40 points to lead the Suns to a 116-104 victory over New Orleans.
Feb. 27
1998
FOX Sports Arizona televises its first Diamondbacks' game — a 6-5 Cactus League victory over the Chicago White Sox at Tucson Electric Park.
2006
Bryan Colangelo resigns after 11 seasons as Suns general manager to become president and general manager of the Toronto Raptors.
2009
Shaquiille O'Neal made 20 of 25 shots while scoring 45 points and pulling down 13 rebounds in a 133-113  victory over Toronto.
Feb. 26
2011
The Diamondbacks inaugurate their new spring training home at Salt River Fields — losing to the Rockies 8-7 in front of a sellout crowd of 12,514.
Feb. 25
2006
Shawn Marion scores 31 and pulls down a career-high 24 rebounds in the Suns' 136-121 victory over Charlotte.
Feb. 24
2004
With a record of 20-24-15-3, the Coyotes fire head coach Bob Francis and replace him with interim coach Rick Bowness. Francis coached the team for nearly five full seasons and had a record of 165-144-60-21. He won the 2002 Jack Adams Award as coach of the year.
Feb. 23
2001
Jeremy Roenick scored his ninth career hat trick and tops 400 goals for his career in the Coyotes' 7-3 victory at Buffalo.
2011
Shane Doan plays in his franchise-record 1,099th game with the Coyotes, breaking the mark held by Teppo Numminen. Doan contributed an assist in an 8-3 loss at Tampa Bay.
Feb. 22
2006
Shawn Marion scores a career-high 44 points and pulls down 15 rebounds in a 103-94 victory over the Boston Celtics.
Feb. 20
2002
In what would turn out to be one of the better trades in franchise history, the Suns acquire unproven rookie guard Joe Johnson from the Celtics in exchange for Rodney Rogers and Tony Delk. Johnson would eventually prove to be an All-Star caliber player and part of an if-only near-championship collection of talent.
2009
Leandro Barbosa scores a career-high 41 points as the Suns beat the Oklahoma City Thunder 140-118, their third consecutive victory with 140-plus points since Alvin Gentry took over as head coach.
Feb. 19
2015
Unable to duplicate their surprising success of a year previous, the Suns remake their roster with a series of deadline-day trades — ending the PG-3 experiment of Goran Dragic, Eric Bledsoe and Isaiah Thomas. Bledsoe stays, Dragic is sent to Miami and Thomas to Boston. Also sent packing are Miles Plumlee and Tyler Ennis. In exchange, the Suns add Brandon Knight and a collection of draft picks.
Feb. 18
2012
Radim Vrbata scores the game-winner in a 2-1 overtime victory over Dallas as Mike Smith ties a modern NHL record by winning his sixth consecutive game while giving up one goal or fewer.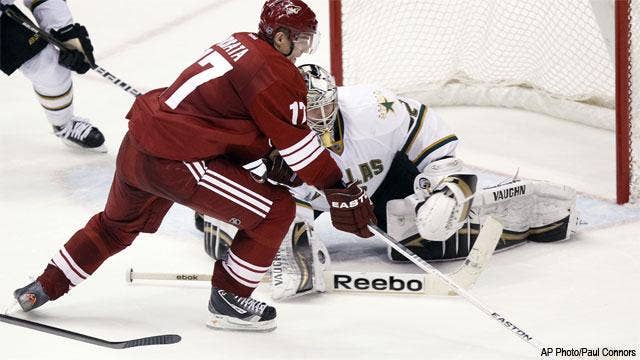 2016
The Suns trade disgruntled forward Markieff Morris to the Washington Wizards for a deal that brings them a first-round draft pick.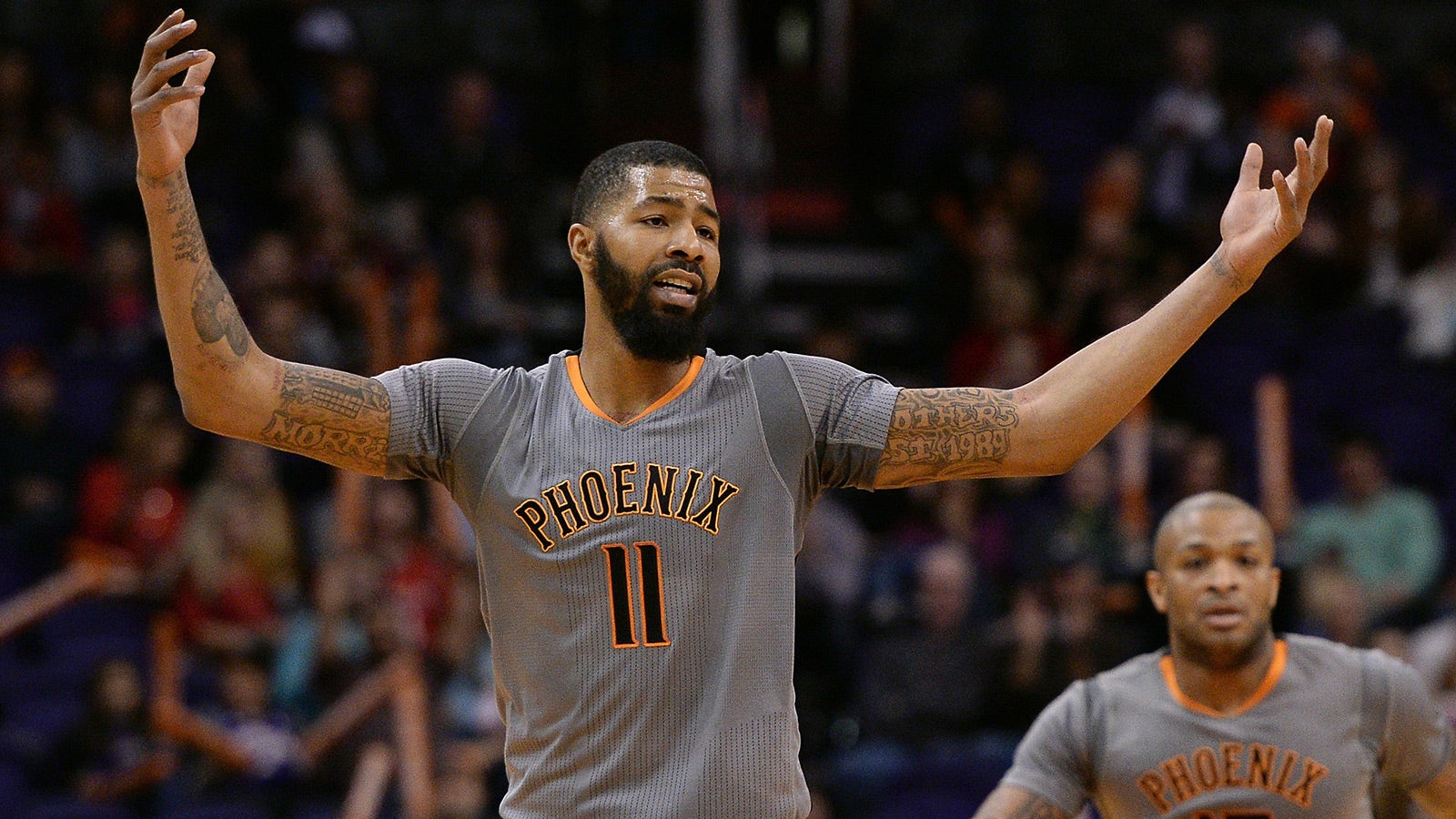 Feb. 17
2002
With a 25-26 record, the Suns replace head coach Scott Skiles with Frank Johnson.
2009
In the first game since Alvin Gentry replaced Terry Porter as head coach, the Suns scored 81 points in the first half en route to a 140-100 victory over the L.A. Clippers.
Feb. 16
2009
One day after hosting the All-Star Game and less than a year into his tenure, the Suns dismiss head coach Terry Porter and replace him with assistant coach Alvin Gentry.
Feb. 15
2009
Former Lakers teammates Kobe Bryant and Shaquille O'Neal — now playing for the hometown Suns — steal the show as co-MVPs as the West All-Stars defeat the East 146-119 as US Airways Center in Phoenix.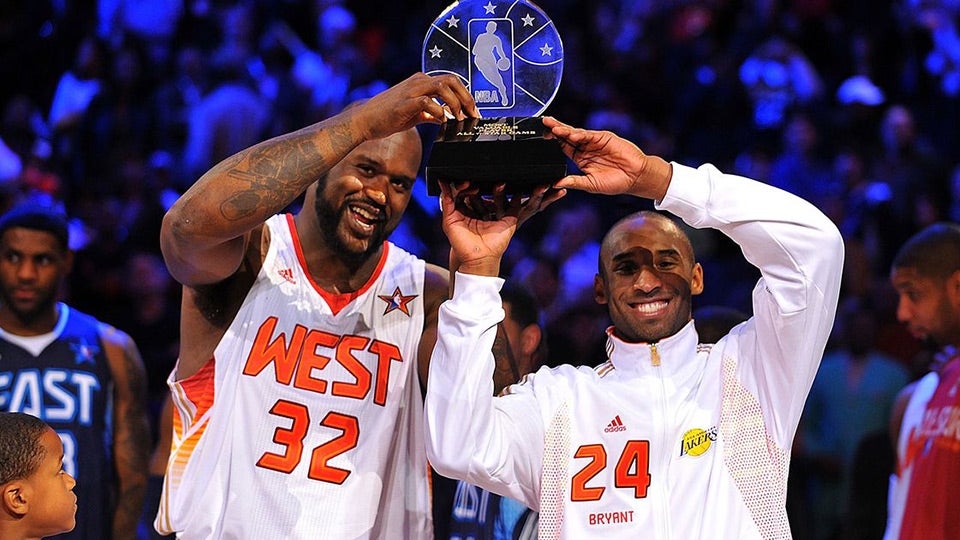 Feb. 14
2008
Radim Vrbata scored a short-handed goal for the 100th goal of his career and added two assists in the Coyotes' 5-2 victory over Dallas.
Feb. 13
1999
Nikolai Khabibulin stops 25 shots to earn his franchise record 117th career victory in a 4-1 win at Colorado.
Feb. 12
1997
Kevin Johnson records a triple-double in the first half of the Suns' victory 131-100 over the Celtics in Boston. KJ had 14 points, 14 assists and 11 rebounds at the half and finished the night with 22, 17 and 11.
2016
Shane Doan has two goals and an assist in a 4-1 win over Calgary, surpassing Dale Hawerchuck's franchise record for career points and power-play goals.
Feb. 11
2012
The Coyotes retire Jeremy Roenick's No. 97 in a pre-game ceremony, then go out and beat the visiting Blackhawks 4-0 as Mike Smith stops 38 shots in the shutout.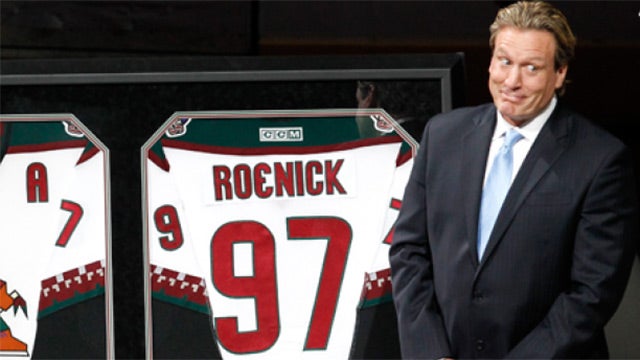 Feb. 10
2008
Freshman Jerryd Bayless set at Arizona freshman record  39 points but got virtually no help from his teammates in a 59-54 loss to Arizona State at McKale Center. Jeff Pendergraph scored 29 to lead the Sun Devils to a season sweep of the Wildcats.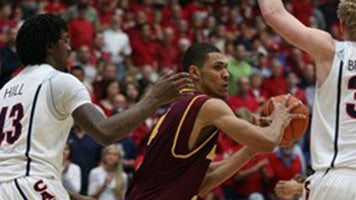 Feb. 9
2001
Sean Burke stopped 38th shots for his 25th career shutout, a 2-0 victory over the Edmonton Oilers. Keith Tkachuk had a first-period goal, giving him 600 points for his career.
Feb. 8
1997
Mike Gartner tallies two assists in a 5-4 Coyotes' loss to Dallas, becoming  the sixth player in NHL history to accumulate 600 goals and 600 assists.
Feb. 7
2012
Steve Nash celebrates his 38th birthday by scoring the winning basket with 5 seconds left in a 107-105 victory over the Milwaukee Bucks. It capped an 18-point, 11-assist night for the birthday boy.
Feb. 6
2008
The Suns send Shawn Marion and Marcus Banks to the Miami Heat in a blockbuster trade for 14-time All-Star Shaquille O'Neal. It's a deal that general manager Steve Kerr admits could be career suicide — landing a lumbering, soon-to-be 36-year-old center to join a team that thrives on an uptemo pace.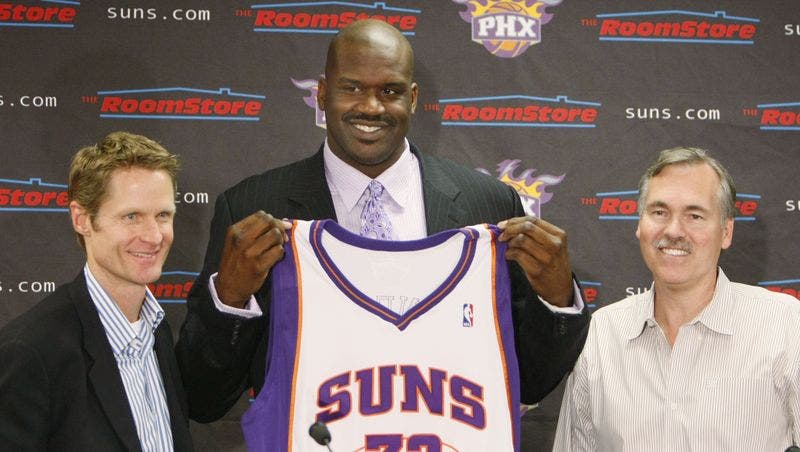 Feb. 5
1999
Following the end of a work stoppage that cost the league more than three months of its season, Tom Gugliotta makes his Suns debut and tallies 24 points and 17 rebounds in a 101-92 victory over the L.A. Clippers
2011
MoMo Jones scored 27 points and Kevin Parrom had 25 as Arizona defeated California 107-105 in triple overtime.
Feb. 3
2008
Eli Manning hit Plaxico Burress for a 13-yard touchdown pass with 35 seconds left as the New York Giants shocked the New England Patriots 17-14 in Super Bowl XLII at University of Phoenix Stadium, depriving the Patriots of a history-making 19-0 season.
The Patriots had taken a 14-10 lead with less than three minutes to play, but Manning drove the Giants 83 yards for the winning score. The drive was kept alive by an improbable 32-yard completion from Manning, who avoided four would-be tacklers to avoid a sack, to David Tyree, who pinned the ball to his helmet as he fell to the turf at the New England 24-yard line with 59 seconds to play.
2013
Forty-two-year-old Phil Mickelson wins the Waste Management Phoenix Open for a record-tying third time, shooting 11-under 60 in the first round and finishing at 28-under 256 for the tournament, cruising to a wire-to-wire 4-stroke victory over Brandt Snedeker.
Feb. 2
2009
Jason Richardson had 16 of his 24 points in the first quarter as the Suns throttle the Sacramento Kings 129-81, their largest margin of victory at America West Arena.
2013
Mike Smith records his 20th career shutout, stopping 17 shots in a 2-0 victory over Dallas.
Feb. 1
2009
The Cardinals suffer a heart-breaking 27-23 loss to the Pittsburgh Steelers in Super Bowl XLIII in Tampa, Fla., as their bid for an upset victory ends with 42 seconds left when Santonio Holmes beats three Cardinals defenders in the back of the end zone for a 6-yard touchdown catch.
The Cardinals took a 23-20 lead on Larry Fitzgerald's 64-yard touchdown reception with less than 3 minutes to play, but the Arizona defense was unable to put the final nail in the coffin against Holmes and Ben Roethlisberger.
Kurt Warner passed for 377 yards with three touchdowns and one interception, but the lone interception proved critical. The Cardinals were trailing by 3 just before the end of the first half and had first and goal at Pittsburgh's 1. Warner tried to hip Anquan Boldin on a quick pass, but James Harrison stepped in between and returned the interception 100 yards for a Steelers' touchdown — essentially a 14-point swing.
2012
Steve Nash had 10 assists to go with 30 points in a 120-103 victory over the New Orleans Hornets, passing Kevin Johnson to become the all-time franchise leader in assists. Nash tallied his record-breaking 6,519th assist on a fastbreak outlet pass to Josh Childress for a layup.
2015
In yet another dramaric ending to an Arizona-hosted Super Bowl, Malcolm Butler stepped in front of Ricardo Lockette to pick off a Russell Wilson pass and cement New England's 28-24 victory over Seattle in in Super Bowl XLIX at University of Phoenix Stadium.
Tom Brady completed 37 of 50 passes for 328 yards and four touchdowns against the NFL's top-ranked defense, including a 3-yarder to Julian Edelman with 2:02 remaining as New England rallied from a 10-point deficit. But the victory seemed far from certain as the Seahawks drove deep into New England territory, taking advantage of Jermaine Kearse's circus catch for a first down on the Patriots 5.
Marshawn Lynch carried to the 1 on first down, but the Seahawks went away from their bread and butter on second down, and Butler made the game-saving interception with 20 seconds to play.
"For it to come down to a play like that, I hate that we have to live with that," Seattle coach Pete Carroll said, "because we did everything right to win the football game."
2015
Quebec-born rookie goaltender Louis Domingue, making his first career start, gave up two goals on the first four shots he faced but didn't allow another the rest of the way to lead the Coyotes to a 3-2 victory over his hometown team, the Montreal Canadiens.