The Starting Five: Cue the 'Melo-drama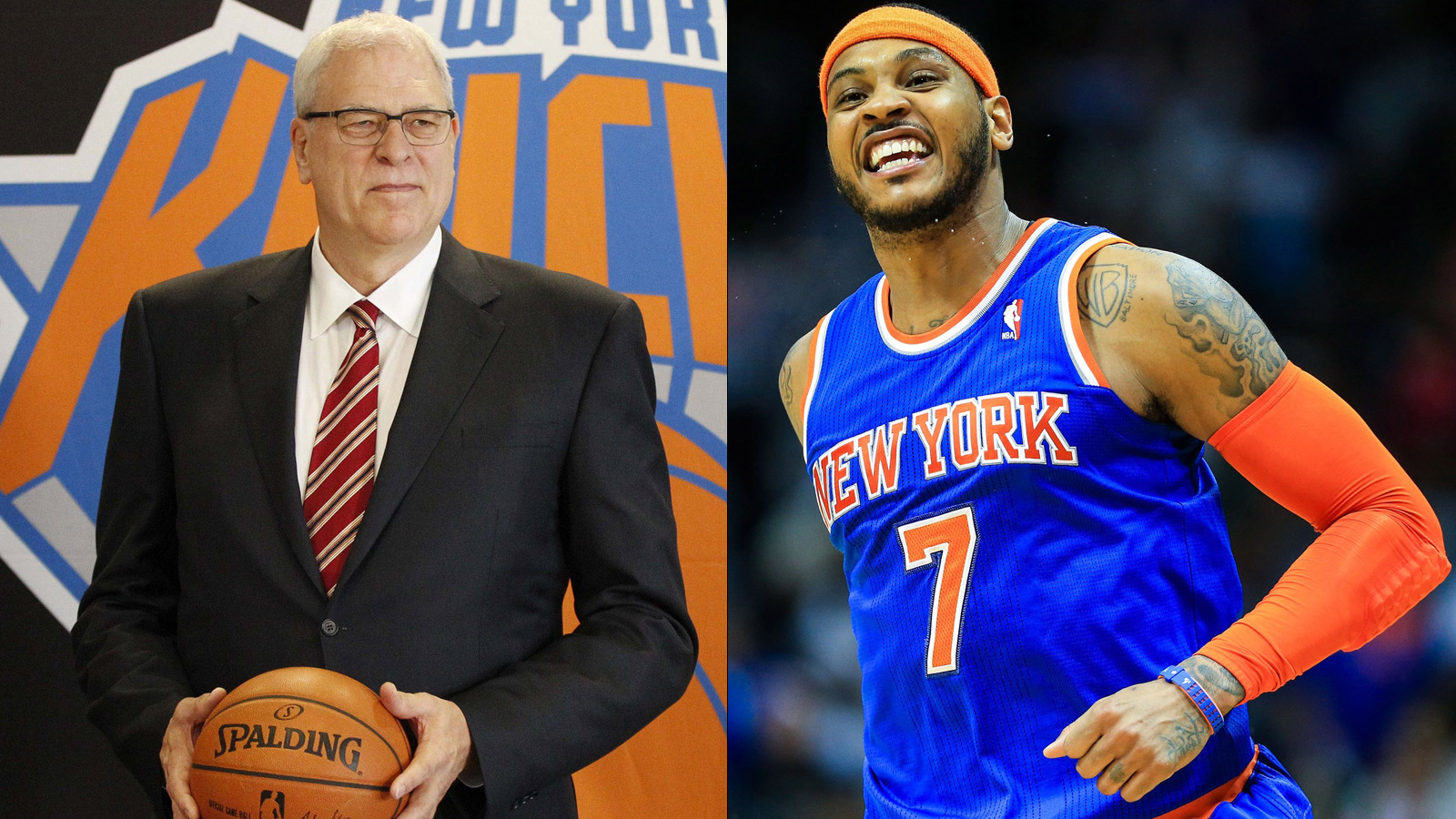 While the New York Knicks continue to terrorize the NBA, let's take up another edition of The Starting Five.
Now that Phil Jackson has been installed as the big brain of the New York Knicks, the Zen Master is on record as including Carmelo Anthony as part of the team's future.
That makes some sense. Although he's not exactly the type of superstar Jackson has built championship teams around, 'Melo could be a beast in the triangle offense (should that, in fact, become a New York fixture). And even though the Knicks eventually will have some financial flexibility, finding someone with Anthony's offensive chops won't be a cinch.
But will the Knicks be a good fit for Carmelo, who — by the way — said he's on board with Jackson?
If Phil had been hired to coach, staying would make a lot more sense. The dollars also suggest Anthony should stick around.
Unfortunately, Phil's wisdom won't be a daily application as team president, and the Knicks will have a difficult time not being bad next season.
So, if the Chicago Bulls truly are interested in 'Melo and could create enough monetary incentive for him to leave New York, they seem like the better option. That includes Houston and either side of the hallway at L.A.'s Staples Center.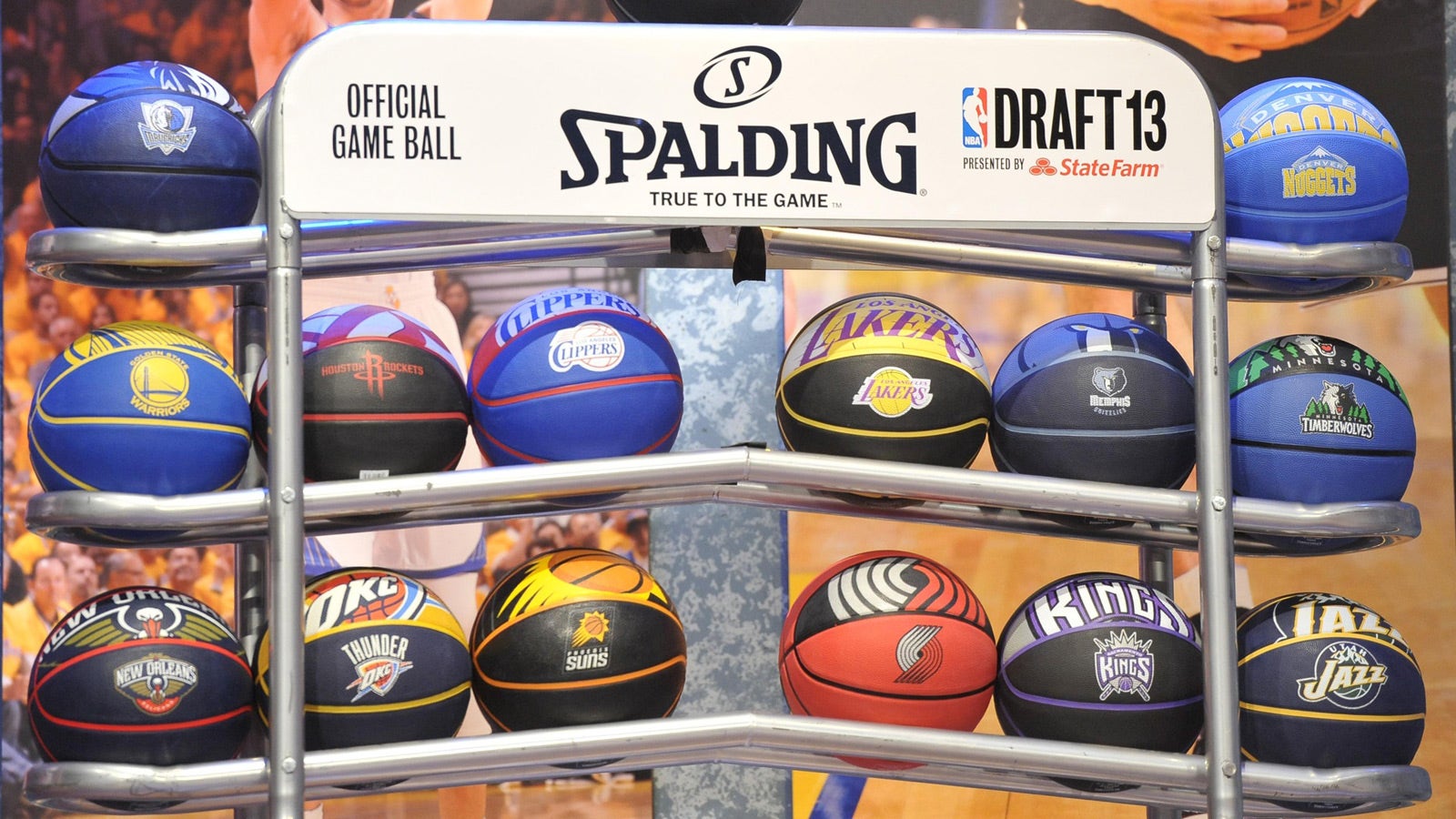 In recent weeks, we've heard and read about an alleged draft-position upgrade called the "wheel."
You can find more specifics here, but the wheel or some other alteration is presumed needed because NBA teams have been unloading salary (and decent) players with an eye toward rebuilding.
And much of the eye's focus is on securing more ping-pong-ball access to high draft picks.
Gallery
All of the proposed changes would, in theory, prevent teams from being rewarded for not trying to win more often.
But one aspect of such "tanking" procedures is the mustering of hope within a fan base that — while the team is losing — that there's a reasonable chance of better days ahead.
It's been argued that while tanking certainly leads to some unsavory basketball, most of the bad teams have continued to be bad. We're also bombarded with reminders that most high draft picks of recent vintage haven't exactly set the league on fire.
But even though Anthony Bennett makes a fine case for the lottery not mattering, Anthony Davis takes us the other way. We're also pretty convinced that two or three players expected to be drafted this June will, too.
So even without a perfect draft-process solution in the air at the moment, the seemingly flawed talent-production system still is providing enough good players for it to be important.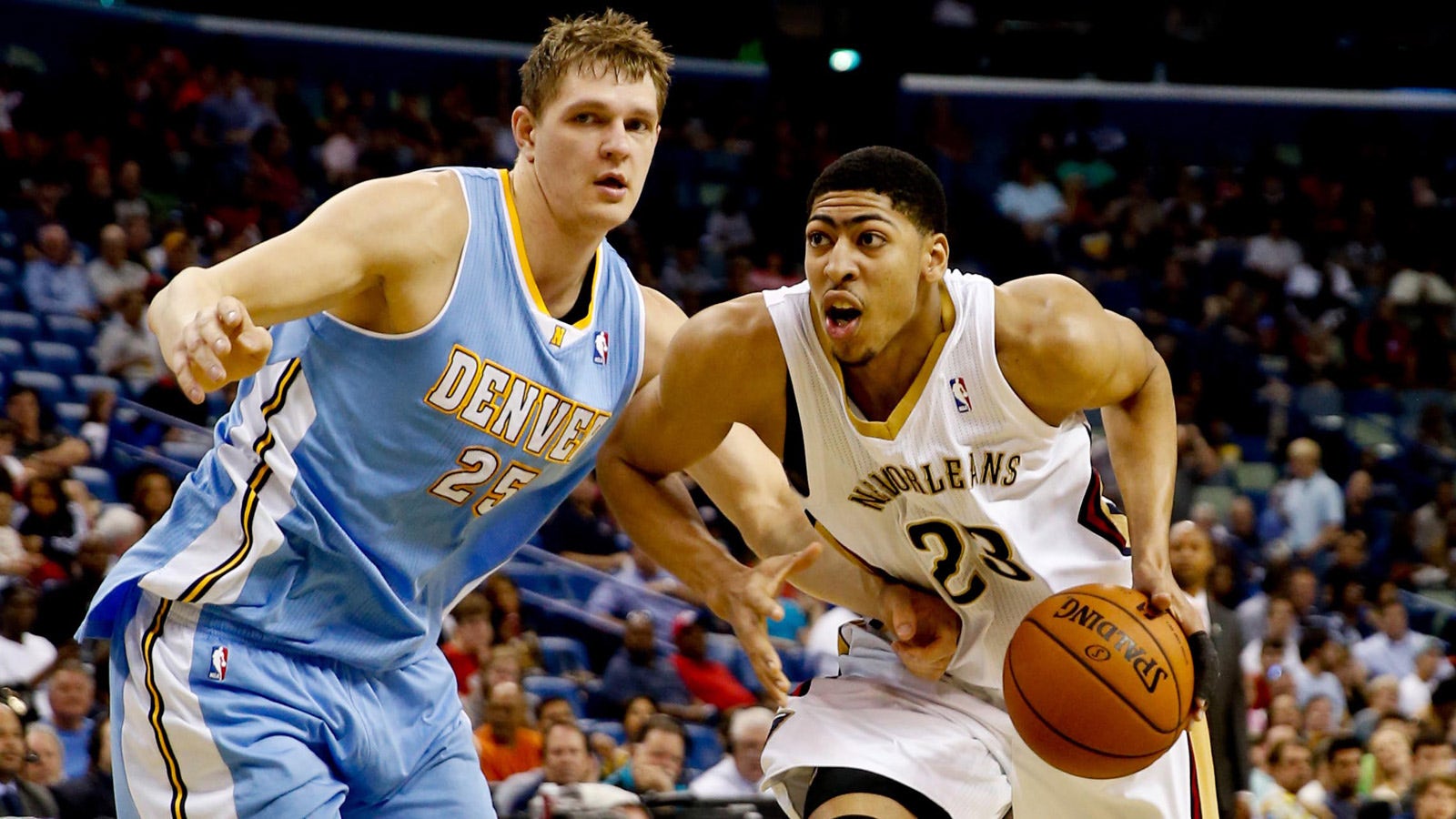 Let's begin by reconciling the notion that almost everyone agrees LeBron James and Kevin Durant are 1 and 2.
You might not agree with that order, but go vent somewhere else.
Anyway, the league's player-efficiency numbers tell us Minnesota Timberwolves power forward Kevin Love is No. 3. And based on how crazy productive K-Love can be, that seems reasonable.
But quickly settling in behind LeBron and KD we'll find New Orleans Pelicans four-man Anthony Davis.
Already a success
Based on his last six games (right, it's an 82-game season), you could consider Davis as already ascending to that level.
Including that 40-point salvo in a victory over the Boston Celtics, the second-year pro from the University of Kentucky has hit the league for a tick over 30 points, 14.3 rebounds and 3 blocks per game.
The Pelicans, who will be spectating when the playoffs begin toward the end of next month, won four of those six games.
It should be noted that Love and L.A. Clipper Blake Griffin aren't exactly slouching toward the end of their regular seasons, either.
This only means that it's fair to postpone Davis' upgrade into the third-best position until the start of next season.
Unlike Love, Davis has the capacity to greatly impact games as a defender. Griffin offers more defensive resistance than Love, but he's nowhere closes to Davis in this category, either.
Unlike Griffin (who is improving), Davis can face defenders and knock down jumpers with regularity.
And he's only getting started.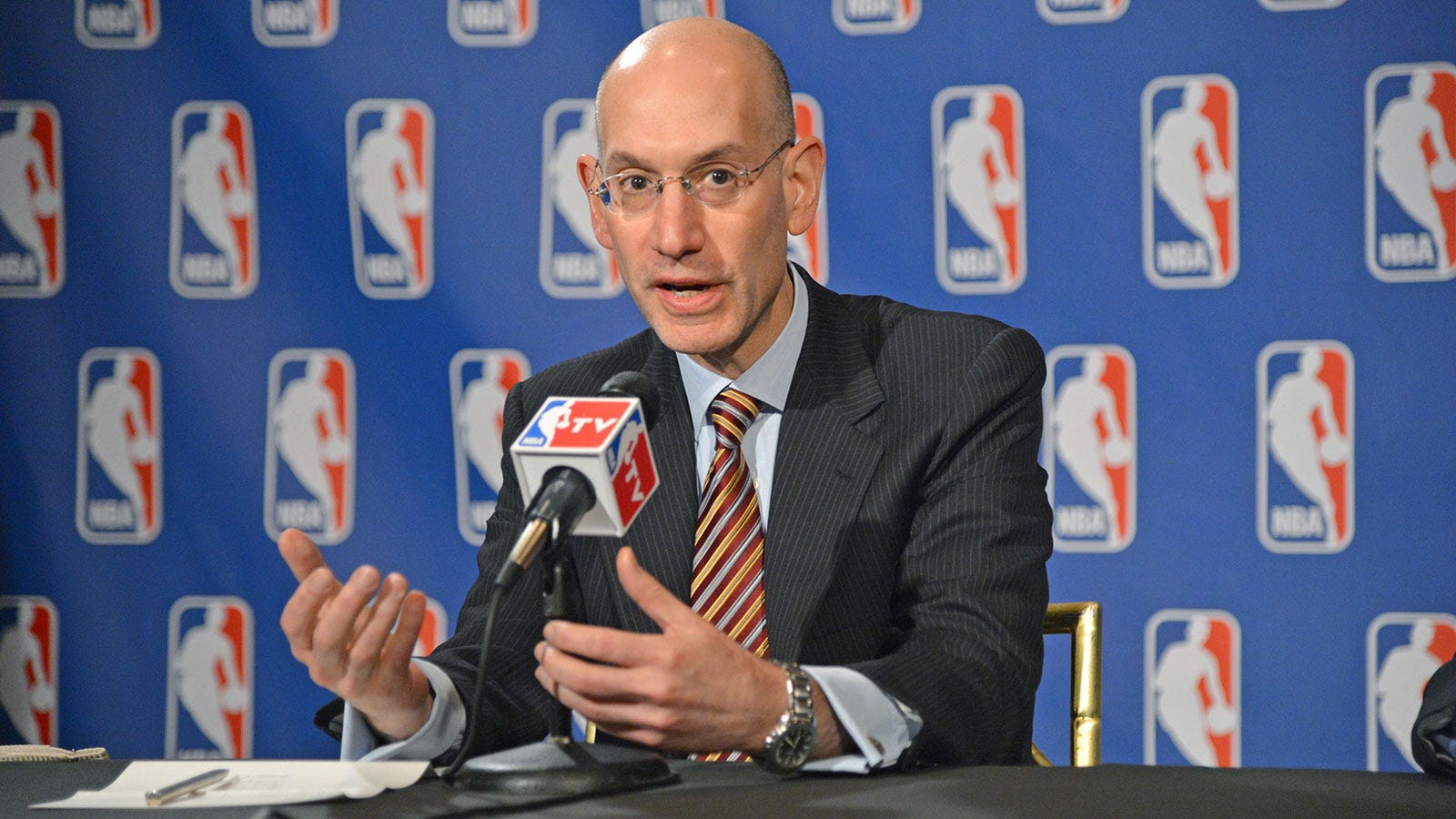 This week's revelation from new commissioner Adam Silver is the "inevitable" aspect of incorporating ads into the complex scheme of player jerseys.
Based on what we've witnessed from the WNBA and soccer franchises worldwide, it's a wonder this revenue stream hadn't been waded into earlier.
Hey, making money is as much a part of the NBA as 10 minutes of real time required to burn the final minute of clock time in a close game. That's why (in some arenas) every stoppage of play is seized as an opportunity to honor a team sponsor with some fan-inclusive competition.
So how disturbing could it be to have, for example, "Go Daddy" between the "Heat" and No. 6 on LeBron James' jersey?
OK, it might be fairly off-putting for a lot of people.
But aside from creating something really busy to look at, jersey advertising is just another reminder that everything is for sale.
If it inspires team ownership to keep the price of beer under $10 for 12 ounces, we're all for it. It probably won't, so we'll have to simply consider this an inevitable nuisance. Besides, another graphic element won't prevent us from enjoying LeBron's graceful midair maneuvers.
Just don't put these advertising logos on anything with short sleeves.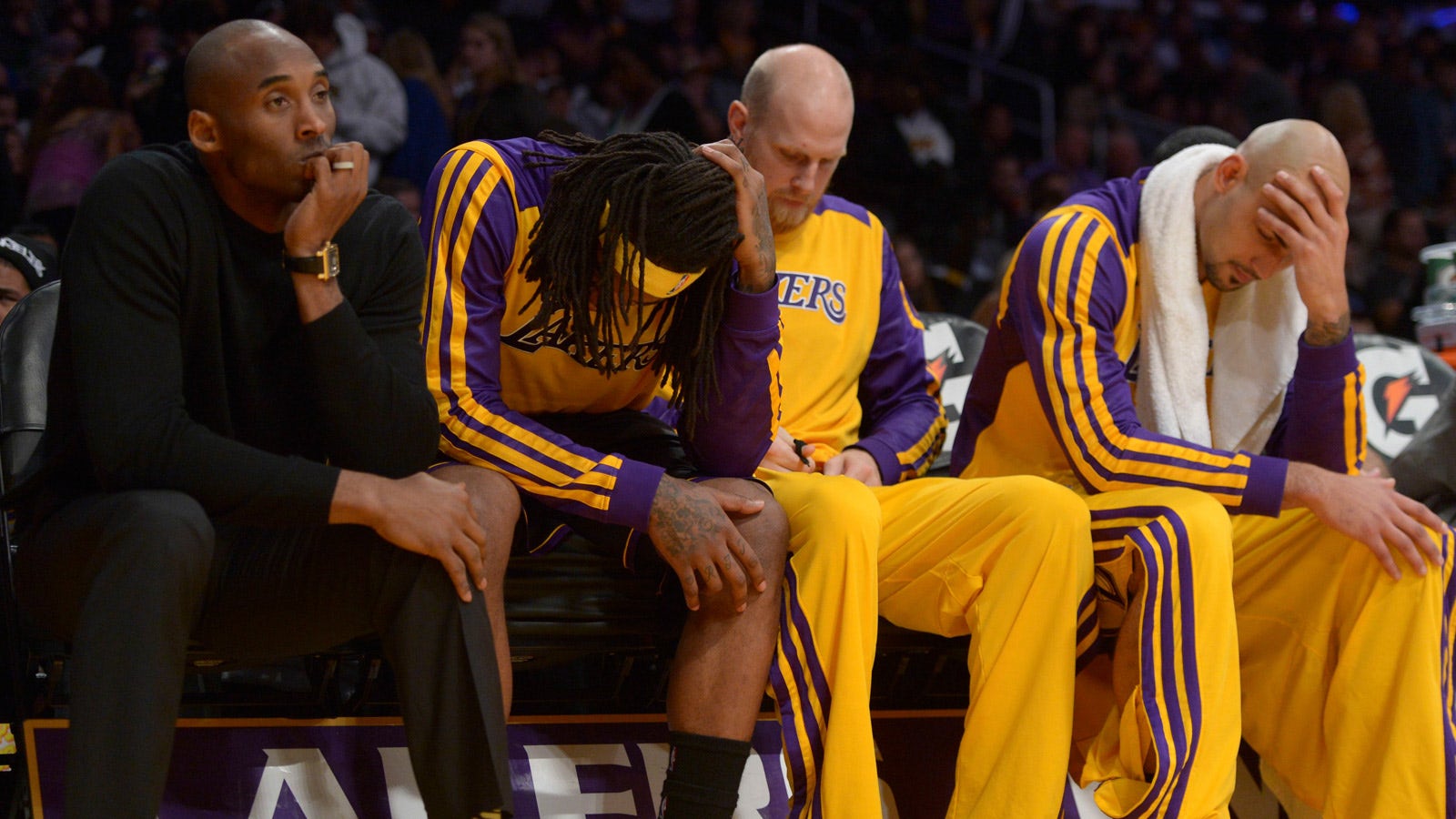 Dallas Mavericks owner Mark Cuban isn't convinced we'll see anything close to "Showtime" again, and he's a really smart guy.
We probably should just embrace his judgment and call it a day, right?
Well, with a lesser Buss in charge, we certainly can make a case for lowered expectations.
But before slamming the door on one of the most prolifically successful franchises in American sports history, please give history some credit for creating longevity.
There is a level of Lakers expectation that may be able to transcend whatever limitations Jim Buss (through reports from alleged insiders) may have.
And the level of expectation isn't limited to fans and media. The Lakers family includes Magic Johnson, Kobe Bryant and general manager Mitch Kupchak.
True, Magic has a lot more transformational clout with the L.A. Dodgers, and his offer to recruit free agents to the Lakers has yet to produce any acceptance we've heard or read about.
But the Lakers will have cap flexibility, the potential for their highest draft pick in years and enough residual gusto to remain a destination for really good players looking for a pay day.
For the record, Cuban very well could be right.
New commissioner Adam Silver probably won't veto the Lakers' next big acquisition, however, so a resurrection seems much more possible.