The skinny on four of the draft's top wings
PHOENIX — For the fifth workout of their carefully orchestrated quest to optimize three first-round draft picks, the Suns decided to wing it.
OK, so a couple of the under-20 prospects who attended Monday'€™s pre-draft workout at US Airways Center are marketing themselves as point guard conversions. And the Suns — like many folks at all levels of basketball — don't mind blurring the lines of positional categorization.
Four of the six players at Monday'€™s workout are in mocked-up range of the Suns' selection at 14 in the June 27 NBA Draft.
"It's probably the most talented group we've had," Suns general manager Ryan McDonough said after the fifth workout on this pre-draft calendar. "A lot of first-round picks … some potential lottery picks."
The roll call:
Michigan State sophomore two guard Gary Harris, Duke sophomore small forward Rodney Hood, UCLA freshman two-guard (a PG wannabe) Zach LaVine and Kentucky freshman James "I'm a Two-Guard" Young.
At 21 years old, Hood –€" who played his freshman season at Mississippi State — is the old guy. Harris will be 20 in September, LaVine is 19 and Young won't turn 19 until August.
And, in keeping with our whippersnapper theme, Suns sophomore-to-be Archie Goodwin was continuing his role of gym rat (not in the pejorative) at the U.S. Airways practice center.
Almost forgot — the two attending big players (the better to facilitate a competitive 3-on-3 match) were powerfully constructed LSU junior Johnny O'€™Bryant and bouncy, 6-foot-11 Swiss prospect Clint Capela. Both of these outside-lottery-bounds prospects are 20 years old.
Anyway, even with Goodwin as the resident baby wing prospect on the Suns roster, predicting what McDonough will do at 14 (if Phoenix remains there) is iffy. But we do know the Suns like guys who can change ends of the floor quickly.
What else?
"The ability to play multiple positions, the ability to shoot the ball," McDonough said. "They showed that today."
With all of that in mind, Monday's event — like every audition the Suns schedule — was executed at a quick tempo.
"I think these guys handled it well," McDonough said.
Here are some specifics on the guys in question:
School: Michigan State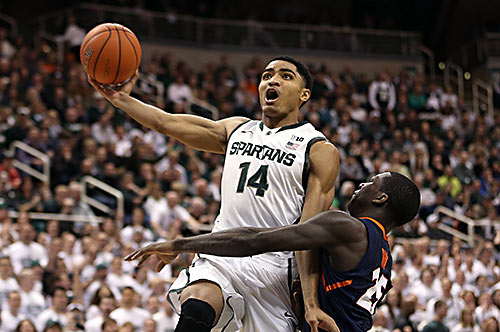 Combine Measurements: 6-4½ (with shoes), 205 pounds
General: A physical two-guard who was one of the country's top high school prospects a couple of years ago, Harris shined as a Spartan. But the responsibility/scoring bump from his freshman to sophomore seasons included an injury interlude and an efficiency drop.
Harris can make open jumpers and credibly defend both guard positions, but isn't very advanced off the dribble and lacks upper-echelon explosiveness.
McDonough Quote: "He's one of the best two-way players in the draft."
Harris Quote: "I've been working on my point-guard skills."
Good Number: Harris committed only 2.1 turnovers per 40 minutes.
Bad Number: Harris shot at a relatively chilly 45.5 percent on shots near the rim in half-court situations.
School: Duke
Combine Measurements: 6-8½, 208 pounds
General: After his redshirt year at Duke, the lefty teamed with super freshman Jabari Parker in a Blue Devil lineup that often deployed small.
This enabled Hood –€" who averaged 16.1 points per game –€" to spend considerable time working against bigger, slower players. Unfortunately for his NBA chops, he obviously didn'€™t spend many of his Duke minutes defending players who can put the ball on the floor. He will now.
McDonough Quote: "What stands out is his ability to shoot the ball."
Hood Quote: None. He scooted off before the media trap could be set.
Good Number: Hood made 42 percent of his Blue Devil 3-point attempts.
Bad Numbers: Hood'€™s per-40-minute defensive digits were .9 on steals, .3 on blocks and 4.9 on rebounds. Combine geeks remind us his wingspan is only 6-8.
School: UCLA
Combine Measurements: 6-5¾, 181 pounds
General: The extraordinarily twitchy kid from the Seattle area was a highlight revelation for much of his freshman season at UCLA.
But after an impressive start as an unrepentant deep shooter, LaVine converted only 6 of his last 31 3-point attempts. And despite hitting L.A. with alleged PG credentials, LaVine demonstrated little ability to make plays off the dribble or defend others attempting to do the same.
Even though his speed and leaping prowess are eye-popping, LaVine doesn't play with much leverage or lateral agility at either end.
McDonough Quote: "He's explosive and ultra-athletic."
LaVine Quote: "In college I didn't really get to play the point guard position. I've been working a lot on my reads — how the defender plays you, what pass to make and the right time to score, so definitely working on some of my point-guard skills."
Good Number: His max vertical at the combine was 41.5 inches.
Bad Numbers: Although Camp LaVine is selling Zach as an attacking type, he registered only 17 baskets in 37 games during half-court situations, and averaged 2.8 assists per 40 minutes. Reminder: you don'€™t have to be installed as the announced "point guard" to move the ball.
School: Kentucky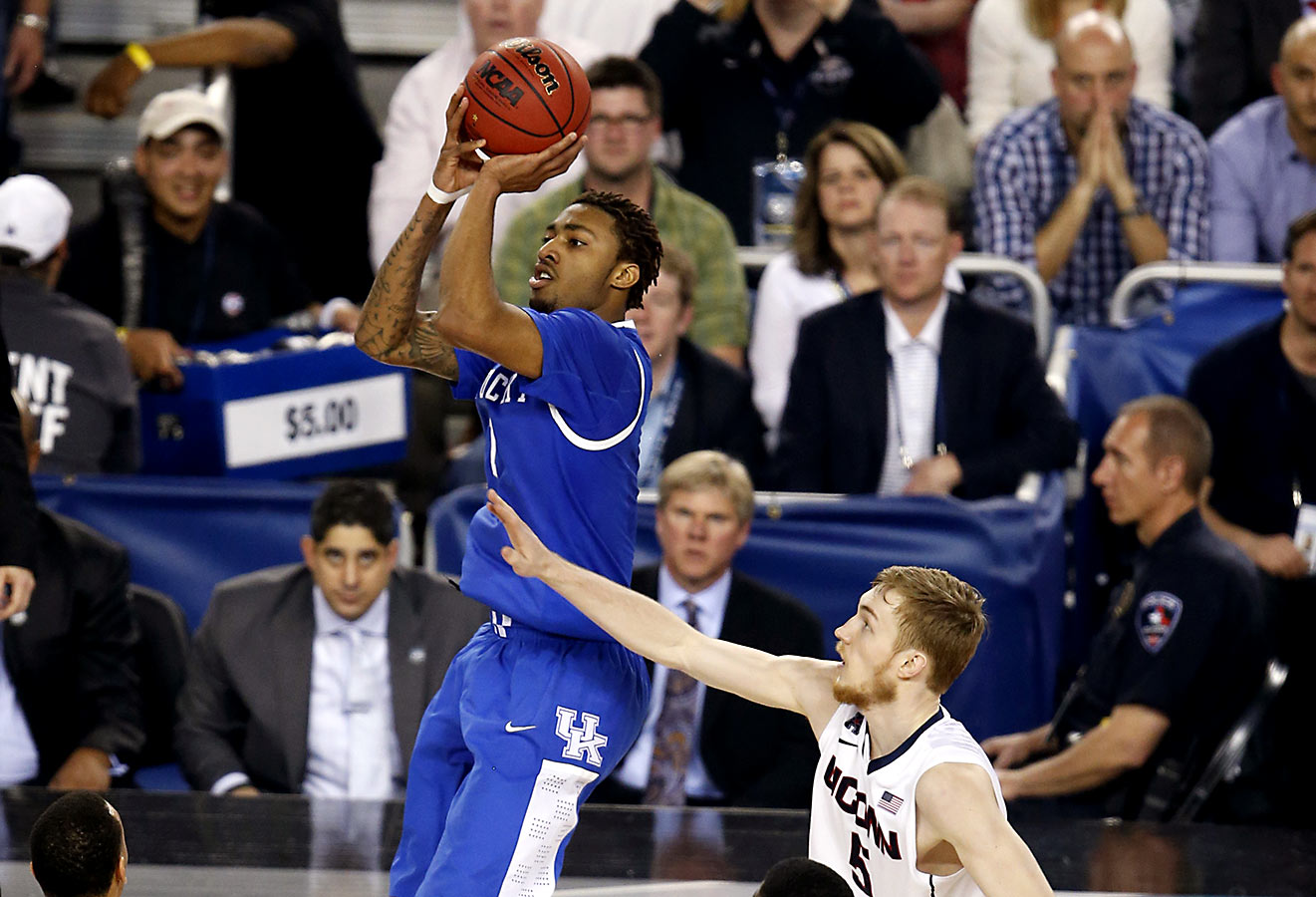 Combine Measurements: 6-6¾, 213 pounds
General: Young arrived in Lexington (Ky.) with the typical All-America fanfare that greets most of coach John Calipari's recruits. With the Harrison twins coming in to hog the guard spots, Young spent most of his only college season matched against small forwards.
He gave Kentucky 14.3 points per game and demonstrated some serious scoring chops. But he also made just 40.7 percent of his shots from the field. And even though he wasn'€™t required to defend as many dribble-centric opponents, he sometimes struggled to stay in front of the player he was guarding.
McDonough Quote: "He"s got a beautiful stroke."
Young Quote: "That I can really attack the basket," in response to what impression he hoped to impart.
Good Number: According to combine tailors, Young has a 7-foot wingspan.
Bad Numbers: Young made only 32 percent of his UK shots that were contested, and 75 percent of his attempts were contested.