Suns spots: 5 speed bumps on express lane to playoffs
PHOENIX — Now that the Suns have secured the Western Conference's ninth seed, let's look at some of the reasons why they're also a near lock for the 14th seed in the draft lottery.
Although Goran Dragic made a strong case for All-Star inclusion and Eric Bledsoe took a few star turns, the Suns don't have an elite player.
And the national chorus of humbled naysayers rallies just enough to sing, "Duh."
"Just a bunch of guys who weren't supposed to do much got out there and played as a team," Suns coach Hornacek said.
But without that elusive hotshot, their margin for error was tight.
For the record, this has nothing to do with acquiring a player holding an established marketing portfolio. We're referring to the presence of a talent capable of getting buckets — or commanding a no-questions-asked double team — when the chips are down in the fourth quarter.
"These experienced teams really put the clamps on," Hornacek said.
The Suns did have quite a few "wow" moments in certain fourth quarters, but playoff-caliber defensive schemes often require the offensive juice of someone capable of scoring while wearing the opposition's best defender . . . and having enough court cred to receive the and-one call.
Acquiring such a player often takes more than cap flexibility or a handful of draft picks. With the leaders from the current team all needing to be paid within the next couple of years, roster decisions won't be easy.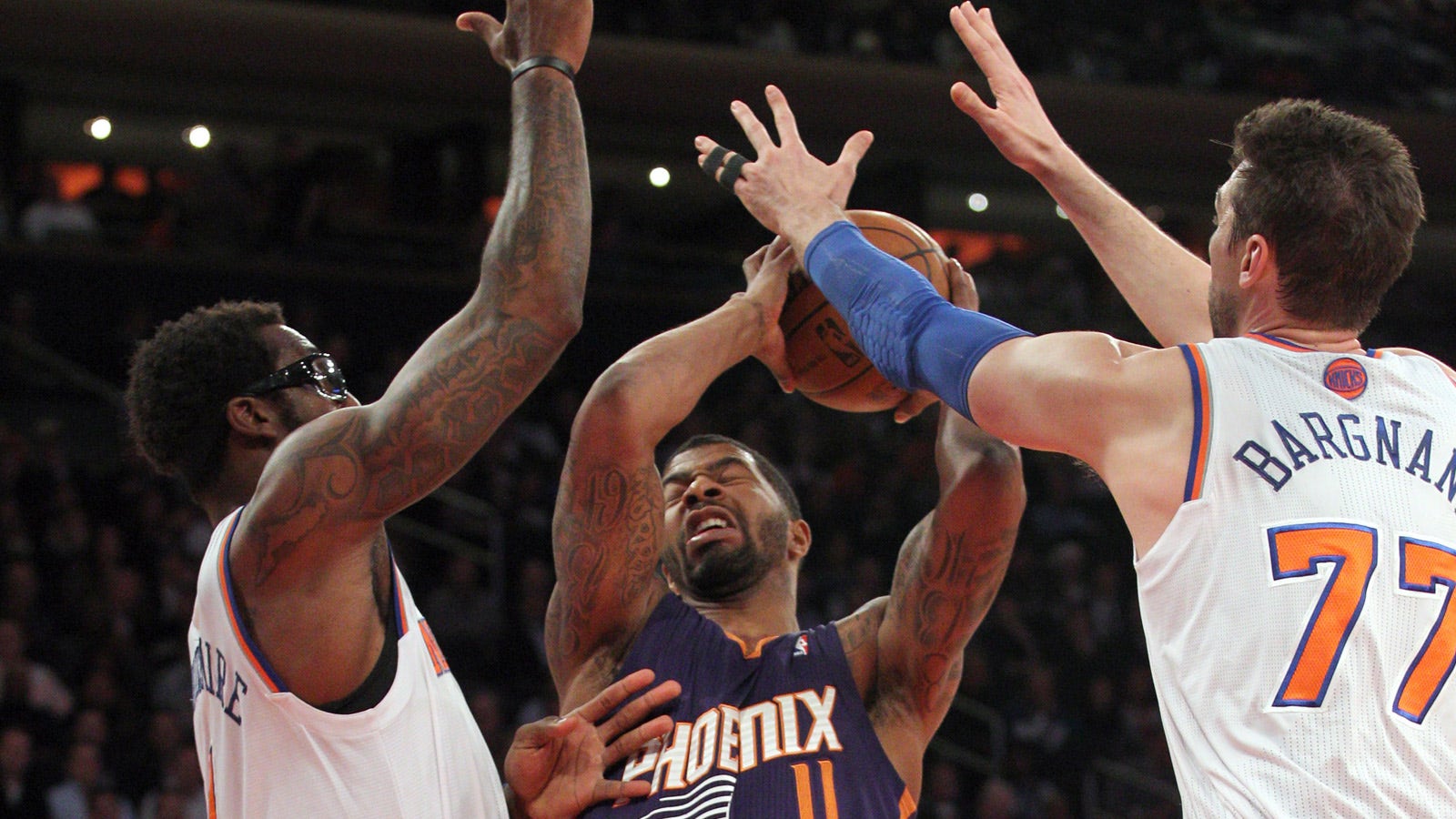 This seven-day, five-game calamity began Jan. 7 in Chicago and ended in New York.
The Suns were eight games over .500 (20-12) when they left Phoenix and had split two home games after Bledsoe injured his knee during the rout of the Clippers in Los Angeles.
Although they had sufficient time to regroup and make their ill-fated playoff charge, losing four of five certainly upgraded the degree of difficulty.
Losing to the Bulls in Chicago (regardless of who was suiting up for the home team) isn't exactly an indictment, especially while trying to relearn how to score with only one point guard.
But without Gerald Green's game-winning jumper in Minnesota during Game 2 of this trip, the Suns would have been swept.
Game 3, by the way, was another loss in Memphis, which had become a theme, but the journey was bitterly defined by giving up 110 to the Pistons in Detroit and falling to the struggling New York Knicks.
The Suns were limited to 40 percent shooting (the Morris twins were a combined 3 of 13) by the pesky Bulls. All three starters on the Pistons' frontcourt registered double-doubles in points and rebounds. Green (2 for 16) and Channing Frye (3 for 12) were ice cold in New York.
Upon returning to Phoenix, the Suns recovered a bit with a 3-2 home stand.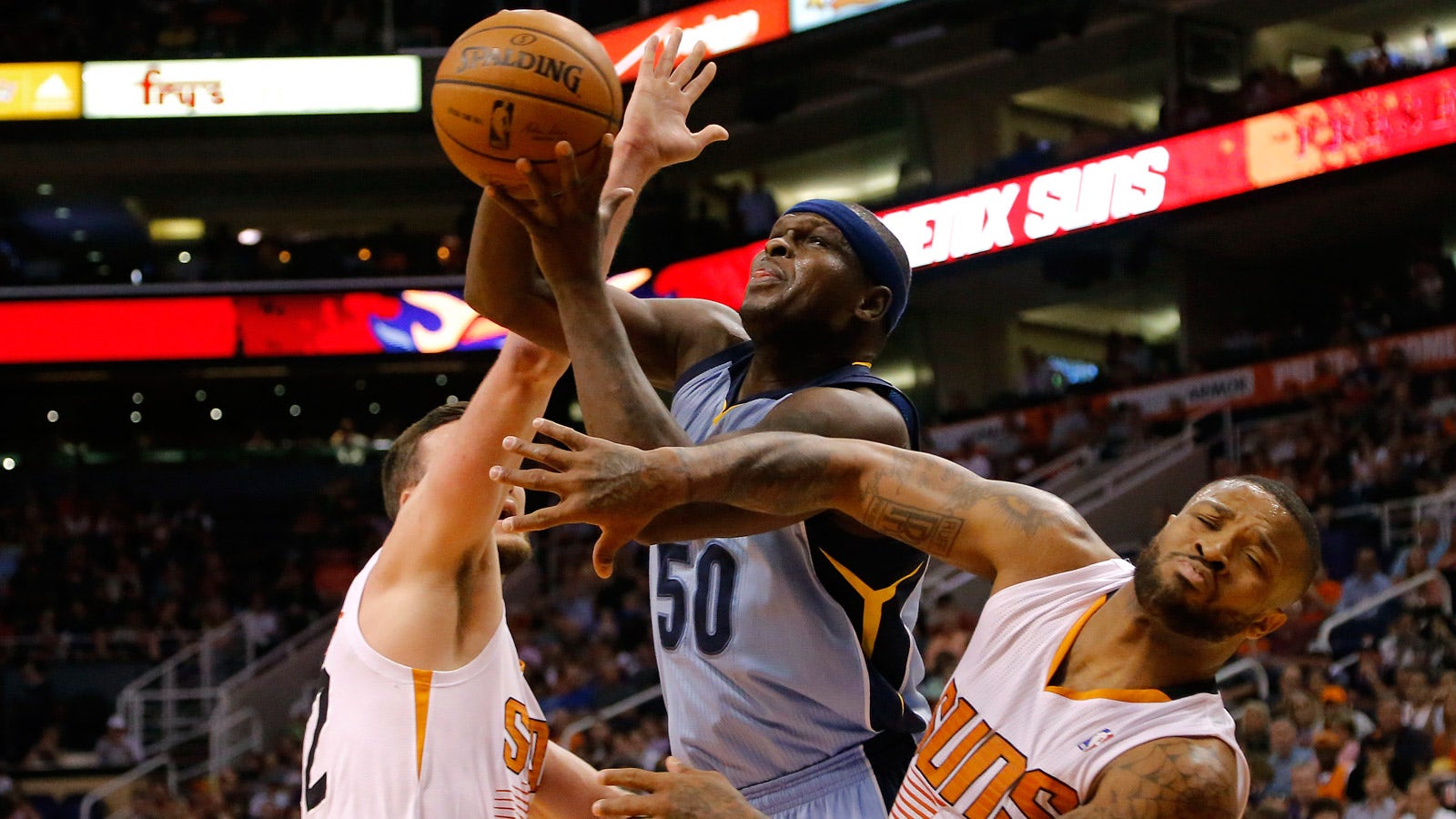 After opening the season with strong evidence of a defensive upgrade, the Suns faded to 15th in overall efficiency among NBA teams.
The most troublesome ranking was the 26th they've registered in the category of paint-points allowed (45.5 per game).
But this numerical shudder takes in far more than the inability to avoid being overpowered on the low post by Zach Randolph, for example.
Included in paint-point issues is the problem of allowing dribble penetration for layups or passes that cause late rotations and lead to layups. With Bledsoe out, guarding the ball at the gate area of Phoenix's defensive wall was more of a problem.
The Suns also contributed to their paint-point numbers by committing live-ball turnovers the opposition converted into point-blank buckets in transition.
Even with an impressive ranking of second in 3-point percentage defense, the Suns had some late-season issues in recognition. Understanding when to help against dribble penetration and which gunners can't be left often invited disaster during last weekend's losses in San Antonio and Dallas.
To the good, having P.J. Tucker, Bledsoe and center Miles Plumlee in the starting lineup did produce interludes of crusty defense we haven't seen from a Phoenix team in a while.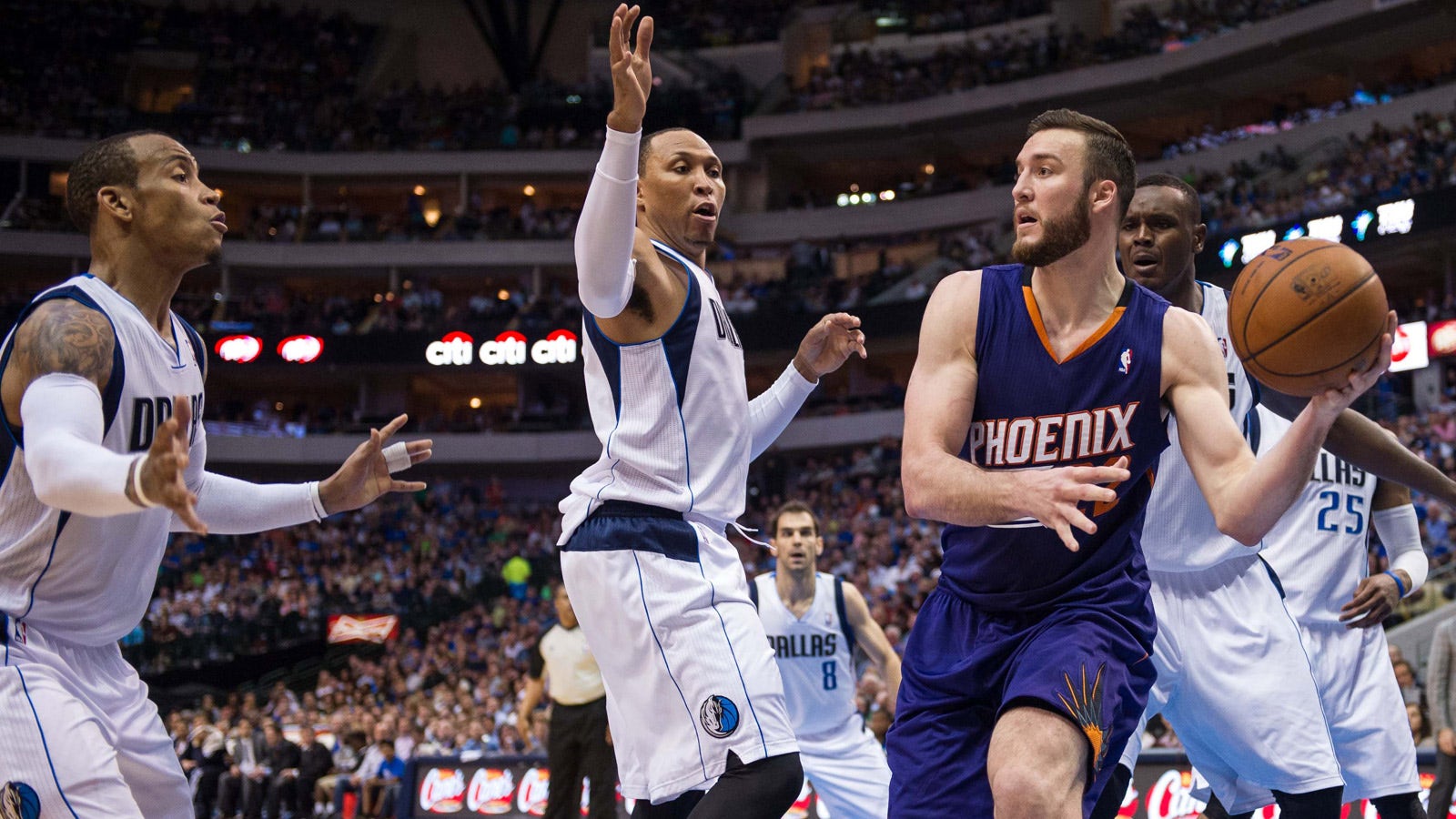 Even without a certified star to do the heavy lifting against loaded defenses, adding an inside player with reasonable back-to-the-basket chops is more doable.
After showing signs of jump-hook efficiency early this season, Plumlee struggled with this maneuver and received far fewer dunk-able lobs while Bledsoe was out.
Gallery
Markieff Morris demonstrated marked improvement as an option from the mid-post and often carried the offense during crucial moments. Although not large enough to punish power forwards from in close, 'Kieff has become advanced at facing bigger defenders and driving by them or scoring on step-back moves.
But without a card-carrying beast to inspire double teams and/or get to the free-throw line, the Suns were hyper-reliant upon their system of making fast-break layups or 3-pointers off of tempo.
They didn't play in any postseason games, obviously, but their work in the last couple of weeks certainly resembled the playoffs in atmosphere and fourth-quarter pace.
With so much riding on every late-game possession, even players who have been coached to play at warp speed tend to slow down. That allows defenders from experienced teams to lock in against pick-and-roll schemes.
Having a more advanced post presence would have helped.
While waiting on the development of Alex Len, the Suns might be able to add someone with low-post skill this summer.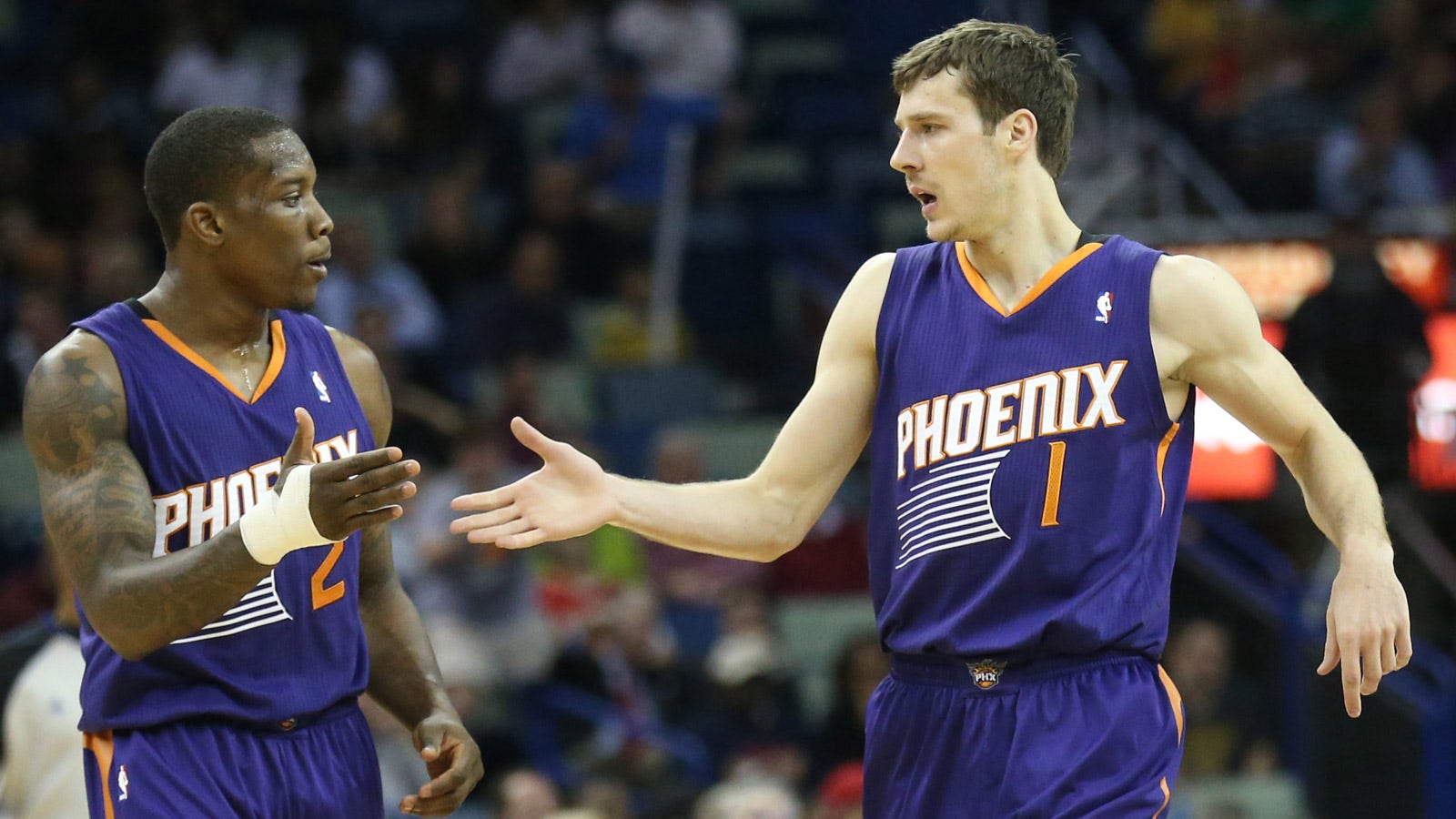 Every NBA team encounters health issues over the turbulent course of an 82-game season.
But with their offense weighted so heavily upon the tag-team, point-guard concept, injuries to Bledsoe and Dragic didn't do any favors for the Suns' playoff push.
When they were together, however, the Suns arguably were good enough to reach middle-of-the-pack status among the Western Conference playoff elite.
While starting and finishing games together, the Dragon-Blade tandem was 23-9. That includes the last two games, during which Dragic was hobbling around on an injured left ankle.
The biggest gut punch to their postseason hopes was the extended absence of Bledsoe. Phoenix was a robust 19-11 when the first-year Sun was hurt in the last game of 2013. Looking very much like a team that had figured out how to thrive using small ball, they had won 10 of 12.
They were 17-16 while Bledsoe was gone.
In Dragic and Bledsoe, the Suns were rolling out with two point guards ranked in the top 10 for efficiency among NBA players at their position.
For testimony from the opposition, let's go with Randolph of the Memphis Grizzlies.
"Bledsoe, he's a stud," Randolph said. "Dragic and all the other guys are great young players. They're a great team with a lot of talent and up and coming."
So, while we're busy figuring out why they'll be finished after Wednesday night in Sacramento, it might be wise to absorb the disappointment, sit back and wait for the Suns to grow.