Gronk spikes his way into woman's heart (and more) in movie trailer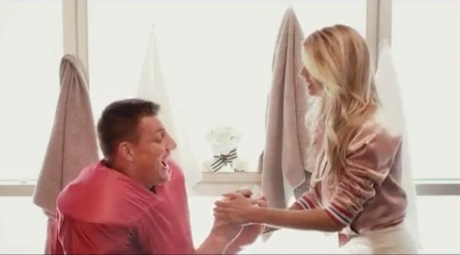 What would the NFL off-season be without Rob Gronkowski?
A whole lot more boring.
Whether it's pitching iced coffee drinks with David Ortiz while singing, dancing and riding a bicycle built for two; more dancing and hijinks with his bros on Celebrity Family Feud; or spiking a football on the butt of a star-struck paramour, America's and Arizona's favorite and least-self-conscious tight end is one of a kind.
That's right, we said spiking a football on a butt, because that's what Gronk does in the Funny-or-Die-produced movie trailer for "A Gronking to Remember" — the ultimate chick flick based on Lacey Noonan's literotica novella by the same name.
The trailer shows Gronk doing his spiking thing with a variety of objects — a bouquet of flowers, a box of chocolates, champagne, a football, and ultimately a ring. Who are we to argue when he proclaims: "SPIKING A FOOTBALL ON A BUTT WAS FUN."
But you'll have to judge for yourself.