Right field no longer closed for Trumbo
PHOENIX — Mark Trumbo believes he is going to enjoy playing in Chase Field, and his hitting pattern in the Diamondbacks' home opener Monday spoke to the reason.
Trumbo had two RBI singles, both to the right side of second base, a part of field Trumbo feels will become more of a factor for him this season in his first year away from the more-restrictive Angels Stadium.
"I know what I've heard" about Chase Field, Trumbo said. "I'm excited to experience it myself. I think it should be nice. I'm excited about right field maybe opening up a little bit."
Trumbo made Angels Stadium look small and accessible — he had 29, 32 and 34 homers in his three seasons there, the first player to lead the Angels in homers for three straight years since Vladimir Guerrero a decade before. Trumbo hit 45 of those homers at home, most to left or left-center field.
The second homer of Trumbo's career may be more instructive of his general power and his specific intent this year. That ball off Mark Buehrle sailed over the right field fence at hitter-friendly U.S. Cellular Field, and Chase's similar dimensions — 376 to the power alley in left, 376 to the power alley in right — also bring both sides of the field into play. Chase Feld and U.S. Cellular ranked in the top 10 in homers yielded three of the last four years. Angels Stadium, even with Trumbo, Mike Trout, and the rest never ranked above the lower third in the majors.
Trumbo's first D-backs' homer was a line drive into a stiff wind over the left field fence at the Sydney Cricket Ground in Australia on March 23, and that is his where most of his homers likely will come again this season. But just knowing right field is an option is liberating.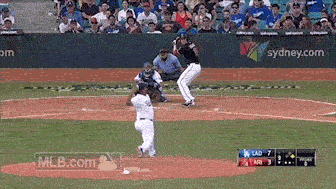 "It is more of a mindset. It's the confidence," said Trumbo, who leads the D-backs with six RBIs through five games. "I think a lot of it comes down to those last-second thoughts as the pitch is on its way. You feel comfortable knowing that you are in a place where the ball is going to go for you. There is a little more ease."
The cool night air near the Pacific Ocean can limit the carry at Angels Stadium, especially during night games, and right field always played longer than it looked. Now we know why. The Angels changed the fence signage to reflect "true distance" measurements this season. The fence at the right field corner now measures 350 feet, not the previously listed 330. Only 12 of Trumbo's career homers have been to right or right-center , according to Baseball-reference.com.
"At night, especially, I know I got into a few bad habits trying to pull the ball there. I don't anticipate doing that here," Trumbo said.
"You just start shying away" from going the opposite way. "It's just outs. It's a high wall, and with that marine layer and a couple of other factors coming in, I think most guys would tell you it's disappointing at times. Especially for guys who do have a little bit of pop and are known as home run hitters, you want to somehow get them however you can. There have been a couple of guys who I played with in Anaheim who have fallen into the same category."
The net effect is a more pull-centric approach, and it is common. Jason Kubel, who hit 30 homers in his first season with the D-backs in 2012, said he felt the same relief after moving from Target Field, which he felt took some of his off-field power away with the deeper dimensions.
"It's the wrong adjustment," Trumbo said. "Pulling the ball might work for a few, but I think for guys who are used to using the whole field, it takes away a lot of hits. There are a lot of hits to be had going the opposite way, and when you start grooving your swing to do something else, it is not the best, probably."